With competition for bookings more intense than ever, hotels continue to look for ways to become a 'one-stop shop' for guests planning a holiday or business trip.
Dynamic packaging - the method of creating deals or packages based upon components selected by the customer - is increasingly being adopted by hotels looking to join companies like Airbnb and Google in the 'trips' marketplace.
Whether this is achieved by integrating a flight-booking feature - see Accor and Barceló - or by offering dynamically-packaged content, it's clear that hotels are thinking carefully about how to differentiate themselves from the competition.
Marriott's latest experiment
Marriott are continuing their own expansion into 'experience' offerings with their investment in PlacePass, a search engine for activities and tours. Beginning this summer, PlacePass will power 'experience' recommendations for guests on the Marriott website and app - a natural progression from the 'experiences marketplace' the group already offer to Rewards members.
This diversification is a clear sign that Marriott intend to keep pace with the travel industry's big hitters - Expedia, Airbnb, Google - as they expand further into the 'trips' market. Airbnb Trips launched in November last year, while Google and Facebook are continuing to introduce travel planners and city guides to their platforms.
The decision to invest in PlacePass was an obvious one, according to Marriott's Global CCO Stephanie Linnartz. "This experience market is exploding," she explains. "It's a hundreds of millions if not a billion-dollar industry, and we're also using it as a way to bring more to our consumers."
Marriott aren't the only hotel group climbing aboard the 'experience' train. Accor Hotels - who have already announced that they will be adding flights to their website - are currently in negotiations to buy a stake in French events company Potel & Chabot, continuing their expansion into non-traditional businesses.
Faced with a consumer group who are as convenience-driven as they are time-poor, hotels are increasingly looking to emulate OTAs when it comes to offering guests everything they need in one place.
So how did we get here?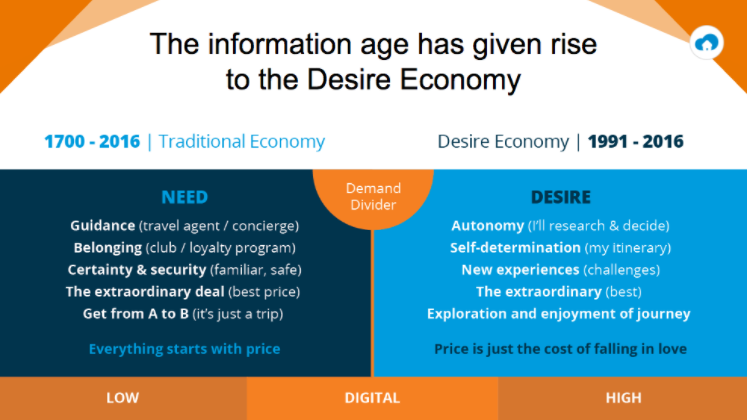 Siteminder's infographic shows how instant access to information has shifted spending behaviour from 'need-based' to 'desire-based'.
Technology gives us ever-greater autonomy over our decisions - we can research, compare, and make informed choices about how we spend our money. The traditional package holiday is already struggling to accommodate this, as young travellers resist the rigidity of handing their experience over to a travel agent.
But having more choice than ever means making more decisions than ever. According to Kalibri Labs research, the average US holidaymaker takes about 17 days to research the major elements of their trip - and that's after they've chosen a destination.
Today's travellers are looking for ways to streamline their booking process without sacrificing the quality of their experience. An increased demand for quick, tailored, all-in-one holiday bookings provides a further challenge to a hotel industry already struggling to win back business from third-party channels.
So what can you do?
While investments on the scale of Marriott's or Accor's are clearly beyond the average hotelier, there are a number of options open to those looking for a piece of the 'experience' pie. One of those options is dynamic packaging.
Once the preserve of wholesalers and travel agents, there are now a number of ways by which hotels can offer their own dynamic packaging solutions.
This week, we sat down with Erez Bousso, founder and CEO of Travelyo, to talk about the power of their dynamic packaging as part of a direct booking strategy. The Travelyo platform allows hotels to provide guests with a flexible combination of accommodation, transport, and entertainment, which can then be bundled into one opaque price.
The real selling point of the platform, though? It was developed through years of working on the same solution for industry-leading OTAs.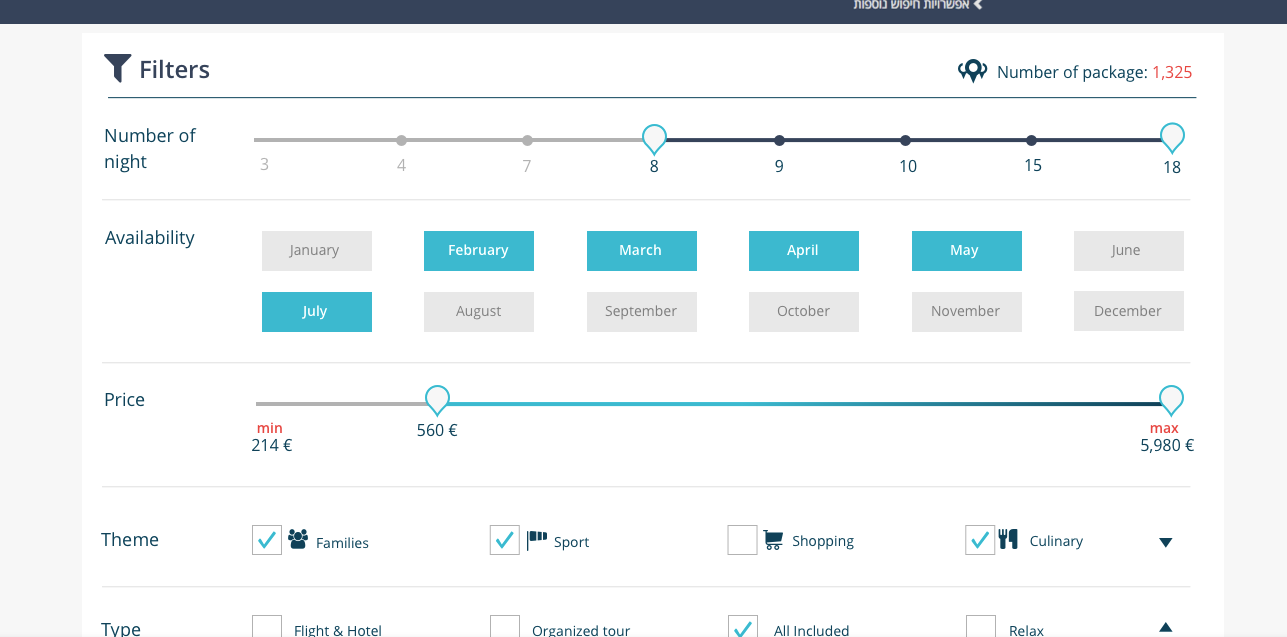 For five years, Travelyo (then Elyotech) was a platform serving OTAs with dynamic packaging and 'add flight' options, with its main customer base in France and Israel. Six months ago, though, they made a welcome pivot to a focus on the Direct Booking movement. Hotels aren't yet the only groups that Travelyo work with, but Erez's enthusiasm for helping the industry was clear to see.
Dynamic packages = direct bookings?
"We realised that hotels really need help to drive conversion on their websites," Erez explains. "The client is coming to the hotel website, but then returns to the OTA to book the room alongside transport and other services."
"Travelyo allows a hotel's booking system to reach the same standard as the OTAs."
It's a big claim - but one that's likely to catch the attention of many a hotelier. In any case, it's clear that offering a combination of services will become key to winning over prospective guests.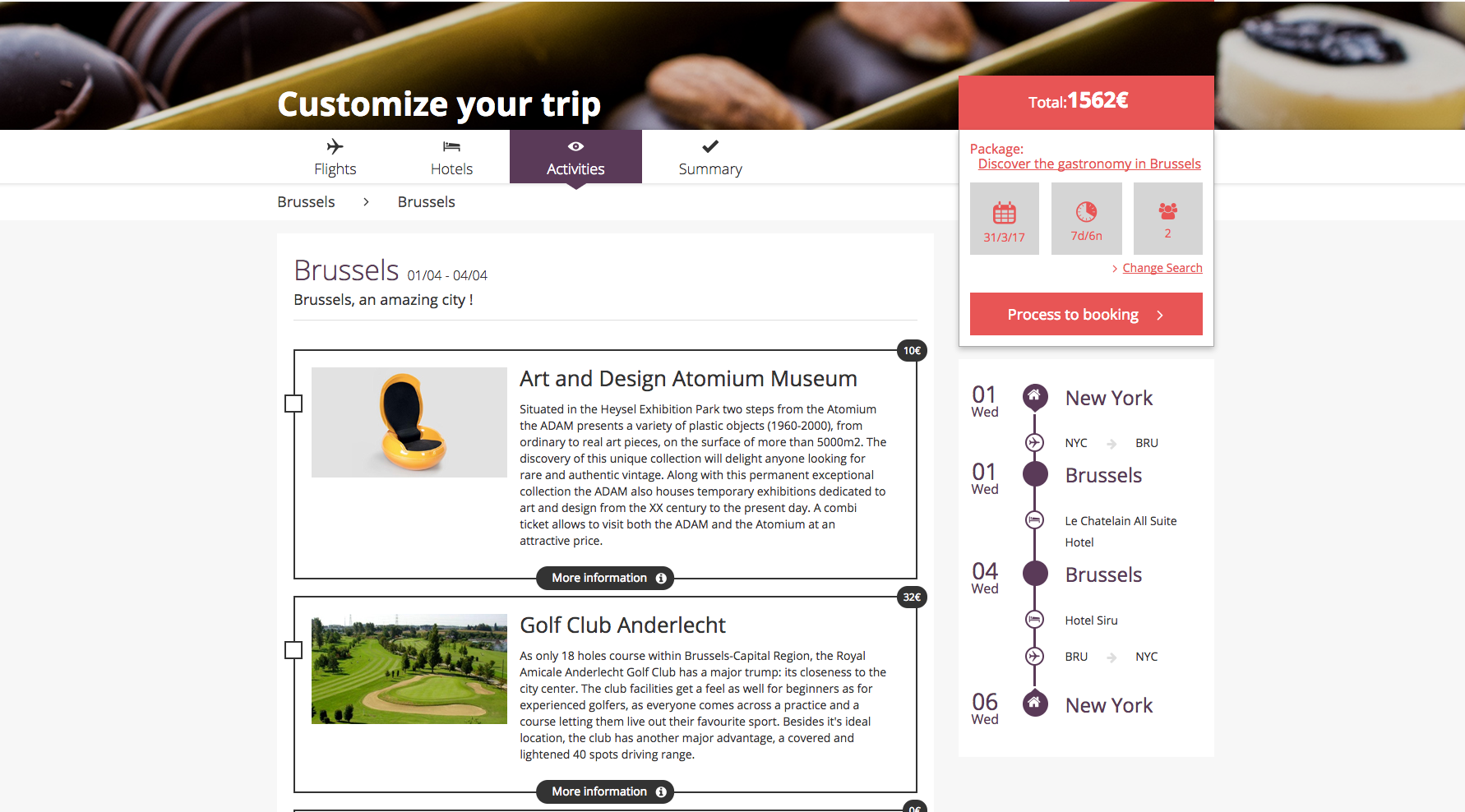 Marriott's investment in PlacePass is part of their own campaign to increase direct bookings. Eventually, the hotel group aims to offer their growing cohort of Rewards members the ability to use loyalty points to pay for the activities offered on their website - incentivising repeat bookings in a climate where customer loyalty can seem hard to find.
Gerrit Goedkoop, COO of eDreams ODIGEO, notes that "a huge number of our customers will create trips where they fly out with one airline and back with another, and I think this trend is set to grow in 2017 across a whole range of travel sectors." Dynamic packaging allows your hotel to remain the constant factor of a guest's experience, making your website into the base from which they put together their combination of flights and activities.
How it works
Travelyo's white-label platform connects to a hotel's PMS or channel manager, allowing the hotel to bundle rooms with services of their choosing. When a customer buys a package, the hotel gets payment for the room, and splits commission on the additional services with Travelyo.
The company provide a choice of local services that hotels can then combine into individual packages, allowing you to curate experiences that best suit your guests.
For hotels looking to follow Accor's lead and offer flights alongside their rooms, Travelyo have airline partners with whom they can negotiate special prices. And for those looking to tap into the same market as Airbnb Trips, there's the option to add activities, car rental, and tickets for local transportation.
Of course, a slick customer-facing platform isn't the only thing to look for when choosing tools to optimise your website. To really add some firepower to your online presence, you need to be able to learn from how customers behave on that platform, and respond to that behaviour as quickly as possible.
As Erez laughingly tells us, "the more the hotel gets it right, the happier we are at Travelyo." The company's revenue-sharing model means that the platform's goals are going to be aligned with those of the hotel they're serving, hopefully meaning a better product and higher conversion. Travelyo seek to achieve this with data-driven feedback to hotels about what their guests are interested in and what they should be offering.
Marriott have similar hopes for their latest investment. The plan is to pull on the vast swathes of data the hotel group have collected about their guests, especially Loyalty members, in order to make 'personalised' recommendations to potential bookers.
"We'll be able to curate very personalised offerings to people, which increases the take rate," Stephanie Linnartz explains. "As opposed to if we said, "Here's a link to 100,000 experiences. Go find one." That wouldn't be very personal or special."
Empower, don't overwhelm
Successful 'experience' offerings aren't just about the volume of what's on offer. If your website is your digital concierge, you want it to be making thoughtful, attentive suggestions based on the interests your guest has expressed.
It's this ability to learn from guest behaviour that Erez sees as Travelyo's differentiating factor.
"We're just so different," he explains. "We're not just offering you the option of 'flight+hotel'. What we're providing is a full CMS platform that allows the hotel to build unique packages for their guests."
With what feels like the world and his wife expanding into the 'trips' marketplace, the way those trips are put on offer will be an important differentiating factor. The 'experience of booking the experience' needs to be smooth and efficient - or why should the guest not just go book the separate elements themselves?
Remember that focus on autonomy: a successful website empowers the user to do exactly what they want and need to do. Having a choice of services on offer doesn't mean much unless they correspond to the holiday the guest went online to book.
The future looks bright
It's predicted that by 2020, customer experience will have overtaken price and product as the dominant brand differentiator.
If true, it means there's a serious opportunity for hotels to gain ground on third-party distribution channels. We know that part of why hotels book elsewhere is because they believe they're going to get the best deal and the lowest price.
If price becomes less and less important, ensuring they book direct with you might come down to whether you can give them the best experience - both on your website and on their trip.