When it comes to driving direct bookings on your website, there's one not-so-secret tool that can power thousands of different types of message. From running a quick flash sale to location notifications to showing specific reviews to customers from particular countries or states, there are so many ways to make Triptease messages work for your business.
But with so much choice available, it's essential that you're able to test your ideas, monitor their performance and make quick changes easily. That's why it's also important to run variant tests, which allow you to test two versions of one message at the same time and track which one performs best for your business.
Ready to get going? Here are just some of the kinds of website messages our partner hotels create with Triptease Targeted Messaging. We're sure you'll find even more…
Voucher codes
Target potential guests with a voucher code to enter when booking. This functionality works particularly well when added to a Price Undercut Message, which can be set up to appear in place of a Price Check Message when you don't have the best price. If you don't have the best rate online currently, customers can simply click a button to copy a promo or discount code to their clipboard to use when they make their booking. This reduces friction in the booking journey and ensures you can still secure that conversion even if they've seen a better price elsewhere.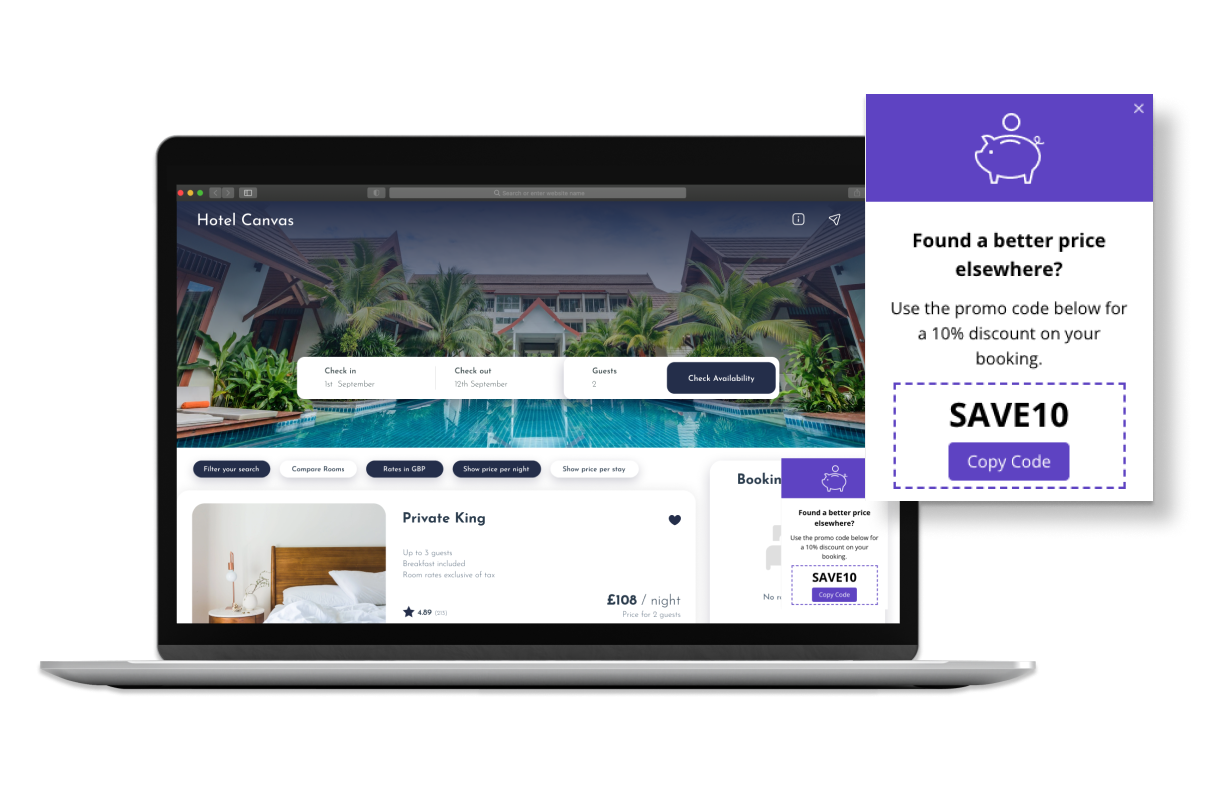 Voucher codes can also be used for specific promotions, or to target particular kinds of guests. For example, you could add a voucher code to a message that you're setting up to appear during your January Sale, or you could combine voucher code functionality with 'likelihood to book' targeting, and provide an additional incentive to customers that have been identified as having a low likelihood to book, who may need a little extra encouragement to make their booking.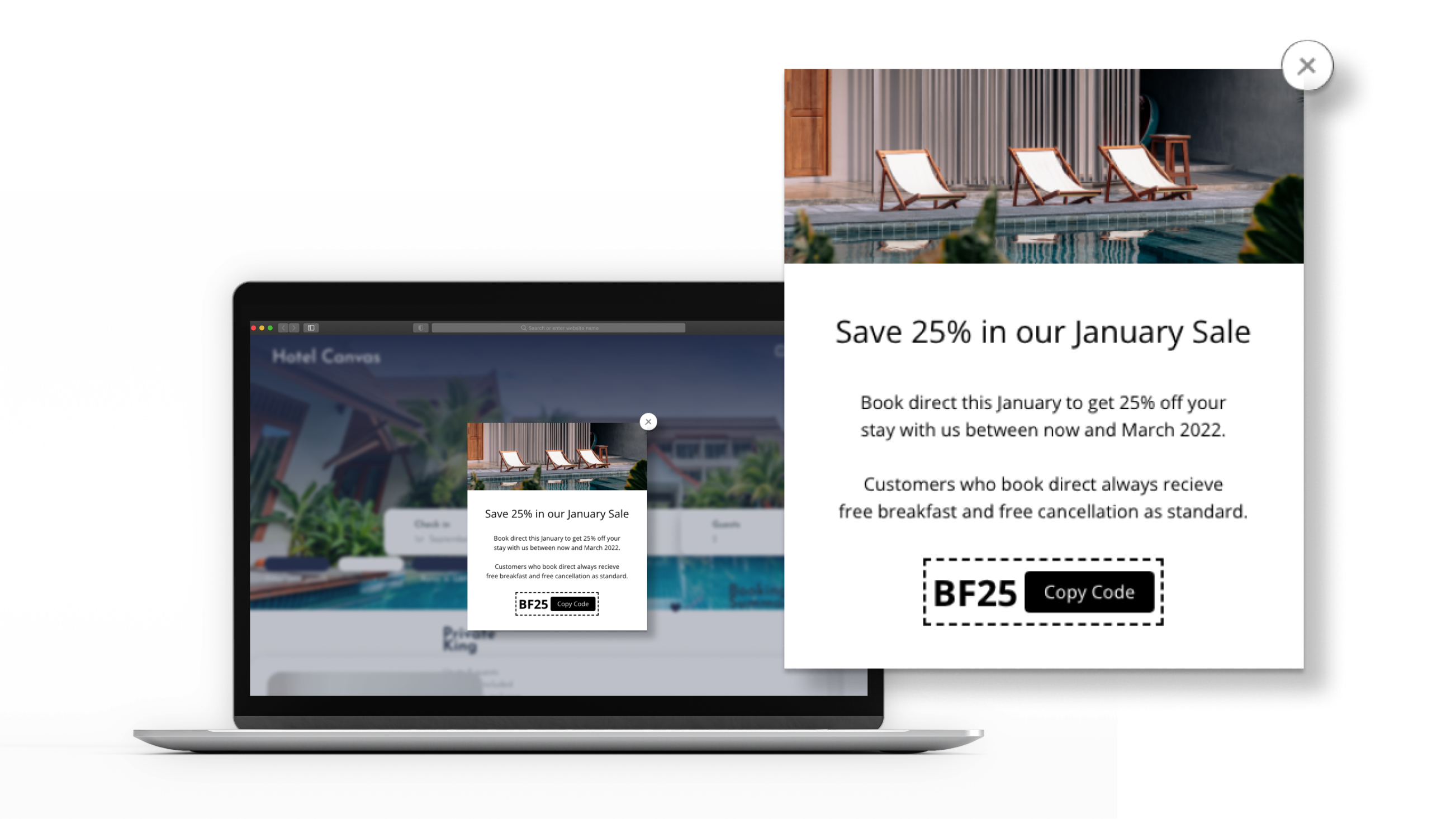 Countdown timer
Create a Countdown Message to highlight time-sensitive promotions on your website and booking engine. This is a great option for flash sales like Black Friday, as they add a sense of urgency that if the customer doesn't book soon they'll miss the deal.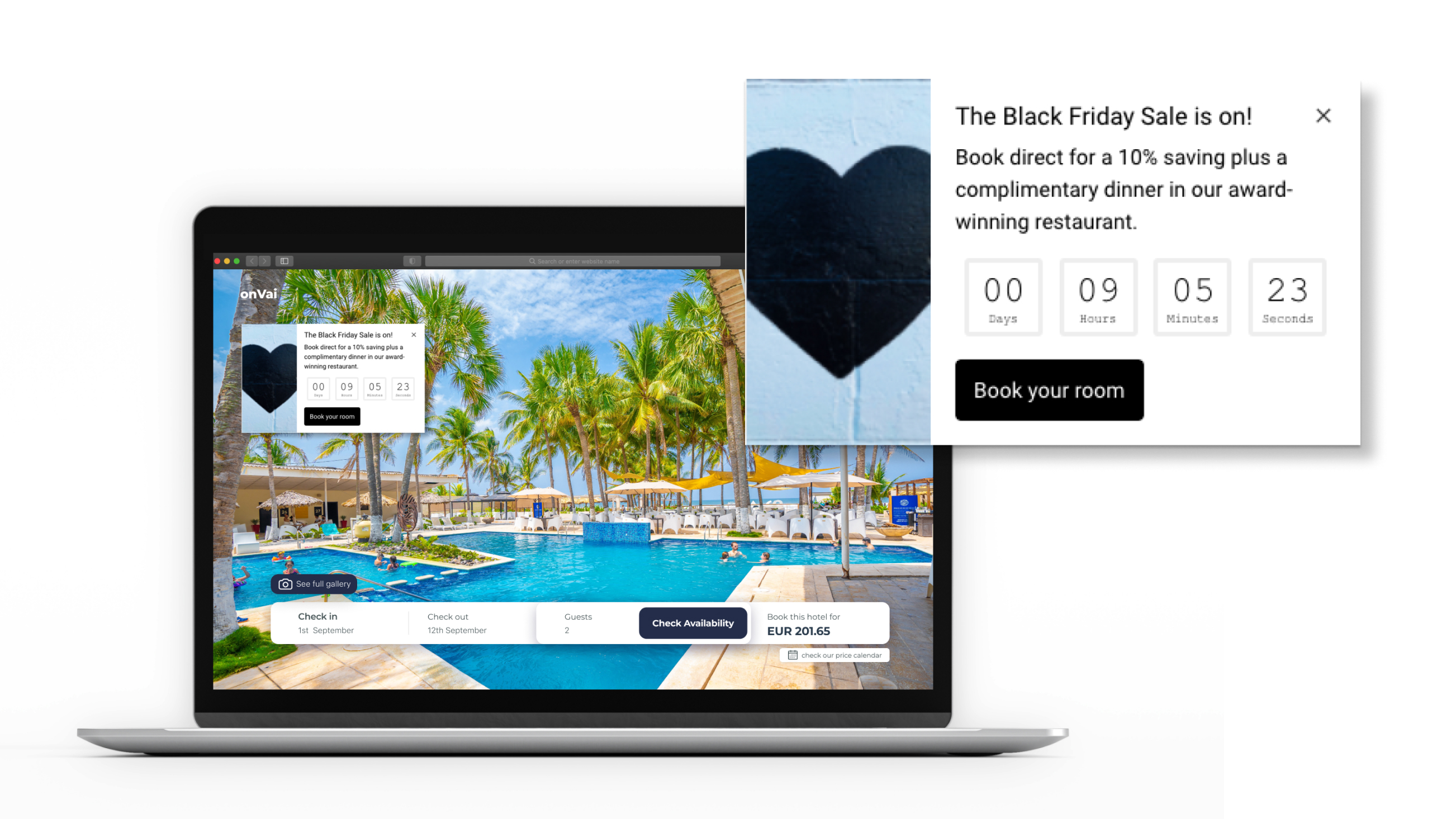 An interesting experiment to run with this new message type would be to add 'conversion increase opportunity' targeting to the message. This would allow you to create a sense of urgency with the audience segments on your website that have a high search but low conversion rate.


Email Capture
If a customer visits your website but isn't quite ready to make their booking just yet, Email Capture Messages allow you to collect their name and email so that you can contact them at a later date.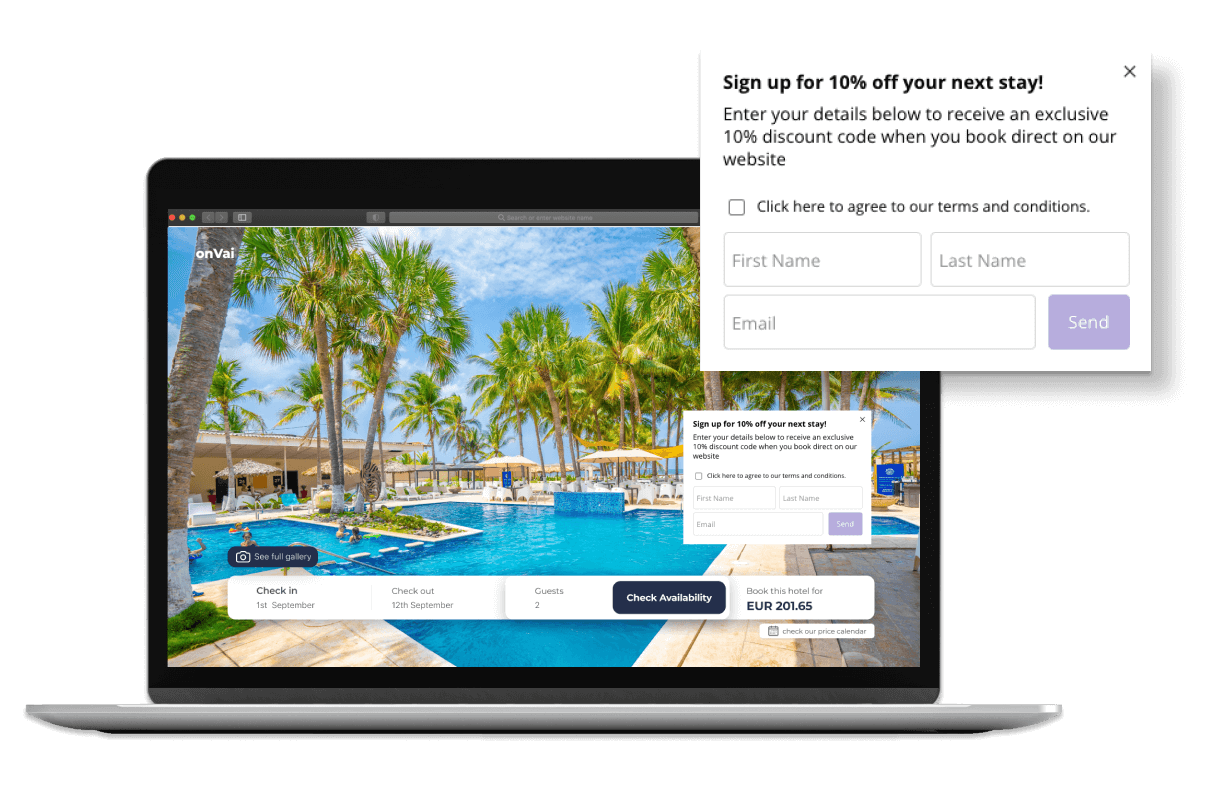 You can then add these customers to your email newsletter or other marketing communications, or email them an exclusive offer to invite them back to book.


Location Notifications
Want to show potential customers exactly how close your hotel is to the local sights, conference center or beach? A Location Notification displays a short note about the location of your hotel, with a clickable link that opens a Google map showing exactly where the property is. Under the map there is space for three location highlights, explaining the benefits of staying in the area.
The example below shows both the notification and the expanded map:
Urgency Notifications: Searchers and Bookers
OTAs frequently use urgency, scarcity and social proof messaging to encourage visitors to book. We've run lots of guest user testing sessions to confirm that these kinds of messages really do enhance the customer journey and - when used in the right way - they are very effective.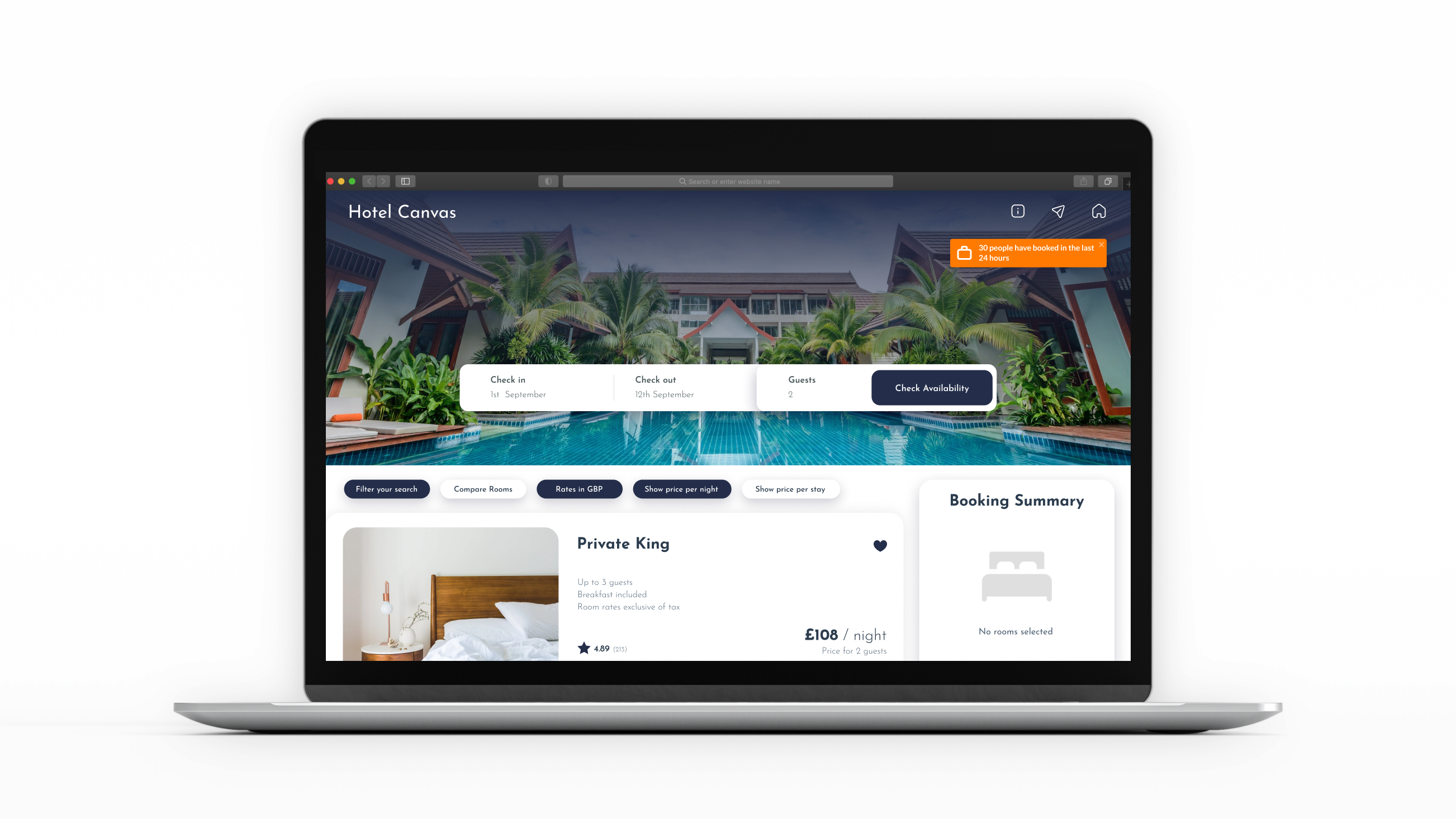 A Searcher Notification displays a short note that lets visitors know the number of people that have searched over the past 24 hours. This gives potential customers the impression that the hotel is a popular choice, creating a sense of urgency that should help drive them into action.
Booker Notifications function in a very similar way to Searcher Notifications in that customers can see how many people have booked on your website in the past 24 hours. A Booker Notification will only display if there has been more than three bookers in the past 24 hours - so you don't need to worry about this message appearing when you haven't had any recent bookings.


Guest Reviews
Show relevant reviews to guests by setting up messages that display them to the right customers. Had a rave review from a business client in the USA? Use the image function to display that feedback to everyone who visits your corporate rates page. Alternatively, you could use URL targeting to display your star rating to anyone who visits your homepage or booking engine.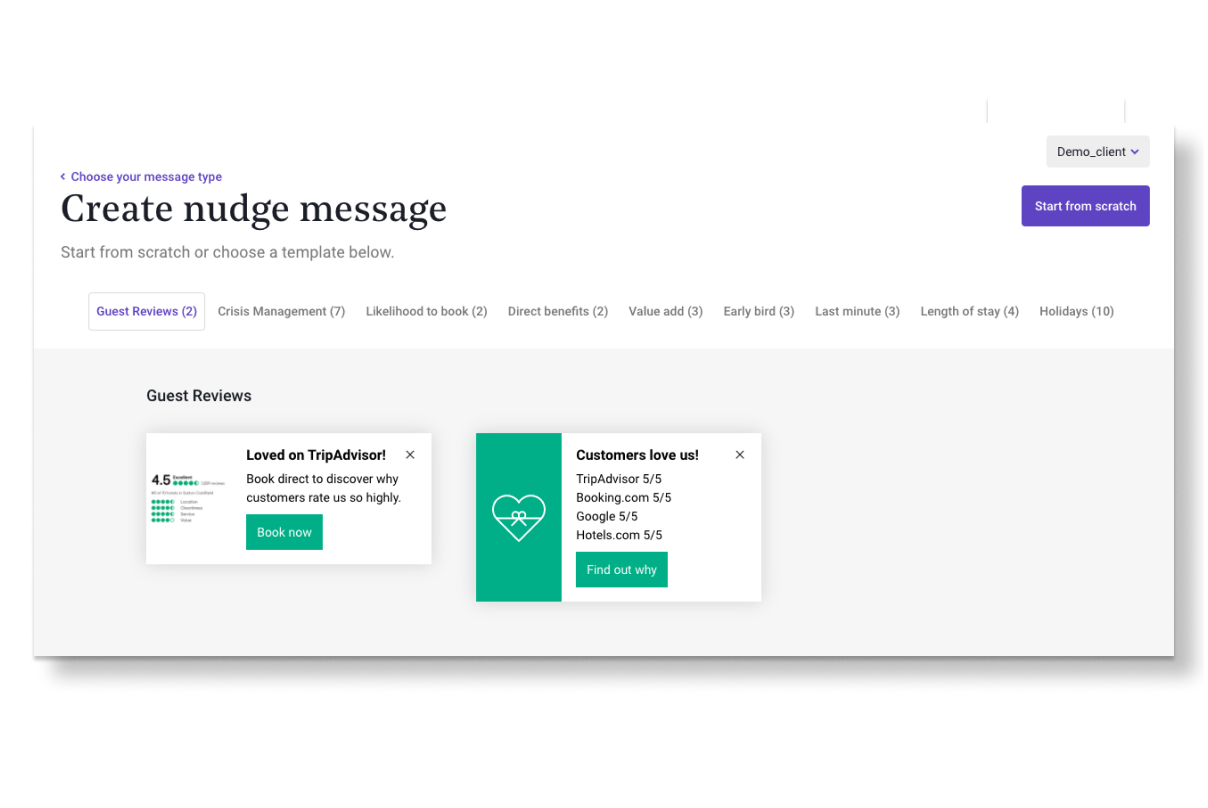 To make this process faster for you, Review Message templates are ready for you to use in the Message Builder.


Full Screen Exit Message
Use Full Screen Exit Messaging to keep customers on your website if they look like they may be about to book somewhere else. Exit Messages are triggered when visitors have taken an action that suggests they are about to leave your website. At this point you can show them your direct booking benefits and encourage them to stay and book direct.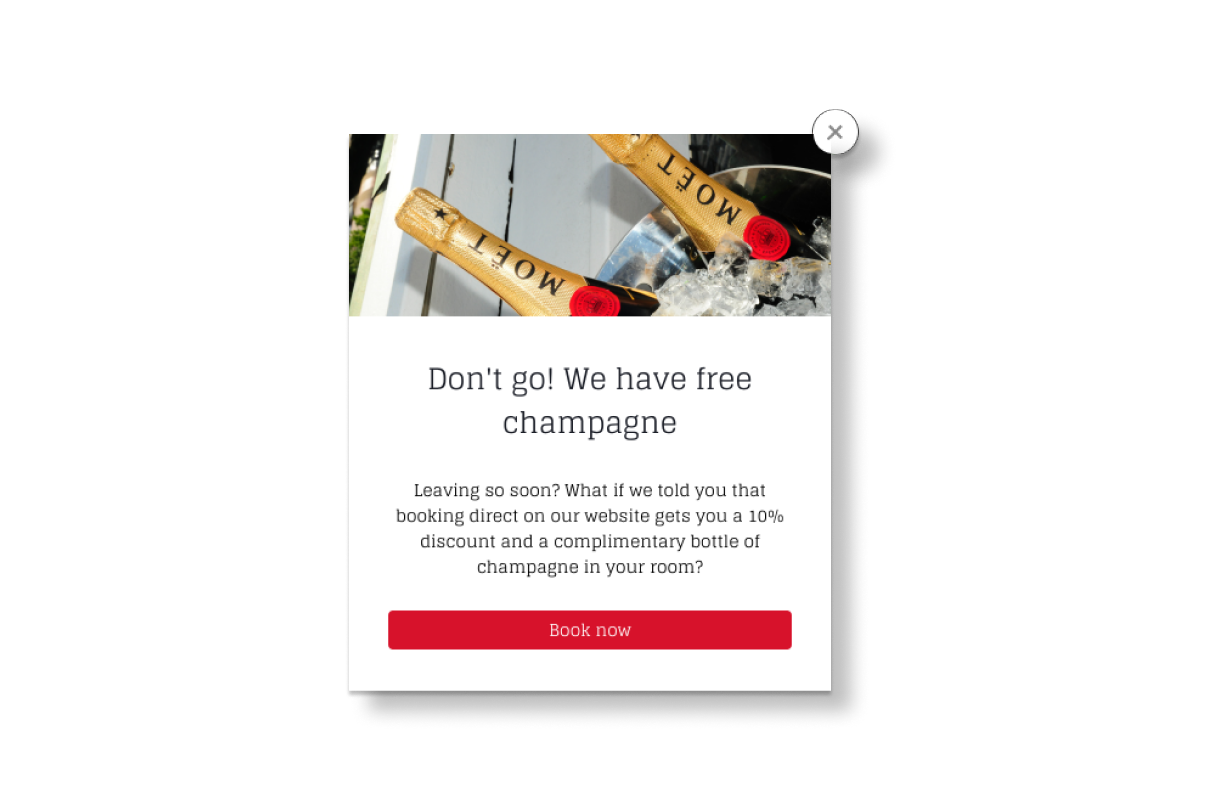 Nudge Message
Help potential guests and show them relevant messages even if they're not showing signs of leaving your website.
Nudge Messages appear on page load or on a timed delay - not just on exit - and they're much more subtle than a Full Screen Message. That means you can serve relevant information and offers to your customers at the right time and in the right way.
Custom Messages
We originally built the Message Builder with standardized designs so that any hotel could create customizable website messages in minutes - but we understand that many hotels want access to change everything from the colors and fonts to the size and shape of their messages.
You can now easily override our pre-built message types with a custom graphic of your choosing. This means your designer can create something completely bespoke that is 100% consistent with your brand and the intent of your message.
Pricing Undercut Messages
When you're being undercut by all OTAs, Price Check won't appear on your website. But even if you're not currently in parity, it's still worth trying to convince guests that direct is best.
A Pricing Undercut Message will display on your booking engine rooms and rates page where Price Check would usually display if you weren't being undercut.

Smart Targeting
The Message Builder allows you to create beautiful, branded messages in minutes - but what makes Triptease messaging really unique is its extensive range of targeting. We know that personalized content converts, which is why you need a range of targeting options to show particular messages to your guests. You can choose from the following targeting specifications:
Smart targeting - Likelihood to book: Target visitors automatically based on whether they have a high or low likelihood to book.
Smart targeting - Conversion increase opportunity: Target key audiences that currently have a low conversion rate, automatically.
Webpage URL: Show a message to customer on a specific page of your website, like the spa or restaurant pages.
Check-in date: Target customers arriving before, after, or between certain dates.
Arrival day of the week: Target customer arriving on a specific day.
Booking date: Target customers making an advanced or last-minute booking.
Length of stay: Target customers based on how long they're intending to stay at your hotel.
Location: Target customers based on their country, state, region or city.
New vs returning: Target visitors who are new or have returned to your website
Referral website: Target visitors based on the website they came from
Device type: Target visitors based on the device they are using
Party size: Target visitors based on the number of guests in their reservation.
This means you can go super-specific when showing special offers to guests. Want to offer free champagne to customers in the UK looking at your wedding packages in October? Go right ahead…
Want to dive even deeper into Message Porter's targeting capabilities? Here are some ideas our clients have been trying.


Targeting by country
If your borders are open to particular countries or states, or if your data shows that people from a particular location are likely to spend the most when booking a hotel room, you can target those customers with specific offers, messages and discounts. Go a step further and target by country and length of stay (i.e. more than seven nights) if you want to ensure that only high value customers see this message.


Targeting by check-in date
Target guests looking to arrive on a specific date with a tailored offer.
National and international holidays, seasonal offers and dates when your occupancy is generally low can all be used to trigger targeted campaigns for guests with specific check-in dates.



Target by booking date
Guests booking far in advance or at the last minute can also be targeted with tailored content to help them book. Select Booking date and choose either Advanced or Last minute. Guests searching in advance for dates over the holiday season could be shown an exclusive festive offer, for example, while customers booking at short notice for the weekend ahead could be encouraged to fill any empty rooms with a specific discount or direct booking benefit.
Target returning visitors
If a visitor has come back to your website more than once it's a strong sign that they're interested in booking your hotel. Give them the extra encouragement they need with a message to book direct when they return.
Target by check in date and length of stay
Need to fill up rooms on low occupancy days? Use arrival day and length of stay targeting to make sure your hotel is always full.
So… over to you! We'd love to hear how you've been using website messaging to encourage guests to book direct. And if you're looking for further inspiration, get in touch with our Customer Success team to discuss bespoke ideas for your website.
Originally published 21 July 2018, updated 21 October 2021.