What better way to spend a sunny Friday afternoon than dreaming of a holiday at a beautiful Italian villa?
That's exactly what I caught myself doing (for work purposes, of course) when I stumbled across this rather interesting new feature from Google. A quick search for 'Tuscany villa' brought up over three million results. What's more interesting was finding personal notes I had made years ago in Evernote appearing in the search. You can see them top right in the picture: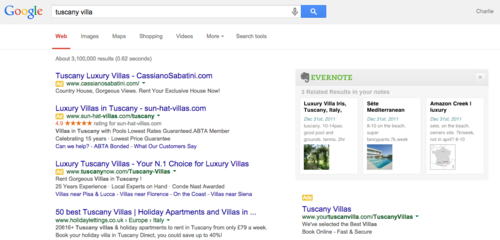 This shows a new way of thinking about travel planning, and an exciting new opportunity for hotels. Why not encourage site visitors to save your page and details in Evernote (Evernote web clipper particularly handy for that)? It'll take you to the top of the Google pile in future searches. Forget all that money spent on ad words, a simple hack could do the trick.
This could be big...