One powerful, interconnected tech solution for hotels.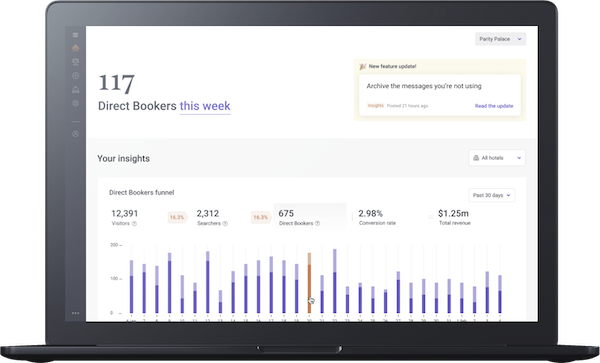 Paid Search
Increase direct bookings with smart use of your unique data combined with personalized on-site keyword messaging.
Metasearch.
Acquire high-margin guests with algorithmic bidding that learns from customer behaviour on your website. Efficiently identify and convert searchers with high intent to book.
Parity.
Save time and money by automating complex rate-checking tasks. Keep track of OTA undercutting and make sure guests always get the best rate direct.
On-site Messages.
Showcase the value of booking direct with dynamic desktop and mobile messaging that boosts conversions. Message every guest at scale with intelligent targeting and flexible layouts.
Retargeting.
Don't let a single booking slip away: bring guests back to book direct even after they've left your website. Showcase your property with dynamic ads powered by your website data and algorithms trained on thousands of hotels worldwide.
Insights.
Benchmark your performance, take an action from every insight and work with our team to drive continuous improvement for your business.
Get the latest in hotel revenue, distribution, marketing and much more:
By registering, you confirm that you agree to the storing and processing of your personal data by Triptease as described in the Privacy Policy.