The all-in-one Data Marketing Platform for hotels.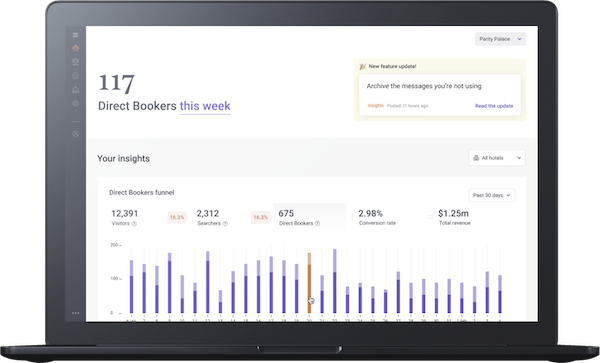 Adjust prices automatically to always win on Metasearch
Never get beaten on price with Price Match on Meta. Automatically attract the most engaged searchers in your market with bidding that adapts to their likelihood to book and your price parity. Triptease Metasearch delivers 105% more revenue than the industry standard at a 30% higher return.
Personalise your website for every guest with Messages
Easily segment website visitors with targeting options including hard to access data like metasearch activity and likelihood to book. Capture valuable first-party data and send audience lists enriched with key customer data like lead time or party size straight to your CRM.
Automate customer conversations with Chat
Reassure potential guests that you have the best price by using the same data connectivity that powers our industry leading Price Check Message. Speak to guests in their language on the channels they use while automating time-consuming processes and conversations.
Insights.
Benchmark your performance, take an action from every insight and work with our team to drive continuous improvement for your business.
Capture data
The connectivity, tracking, security and storage of critical, hard-to-access data for hotels.
Understand data
Raw data turned into usable, impactful pricing and audience insights for hotels.
Activate data
Insights applied intelligently across all marketing channels to increase performance.
Get the latest in hotel revenue, distribution, marketing and much more:
By registering, you confirm that you agree to the storing and processing of your personal data by Triptease as described in the Privacy Policy.