A robust cancellation policy is an integral part of the revenue management strategy for many hotels. Requiring a 24- or 48-hour notice period (the latter of which is becoming increasingly common amongst large chains) or offering non-refundable rates provides a level of protection against last-minute drop-outs and guests making bookings at multiple properties for the same dates. The tactic is ever more necessary as guests increasingly demand the type of flexibility they're told to expect by online travel agents and other third-party sites.
Booking.com was rapped earlier this year for 'misleading' advertising which suggested free cancellation came as a standard with bookings made on the site. Of course, the existence of any such policy is completely dependent on the terms of the hotel the guest books at. Flexible cancellation is a cornerstone of the OTA offering, even if hotels bear the brunt - and the cost - of accommodating it.
So what happens when you have on the one hand OTAs aggressively encouraging guests to expect free cancellation, and on the other hotels digging in their heels and extending their cancellation notice windows? You get a space opening up for entrepreneurial start-ups and ingenious ways round the problem. Enter reservation re-sale sites.
How does it work?
Reservation re-sale sites like Roomer and Cancelon allow guests with non-refundable room reservations to sell those reservations on to people searching for the same dates - kind of like Viagogo or StubHub for hotels. You upload your reservation details and suggest an asking price (apparently it's best to aim for 50% of the original), et voilà - the room is listed for anyone to search and book. To a searcher, the websites look pretty similar to any other accommodation comparison site; you input dates, can sort by various parameters, and sign up for 'secret' discounts.
These sites are nothing new: Roomer and Cancelon have both been around for the best part of a decade. What's interesting is how these sites are evolving - and the way guests are replicating the same idea elsewhere.
Roomer, for instance, has grown from a simple peer-to-peer marketplace to offering one-click cancellation coverage of its own: Roomer Flex. Formerly Life Happens, Roomer Flex allows guests to cancel even a non-refundable room; Roomer then takes the cancelled room and re-sells it itself. Hotels can offer Roomer Flex on their website and booking engine and effectively offer easy cancellation without risking booked revenue.
"Most hotels are unaware that they act today as insurance companies, offering a 100% refund for any reason to customers for an insufficient premium," says Gon Ben-David, co-founder and CEO of Roomer. "Alongside travel insurance companies, we manage this risk, using the Roomer marketplace to re-sell the cancelled rooms."
What are the risks?
While these sites do a great job of maintaining a hotel's occupancy and recuperating revenue lost to cancellations, not all hoteliers are convinced. What's to stop these quasi-OTAs undercutting a hotel's BAR on metasearch? Once a re-sale service is in possession of a hotel's inventory, they need to sell it. And, given that users are often listing their reservations at 50% discount (or even less), that inventory is bound to be cheaper than a hotel's own rate.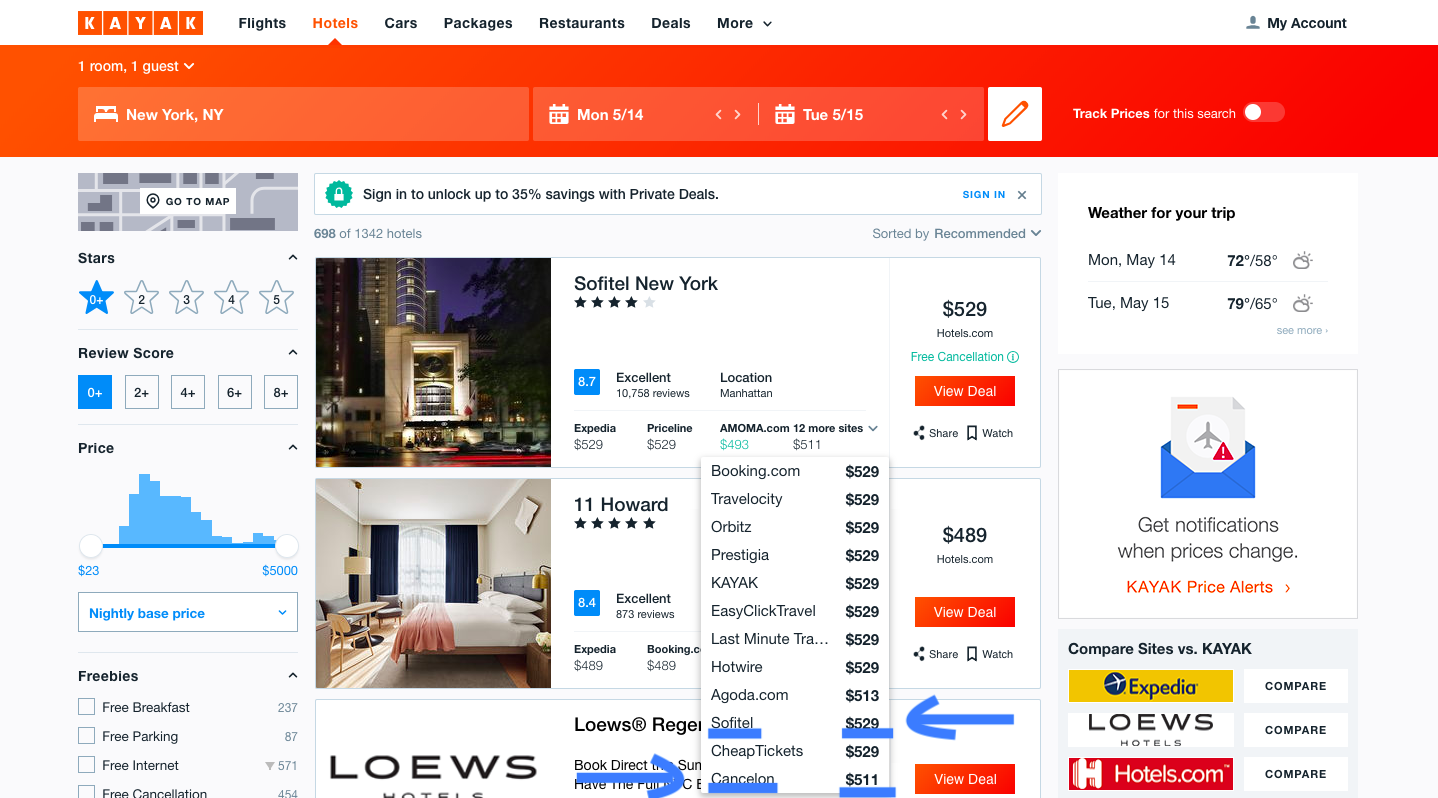 A Cancelon rate undercutting Sofitel's direct rate by $18 on Kayak
Parity plays an ambiguous role in the context of reservation re-sale sites. After all, the hotel has already been paid in full for the room being sold. However, these secondary rates have the potential to upset OTA partners who no longer have the best rate available online. And then there's the issue of brand integrity - a new customer with no knowledge of the resale structure only sees a hotel trying to charge them more than another site for the same product.
It should be noted that re-sale sites are far from undercutting the hotel's rate in every single instance - but for many hotels, any undercut is one undercut too many. If re-sale sites are to expand and grow their offering - as Roomer are doing with Roomer Flex - it's not in their interests to upset hotels.
"We've been working really hard over the past few years to work alongside hotels and comply with rate parity rules," Gon tells us. "In fact, many of our customers add additional nights at the hotel's full BRG (Best Rate Guarantee) and spend even more at the hotel. We always focus on the bottom line and how we impact that for our partners.
"Pricing is always a sensitive issue in this industry and we could have sold more rooms if we didn't obey the BRG. However, we're here for the long run, and that requires patience and creativity."
Did somebody say Airbnb?
Apparently, people aren't just relying on sites like Roomer and Cancelon to re-sell their room reservations. It looks like some canny guests are making use of Airbnb's platform structure to take reservation re-sales into their own hands. While browsing Airbnb homes using the 'hotels' filter, we came across two slightly unexpected listings: one for an Ibis, and one for a Holiday Inn. Unaware that these brands were listing on the site, we dug a little deeper, only to find that the hotels themselves had nothing to do with the listings. A resourceful user was merely listing his two non-cancellable room reservations as two 'homes' on Airbnb.
The 'homes' were only available on the dates of the reservation, a screenshot of which was included amongst the listing's images. Presumably, you would just request the home, provide your contact details, and the host would transfer the reservation into your name.
So, is this legitimate? And if guests are taking room re-sale into their own hands, where does that leave more established re-sale companies?
Looking at Airbnb's terms of service, it's difficult to know whether the host in this scenario is technically doing anything wrong. Hosts have a responsibility to "provide complete and accurate information" about their listing and service, but also to ensure that the listing does not "breach any agreements [...] entered into with any third parties." Ultimately, each case will probably come down to the terms & conditions of the sale between hotel and guest - if transfer of the booking is prohibited, then the customer would be breaching this by listing that booking on Airbnb. If transfer is allowed, it's unclear whether listing on Airbnb is technically any different to posting the booking on, say, Roomer.
'Allowed' or not, the re-sale of rooms on Airbnb could undoubtedly become cause for concern for hoteliers keen to preserve the integrity of their brand. While it certainly doesn't seem to be a widespread practice, it will be interesting to see how Airbnb navigate quirks such as this one as they seek to expand their offering to more and more properties.
Interested in Airbnb? Check out our previous posts:
Want to put your questions to Airbnb in person? Join us at the Direct Booking Summit in Amsterdam on the 27-28 June and hear from Airbnb, Marriott, Google and more!