We've been keeping a close eye on Google Travel for a while now, so when they quietly announced updates to their hotel search experience we were quick to explore what these changes meant for the hotel industry. This week we've been speaking about all things Google with Chetan Patel, VP Strategic Marketing and E-commerce at ONYX Hospitality Group. Read on to find out why Chetan thinks Google has 'significant potential for disruption' and why, according to him, metasearch 'should not exist'...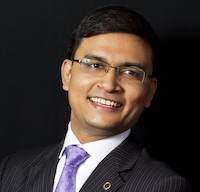 Chetan Patel | VP Strategic Marketing and E-commerce | ONYX Hospitality Group
Triptease: How significant is Google's new hotel booking interface to the hospitality industry?
Chetan: A year back, Google's hotel booking interface merely acted as a quick gateway to a hotel website or to OTAs via Hotel Ads (Google's meta offering). This has dramatically expanded into a one-stop shop where you can locate a property on map or search, access useful information, see reviews, look at pictures, watch videos and even take virtual tours. It even shows price fluctuations. Unlike hotels and OTA websites, you also get to see pictures posted by other guests. This allows for the well-rounded information-gathering consumers feel they need to make a decision.
Google search and Maps are so ubiquitous that it is hard for most users not to pass them on their way for a perfect hotel. Because Google cares as much about providing great user experience as they do about monetizing their traffic, the hotel website link and official site option on meta are properly highlighted for consumers. That is why the change is significant. Google seems to be taking over the role OTAs have played in the guest journey so far, and are arguably doing a better job at it.
Triptease: In general, do you view Google Travel as a positive or negative opportunity for the hotel industry?
Chetan: Unless Google changes tack and cares only about monetization, something they do not have a track record for, this is a massive opportunity for the travel industry. We generate over a third of our organic traffic via the Google listings of our properties. This is huge, and that traffic also converts at a significantly higher rate.
If users are able to find all the information they need to decide on their accommodation and the hotel website is a viable option for finishing the reservation, this could undermine OTAs.
Triptease: How important is metasearch to Onyx as a business?
Chetan: It's an important part of our distribution - especially Google and TripAdvisor. After search, meta is the biggest contributor of revenue to our direct channel.
Triptease: Do you think Google Hotel Ads is making other metasearch engines irrelevant, or does each site offer something different to the market?
Chetan: Although Google could move towards this in the future, as of now the other main metasearch engines are still relevant. They all have slightly different positioning and market penetration.
With TripAdvisor, it's part of the bigger trip-planning picture. Others like Kayak and Skyscanner are airline + hotel metasearch. Trivago and Hotelscombined focus solely on hotels, and have honed their features to make hotel search convenient for their consumers.
If you look at how TripAdvisor is starting to use Google meta to take traffic to their meta, you may think that Google has a significant potential for disruption in this space.
Triptease: Is Google Hotel Ads more supplier-friendly than other metas?
Chetan: Considering that the link to the hotel website is a clear part of the listing, the answer is yes. However, if suppliers are not able to participate in the meta auction, the benefit is curtailed. Rate parity is the other factor that decides how significant it is for the suppliers.
The ability to respond to guest questions on Google My Business, the option of responding to guest reviews, and the ability to post pictures all make for better guest engagement, which is something that cannot be said for other metas which are purely PPC and traffic machines.
If Google is able to link authentication with loyalty membership, the member price that suppliers would then be able to show to users could be a game-changer. If they could do this, they would be even more supplier-friendly. It works for users too, because that would mean fewer steps in the booking process. Google is very focused on elevating the user experience and letting them finish the task at hand in as short a time as possible.
Triptease: Do you think the hotel industry has grasped the true potential of metasearch yet?
Chetan: Metasearch should not exist. It exists as a result of the hotel industry's inability to clean up their pricing and lack of boldness to go dynamic with as few pricing bands as possible. Even with the level of price transparency today, and wholesale rates being made easily available online, the industry accepts it as the norm.
With the wealth of data and deep pockets that OTAs have, it is impossible for suppliers to beat them. It is like shorting stocks. OTAs are able to insert themselves in this part of the booking journey and make money off it.
To grasp the true potential of metasearch is to eliminate the need for it. If a startup can bring blockchain technology to bear on hotel distribution so that rates are distributed only to the intended recipient at the correct price point, the game is over for metasearch.
Having said that, most suppliers find metasearch to be very challenging and do not participate. My message to them is to talk to their channel manager, CRS, or even booking engine provider. They can connect to metasearch directly or via aggregators like Triptease, WiHP, Derbysoft or Koddi. They can help you play the meta game in a way that will cost less than commissions being paid out to OTAs. If OTAs can play this game from the margins we give them, there are significant savings to be had by jumping into this.
At Onyx, we manage double-digit ROI on metasearch by playing our cards right and slowly expanding our reach.