Triptease tracks search and booking behavior across more than 10,000 hotel websites all over the world. On the agenda for us every morning is checking the trends emerging from the millions of data points we collect every day, and watching out for any data signals that indicate a change in user behavior or booking patterns.
Here's some of the data we're looking at every day to understand the rapidly-changing hotel booking landscape and make the right choices for our partner hotels.
Search and booking volumes
Searchers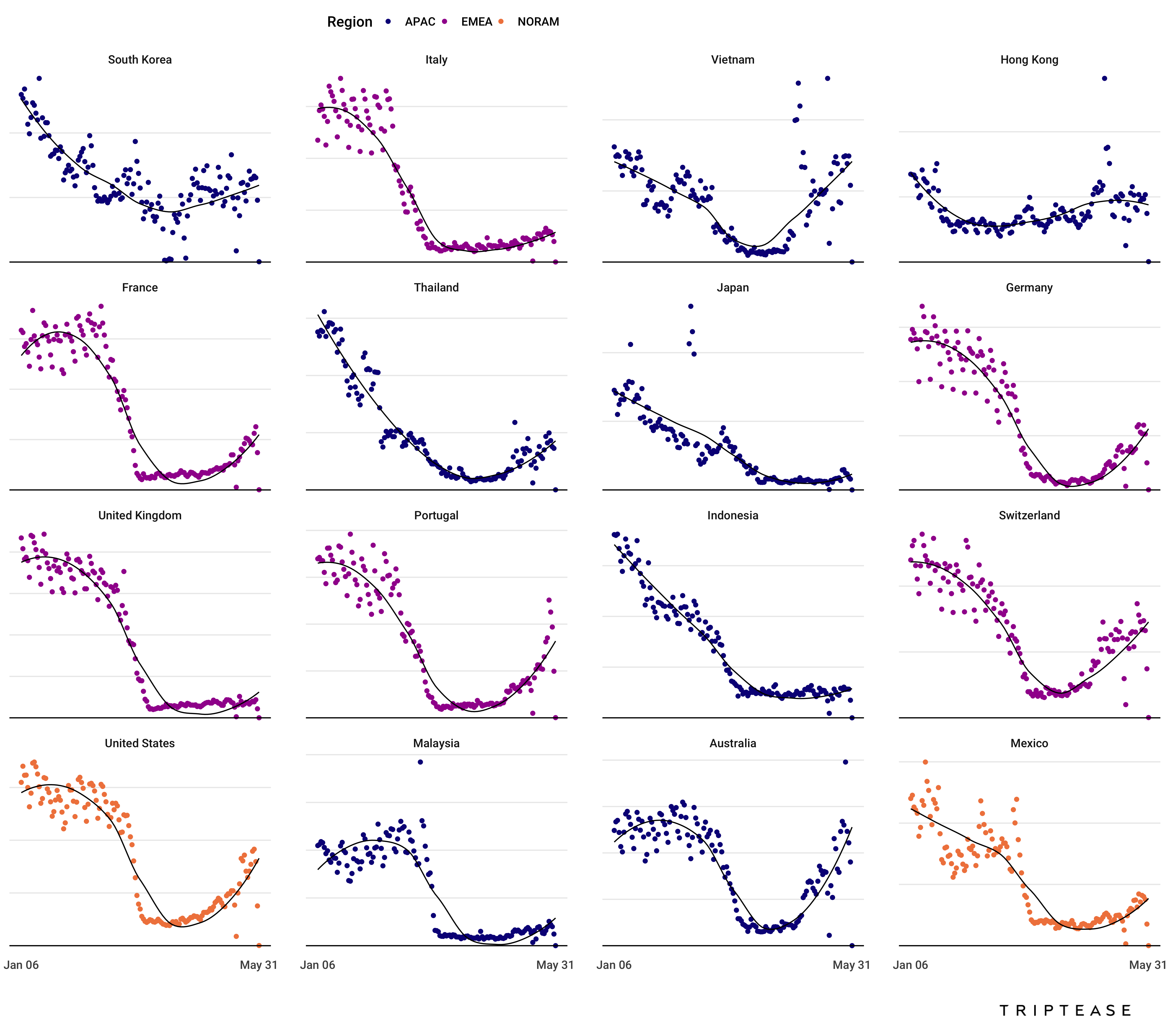 Bookers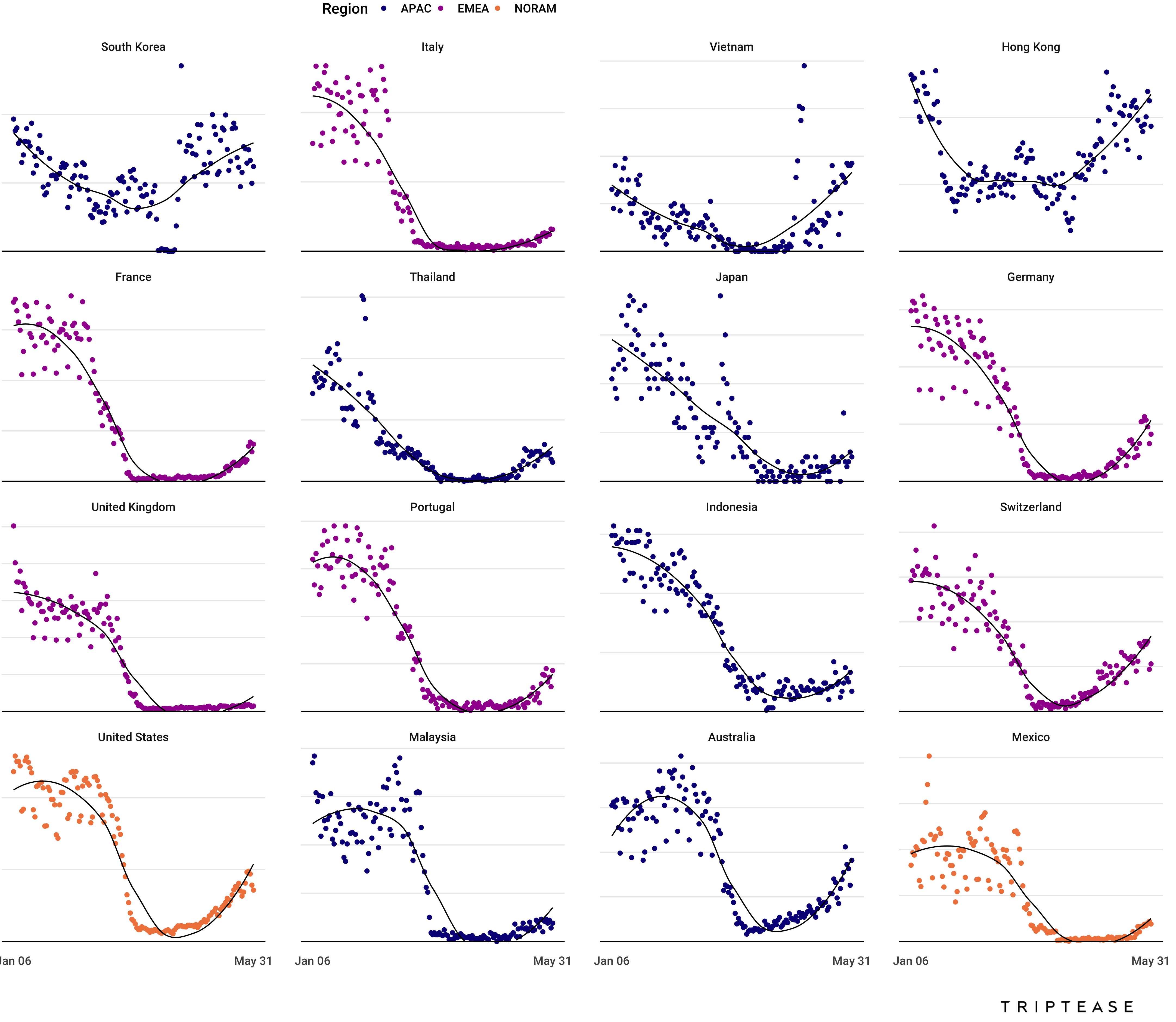 How search [above] and booking [below] volumes have changed since the start of 2020
The critical thing we look for to track the status of the market is indication of consumer demand. This can be gathered from a wealth of sources, including search intent and booking volumes.
These charts represent how both search and booking trends have changed in response to COVID-19. These are split out by hotel location and color-coded according to their region: blue for Asia-Pacific; purple for Europe, the Middle East and Africa; and orange for North America.
As we can see, there's significant variation across countries when it comes to both the stage of the crisis they're experiencing and also how steeply demand is picking back up. In Hong Kong and South Korea, for example - two countries hit early by COVID-19 and which both rapidly implemented a test-and-trace approach - bookings are almost back to the level they were at the beginning of the year. Search volumes, though, are taking longer to recover to their normal level - this could be due to higher-than-usual domestic bookings making up the shortfall caused by reduced international leisure travel (a segment more likely to run multiple searches before booking), or perhaps that more bookings are being made out of necessity rather than choice (for example for quarantining beside airports, or blocking out rooms for key workers).
These charts are a great way to get an instant snapshot of the markets picking back up. But when it comes to making tactical decisions and trying to understand how user behavior is changing, it's important to dig a little deeper.
How COVID-19 has impacted booking habits by device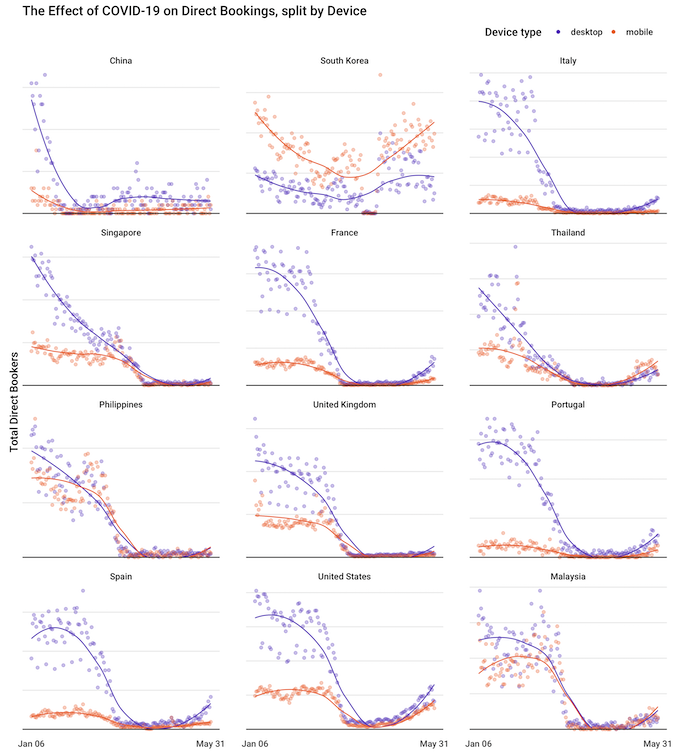 How desktop [purple] and mobile [orange] booking volumes have changed in response to COVID-19
A trend we've been watching with interest is the relative resilience of the mobile channel in the face of COVID-19. While booking volumes everywhere have plummeted, mobile has been far less affected as a booking channel than desktop. Indeed in several countries, its recovery has been faster than desktop's - and has even overtaken desktop as the primary device used for booking.
Pre-COVID, mobile visits to hotel websites outstripped those on desktop, but desktop was the device of choice for searches and overwhelmingly so for bookings. But COVID-19 has collapsed that gap. More people are now running searches on mobile than desktop, and the total volume of weekly mobile bookings is only just below those made on desktop.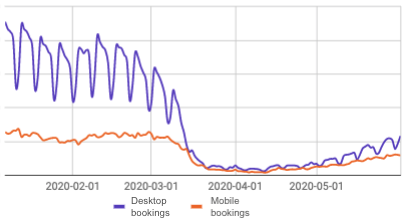 Total booking volumes split by desktop [purple] and mobile [orange]. The spikiness in this chart is accounted for by desktop booking volumes tending to drop on weekends.
Global mobile bookings are on track to hit 50% of their pre-COVID level in the next couple of weeks, whereas desktop's recovery is lagging behind. Desktop bookings have only just recovered to a quarter of their January volumes.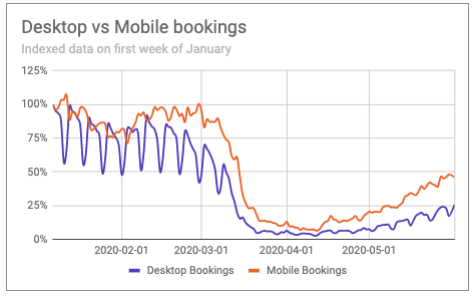 This indexed chart makes clear that mobile [orange] booking volumes are returning much faster than desktop [purple] to their pre-COVID levels.
In fact, May 2020 saw the highest ever direct revenue share from mobile devices across our partner hotels. That's an increase of 60% year-on-year.
So what does this mean for your recovery strategy? Well, it means that the people running searches on your booking engine are now more likely to be on a mobile device than a desktop computer - so if your mobile booking engine is clunky or slow to use, you could be leaving bookings on the table.
If you could afford to ignore low mobile conversion rates pre-COVID (because your desktop bookings made up the shortfall), that luxury may no longer be available. We're focusing much of our product-engineering resource on improving the mobile experience for our partner hotels, mobile Retargeting ads launching over the last few months.
How behavior varies by hotel country
Of course, global averages are useful guides, but the best way to fully benchmark your recovery and guide your tactical response is with information specific to your market.
Taking Swiss hotels as an example, we can see how both domestic (purple) and international (orange) searches and bookings were declining steadily at similar rates until around the beginning of April, when domestic searches and bookings started to recover rapidly. Domestic search volumes have now recovered to their pre-COVID levels (and are actually trending over 100% of last year), and bookings are very close to doing the same.

Indexed search and booking volumes for Swiss hotel websites split by domestic [purple] and international [orange].
If these hotels want to get their overall booking volumes back to their pre-COVID levels, they'll need to focus on increasing the conversion rate of their domestic searchers (in order to make up for the shortfall caused by international bookings). We've put together some guidance here on how to do that.
Triptease clients can get in touch with their Direct Booking Coach for a breakdown of their country's booking data, or you can contact us here to find out more about access to our data services.
How COVID-19 has changed booking lead times
Slicing our global data another way, in this instance by booking lead time, we see another trend beginning to emerge. In all three major tracked regions - North America, EMEA, and Asia-Pacific - the proportion of bookings made 8-30 days ahead of check-in has shrunk, whilst 30+ day lead times have grown in popularity. This trend is most dramatic in EMEA, where hotels have gone from seeing almost an even split of lead times to overwhelmingly taking bookings over a month in advance.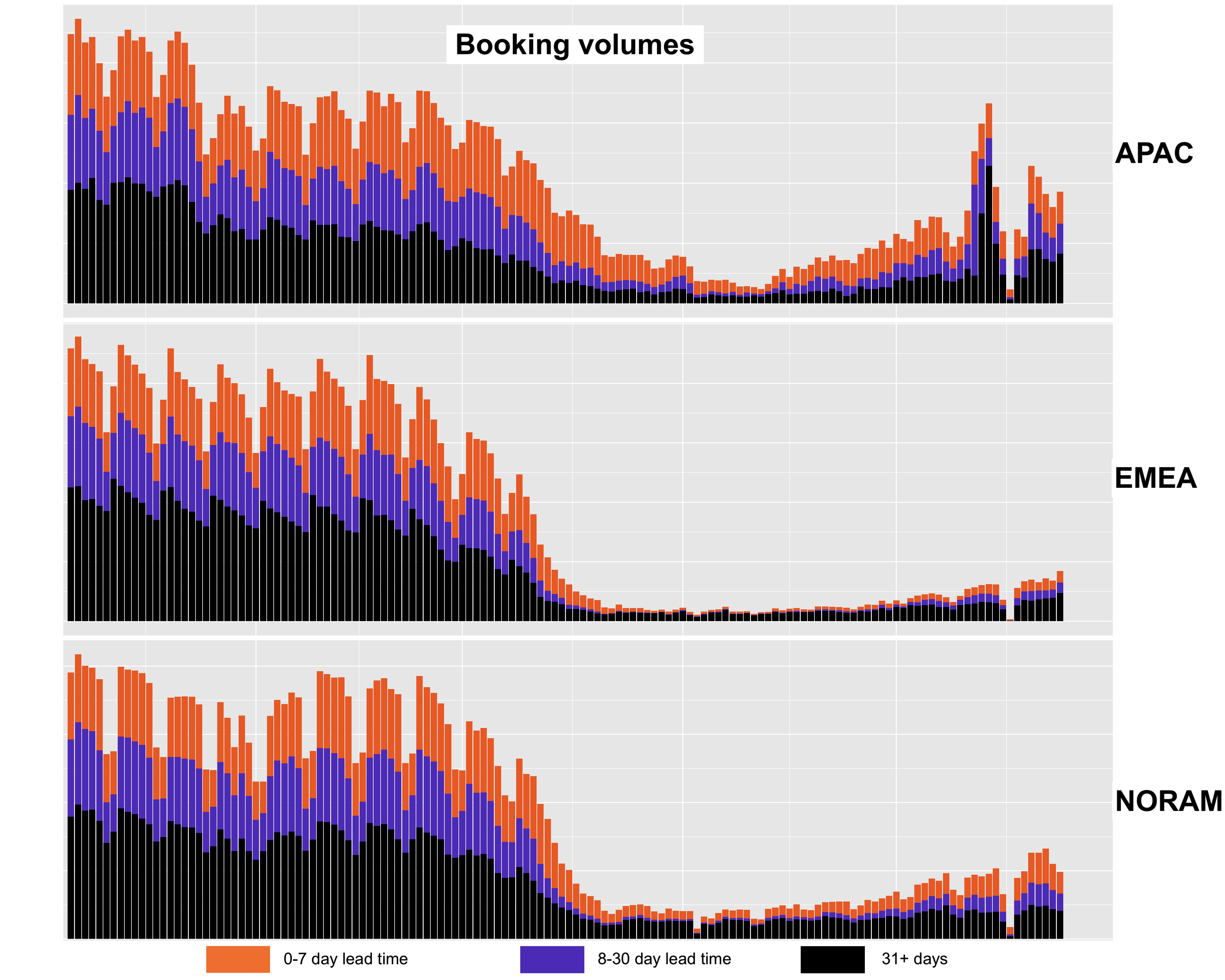 Where this data gets really interesting is when we look at how these different trends intersect with one another for different clients. For some hotels, who perhaps have always taken predominantly international bookings, they are seeing that search intent is now coming from domestic guests looking for last-minute stays on mobile. Others, meanwhile, who might have previously characterised their domestic guests as last-minute bookers based on their historical behavior, may now be seeing that they are predominantly taking long-lead-time bookings from that segment.
Access data for your market
While data won't be the only thing that gets hotels through this crisis (after all, data is only as good as the way it's applied), it provides a really useful foundation for decision-making and can be used to give you a head-start on the road to recovery.
Get in touch with your Direct Booking Coach for more information on your local market, or contact us here if you'd like to find out more about access to our market data.