Do you know which of your guests are spending most in your hotel?
Here's a clue - it's probably the direct bookers.
In the first of our monthly Spotlight on... series, we're shining a light on Direct Bookers and Ancillary Revenue. Using original survey data and insights from leading industry providers Nor1, GuestU and handy, we've been exploring the relationship between the channels people use to book and their overall value to hotels. The direct channel comes out on top: 40% of hoteliers surveyed said that their biggest spenders are regular guests who book direct.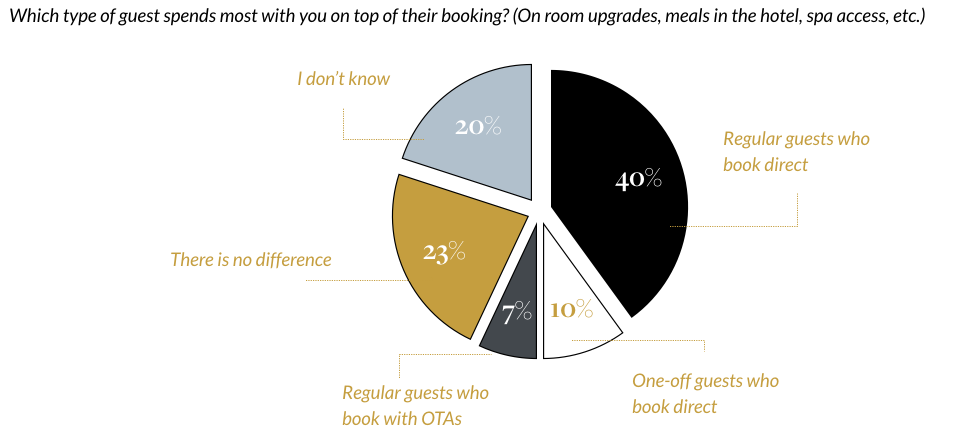 Our new Spotlight on... series examines the latest industry trends, wrapping them up in bitesize research reports written with the busy hotelier in mind. Download Spotlight on... Direct Bookers and Ancillary Revenue here - no form fill needed!
Are you treating direct bookers better yet?
A few months ago, Kalibri Labs published research suggesting that direct bookers were 'significantly more profitable' than those who came via OTAs - to the tune of about 9%, on average. That figure rises to almost 18% once you factor in ancillary spend.
Now, new research from EyeforTravel has found that the measurement of ancillary revenue streams is up across the board - meaning that hoteliers and revenue managers have more visibility than ever over the true value of their upselling efforts. The number of hotels reporting that their system could not account for any ancillary revenues has fallen from around 23% to 16.7% over the last three years, demonstrating the substantial progress being made in revenue management technology.
So, are hoteliers using that increased visibility to zero in on their biggest spenders - and adjust their strategy accordingly?
Looks like it - for some hotels, anyway.
In Spotlight on... Direct Bookers and Ancillary Revenue, we ask:
Are hotels aware that direct bookers are spending more with them?

Do they adjust their messaging accordingly?

What solutions are out there to help them upsell - intelligently?
Access the full report here - no form fill needed!
Interested in hearing more from Triptease and Kalibri Labs? Join us at our Direct Booking Summits in New York and Barcelona this Fall!