What's the secret to securing bookings on your direct website? Based on the good news coming out of Germany this week, we reckon we might have a good idea.
Jump straight to our checklist of actions!
Recently, we've been tracking how several of our partner hotels in Germany are on course to take nearly 50% of the weekly bookings they were seeing before the COVID-19 crisis hit. Given how many hotels in Germany, Europe and beyond are still either closed or trailing far behind their usual booking volumes, we wanted to investigate what these specific hotels were doing to achieve their results.
And, whilst your stage of recovery may be very different to those of some of the hotels we showcase here, we've found there are a few consistent principles that apply to almost all markets hit by COVID-19.
Read on to find out how to apply those principles to your direct website using Targeted Messages.


Focus on domestic

How domestic (purple) and international (orange) direct booking volumes have changed since the start of 2020
Almost across the board, domestic travel is picking up much quicker than international. Some governments are allowing citizens to travel within the same country, and even where international travel is permitted, many guests will be wary of cramming into airports and boarding packed flights.
If domestic travel isn't an active area of focus for you as you ramp up to recovery, you may be overlooking a significant area of opportunity.
But - as Avvio's Frank Reeves warned in last week's webinar - be wary of indiscriminate marketing blasts to your domestic database. In countries taking a phased approach to easing lockdowns, it's likely that there will be a given date announced on which hotels are allowed to open (if they are not already).
That means your domestic market will likely be hit with thousands of nearly identical emails on the same day by hotels clamouring for their attention.
CRM is an important part of any re-opening strategy, but you need to remember that you aren't the only property to be targeting domestic traffic right now. And your traditional comp set and target market may be radically altered. If your hotel typically depends on independent business travelers from overseas, chances are your marketing strategy is not set up to attract & convert last-minute domestic demand.
But that doesn't mean you're out of options. If possible (and we know for many organizations, resource constraints are stretching marketing teams to the limit) take whatever time you can to step back and look at your inventory with fresh eyes.
Do your room types easily lend themselves to a home office setup (which would allow you to market your property to home workers)?

Do you have empty event space that could be included in a package for e.g. socially-distanced family reunions?

Do you have rooms lying empty on prime summer dates that would ordinarily be blocked out for weddings, which you could offer below their usual rate for early bookers?
Triptease clients can make use of the Location targeting conditions in their Message Manager to segment offers and promotions to their nearby domestic market.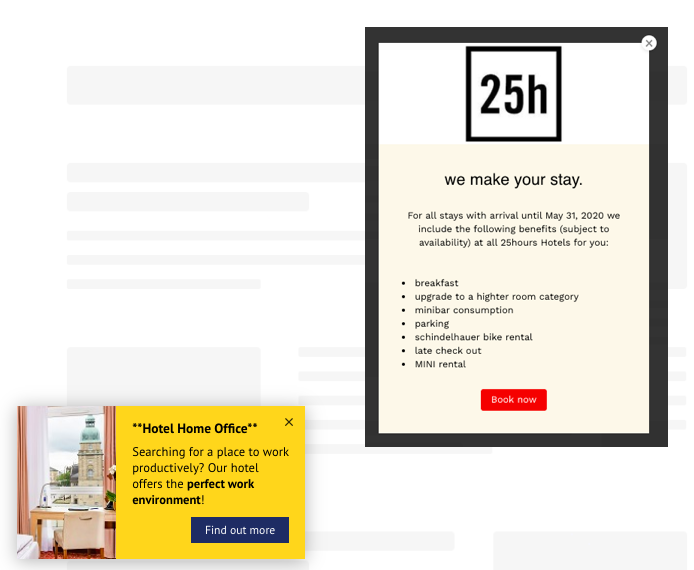 Welcome Hotels (left) ran a successful 'Hotel Home Office' promotion for domestic visitors using a nudge template. 25hours (right) is enticing bookers with access to a full suite of benefits and amenities, including an automatic upgrade to a higher room category. This message has a 14% conversion rate.
Reinforce your flexibility
Of the bookings that are being made, it's no surprise to see that bookings with very short and very long lead times are coming back fastest. As lockdown restlessness sets in, guests are likely to be dreaming ahead to future vacations and making speculative bookings to secure attractive rates in the knowledge that they can cancel.

How direct booking volumes in different countries have changed since the start of 2020, split out by booking lead time.
The trend towards speculative future bookings goes hand in hand with the high-profile move towards much greater cancellation flexibility across the industry. Booking.com, Expedia and Airbnb have all angered accommodation providers for automatically cancelling and refunding bookings across the board, regardless of individual policies. But while their solution may have been questionable, the problem itself is clear: given the current level of global uncertainty, guests are highly unlikely to book anything right now that they can't cancel if things change.
Alongside cancelling existing bookings, OTAs are reinforcing their flexibility to guests at every step of their search & booking journey. You're likely to see at least ten 'free cancellation!' nudges between your first search and eventual checkout on Booking.com. In contrast, it's not unusual to see cancellation policy details hidden in the small print of individual rate types on hotel booking engines. In the time of COVID-19, you need to be putting your hotel's cancellation policy front and centre.
Triptease clients can use a combination of Targeted Messages to reinforce their flexibility across the website and booking engine. Nudge Messages work really well for this type of message: cancellation flexibility may not be the sole reason a guest decides to book, but it might be just the kind of reassuring nudge they need to feel secure and confident enough to book.
Price Check is also a great place to reiterate your cancellation message. As well as proving that you have the same (or better) price than OTAs, you need to show that you can offer the same flexibility.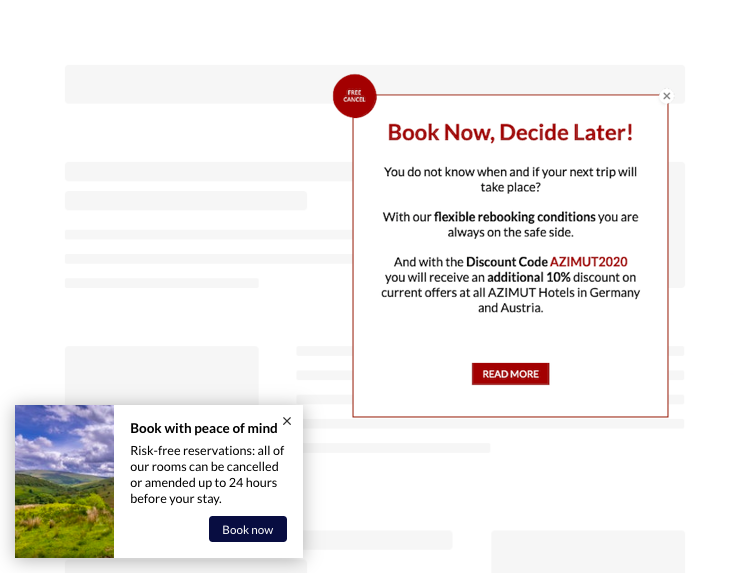 AZIMUT Hotels (right) are using the Crisis Management message type to alert guests to their flexible cancellation policies on arrival. On the left is an example Nudge message to reassure potential guests.
Reassure guests your location is safe
As a hotelier, you're uniquely well-placed vs the OTAs to know the specifics of how COVID-19 is impacting your local market. Chances are, you've been avidly following local government updates and know which restrictions are in place, how the local population is responding, and what nearby amenities and public spaces are open or closed.
Anyone planning a trip right now might have three times as many considerations and concerns as usual about placing a booking. Ease some of the burden of research on your potential guests by advertising not only the measures your hotel is putting in place to protect them, but also what they can expect from the surrounding location.
A great way to do this is by pivoting any existing location-based content on your website and booking engine to focus on COVID-specific factors (rather than just local attractions or points of interest). Triptease clients can toggle on their Location Notifications from the Message Manager, editing the callouts to highlight for example how social distancing is being observed in the local area, or perhaps to call attention to the amount of parks, woodland or other open spaces nearby.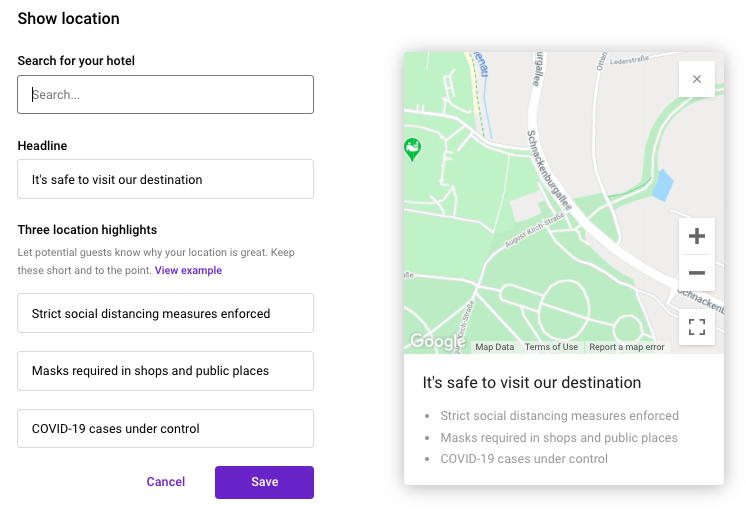 Use Location Notifications to nudge guests with reassuring information about your hotel's location
Give guests a great deal on your re-opening
Over the last few weeks, the global volume of searches on our partner hotel websites has overtaken the volume of sessions for the first time since the effects of COVID-19 on the hotel industry began to take hold. This is a great indicator that intent to travel is starting to pick back up and people are actively considering a booking rather than just speculatively browsing.
If your hotel is currently closed but you have a date to re-open set, use this time wisely to secure bookings for your first few weeks (remember - you're likely competing with every other hotel in your area for guests in the same 100 mile radius, and those hotels might be opening on the same day too). One of the most successful campaigns running on our partner hotels at the moment is this one from Hotel Belvedere in Grindelwald, Switzerland. Offering tiered discounts based on proximity to their opening date, this campaign has helped to secure almost 100% occupancy for this weekend.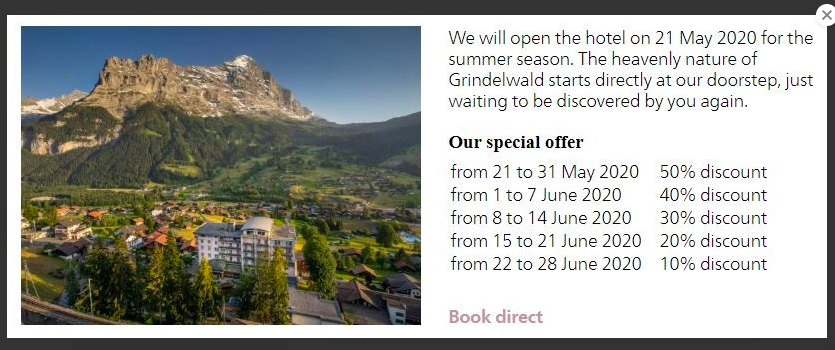 An example of tiered discounting based around opening dates on Hotel Belvedere
Checklist of actions
Create a campaign for your domestic market. Think about how you're going to differentiate yourself from your competition.

Set up a Nudge message and edit your Price Check callouts to highlight your cancellation flexibility where relevant.

Edit your Location Notifications with COVID-specific information about your local area.

If you have a re-opening date set, consider discount codes or other rewards for bookings made for your first few weeks of opening.
Need Targeted Messages support?
If you're a Triptease client, head over to the platform to access free video walkthroughs that explain how to set up each of these message types. If you'd like to find out more about setting up Targeted Messages for your hotel, contact us here.