Metasearch is a crucial channel for capturing and converting lower-funnel demand, particularly during times of uncertainty. Looking back over the last six months, booking volumes and ROI have remained relatively strong across our partner hotels despite the challenging circumstances.
And we were delighted to see this week that, when comparing with the data in a study run recently by h2c across 76 hotel chains globally, Triptease Meta has been consistently outperforming the average when it comes to revenue contribution.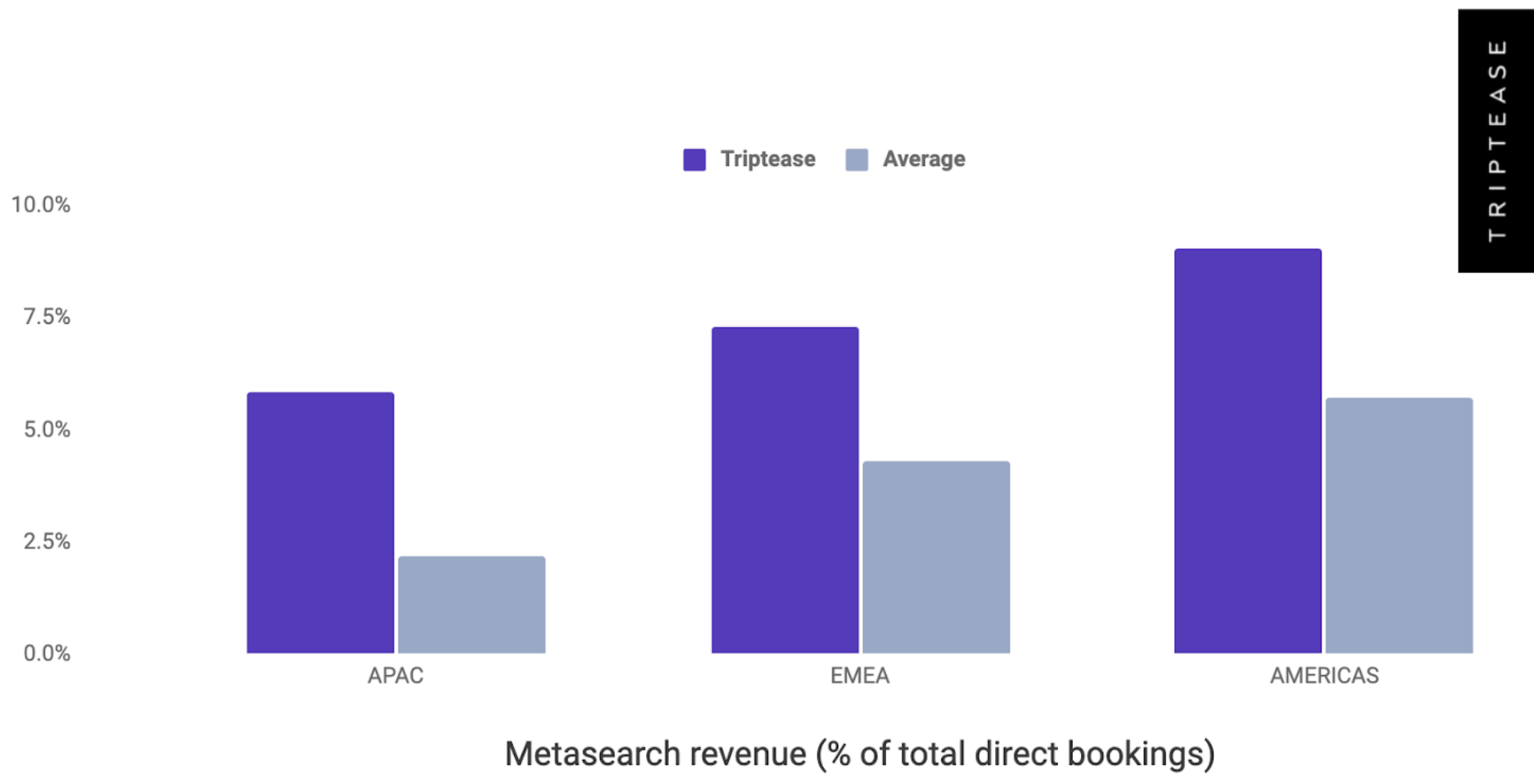 The algorithmic bidding approach we've been perfecting since we launched Triptease Meta back in 2018, combined with thorough and thoughtful human intervention when necessary, has allowed us to help hotels chart a course through 2020's turbulent waters by utilizing metasearch.
So what's behind a successful meta strategy? And what do the hotels seeing the best results have in common? We spoke to the team behind the algorithm to find out.
Why use metasearch?
For many hoteliers right now, the goal is to fill as many rooms as possible with minimal spend and minimal risk. Meta as a channel is naturally suited to the challenge many hotels have faced since COVID hit, explains Triptease's Jonathan Hickford (Senior Product Manager for Meta):
"Meta is one of the most efficient ways to capture bookings in a time of reduced demand. It works for people who are already a few steps down the booking funnel, who have an idea of the hotel they want to stay at and now want to find the best price.
"We know that 85% of meta bookings happen within an hour of a user clicking the meta link. You get a much better signal of booking intent from these users than from, for example, search advertising. That signal in turn lets us tweak and improve our bid model to target the right guests without wasting money."
What are the risks of using metasearch?
While meta might be well-suited to driving bookings in a time of low demand, hotels should be wise to the dangers of approaching the channel without a clear strategy.
With so much volatility in online travel right now, there's high potential for misdirected spend. You need to avoid wasting money advertising to:
low-intent traffic
short-term guests in countries hit by travel bans
bookings with a high likelihood of cancellation
... and more. High cancellation rates in particular are dangerous territory for hoteliers for whom cash conservation is top priority.
How does Triptease offset the risks of metasearch?
"There were already several characteristics of our approach to meta that meant we could adapt quickly when COVID hit," Jon explains.
"We've always taken an extremely automated, data-led approach which allows us to rapidly update our bidding strategy based on what's working across our portfolio of hotels, as well as each hotel's individual parity status. Our algorithm never goes to sleep - it's constantly updating bids faster than any human could manage.
"That's one reason we were well-prepared to help hotels through COVID: we weren't in a position where we could be caught by surprise by poorly-performing campaigns. Our bid model was already making changes and reducing spend where necessary if bookings were falling.
"Rather than trying to make guesses about user behavior, our bidding is driven by the actual data on onsite bookings, regional booking behavior and popular lead times. This means we can take a much more flexible and proactive approach."
One example of this in action is how the bid model automatically adjusted to the drastic shift in source markets for hundreds of hotels globally. In 2019, over 20% of bookings for hotels in Asia-Pacific were from outside the region. In 2020? Less than 5%.
As well as technical changes to the service, Triptease has also introduced a no-risk payment option for hotels who need to drive bookings but have had their budgets slashed - or who can't risk any liability for cancellations. Both Meta and Retargeting are available on a combined pay-per-stay or bill-on-checkout basis, with combined booking attribution between the two services.
Contact us here to find out more.
How has user behavior on metasearch changed?
Despite impressions dropping sharply at the peak of global lockdown before gradually returning to 'normal' levels, click-through rates on metasearch have stayed fairly steady throughout this whole period. But the same isn't true for conversion rates, which have plateaued at around two thirds of their pre-COVID level.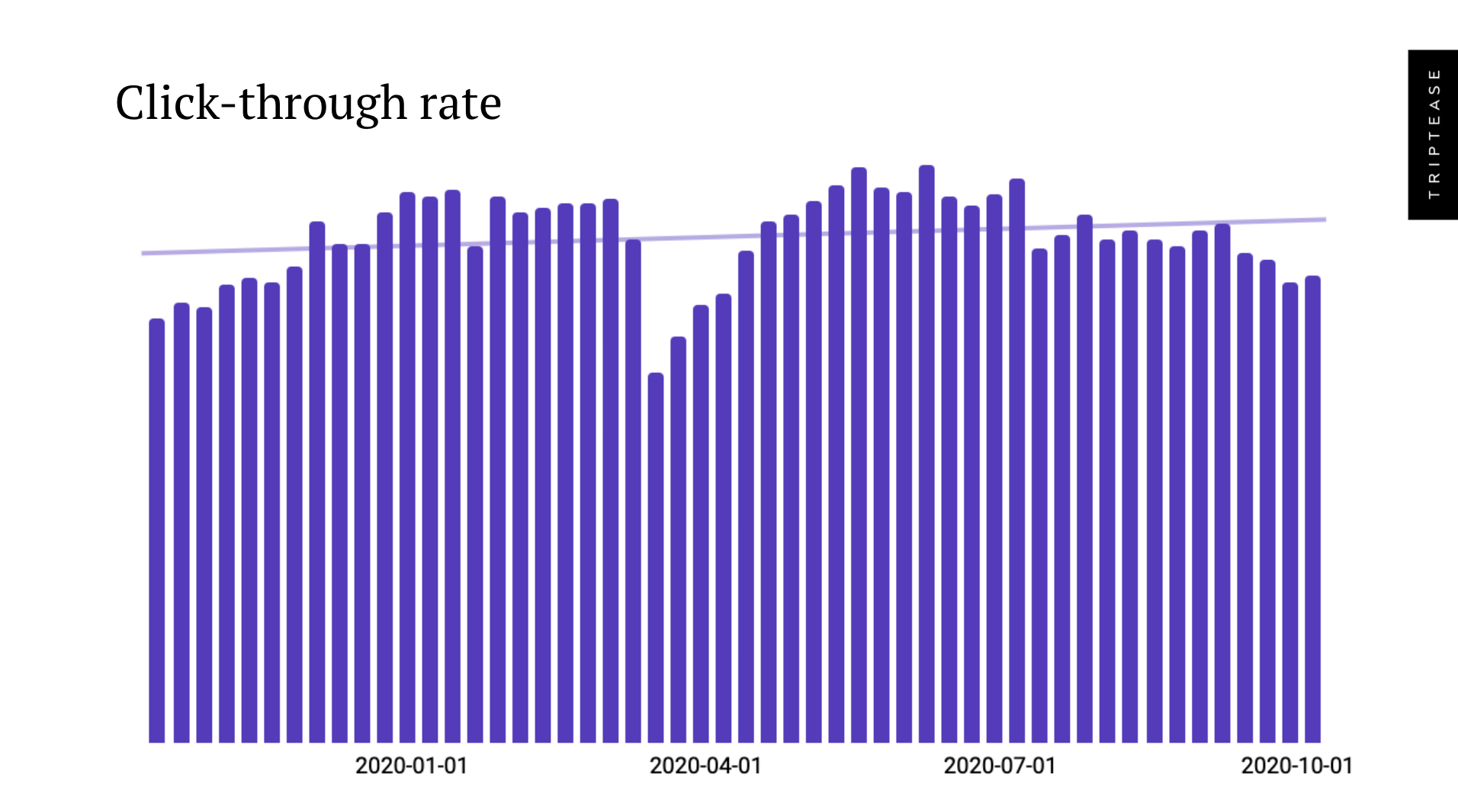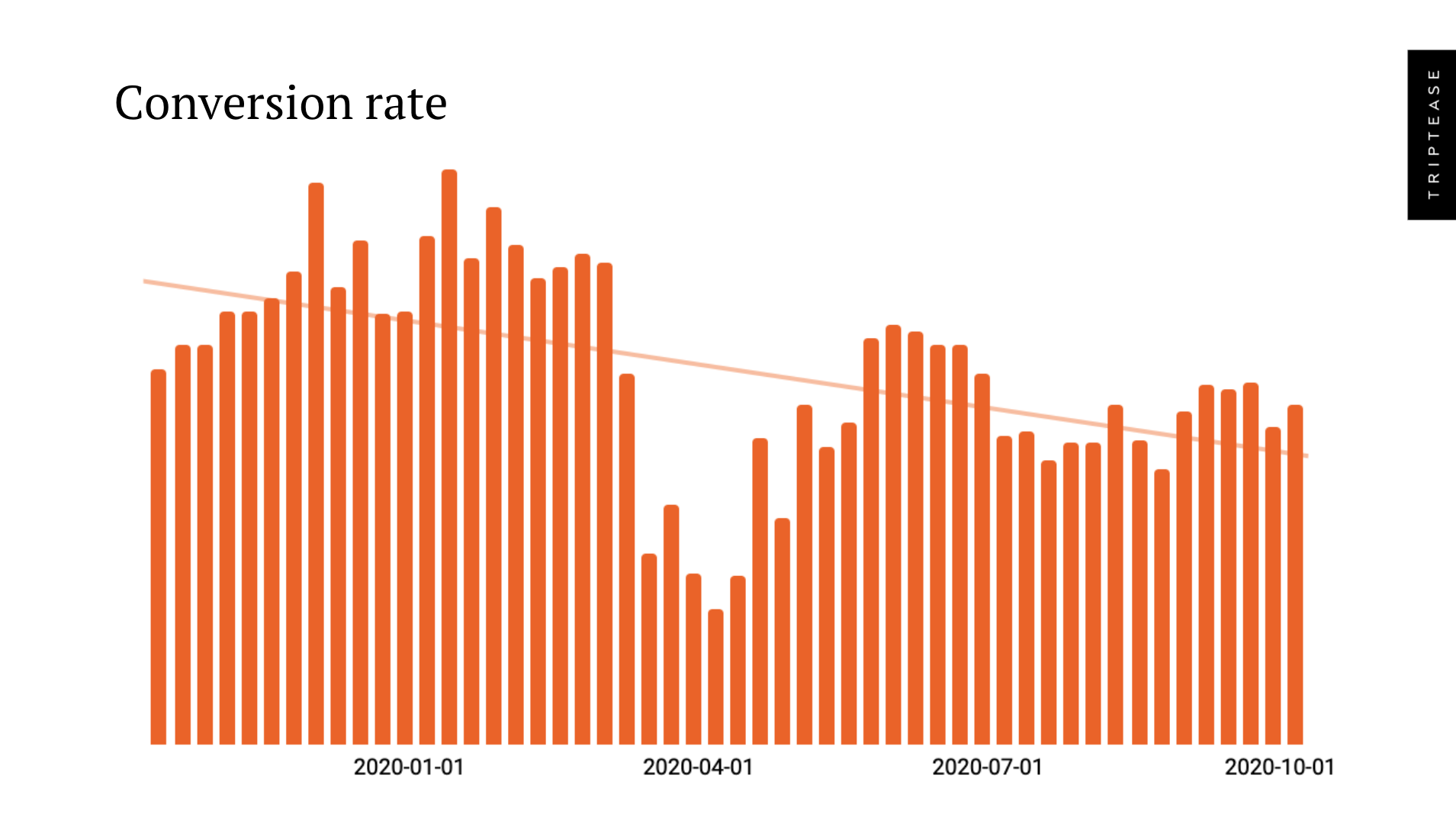 Click-through and conversion rates on metasearch over the last twelve months
This makes sense - guests are warier of booking travel, their consideration phase is longer, and they're more likely to visit more sites and research their options more thoroughly before booking.
"We know that metasearch is still working really well at getting potential guests onto hotel websites," says Jon. "But it's likely that they need more encouragement than usual before they book."
How can hotels improve their metasearch conversion rates?
Having a metasearch strategy in place is a start - but to drive the highest volumes possible, you need to make sure your booking engine is set up to convert that traffic.
Take a step back to re-evaluate your on-site conversion strategy. Try putting yourself in the shoes of a metasearch user and click through to your booking engine from a meta auction. Are you using your on-site messaging to show personalized offers to those searchers? They represent highly-qualified traffic; are there specific benefits or extra information you can surface as they explore your booking engine that could convince them to book?
"It's definitely worth making full use of Triptease's combined Attract and Convert capabilities here," suggests Jon. "Not only is Meta automatically making bidding decisions based on your on-site conversion trends, you can use Targeted Messages to segment offers specifically for searchers that come from meta. You could customize your Price Check to reiterate the callouts you're using on meta, for example, or set up a Nudge that offers these searchers 3 nights for the price of 2."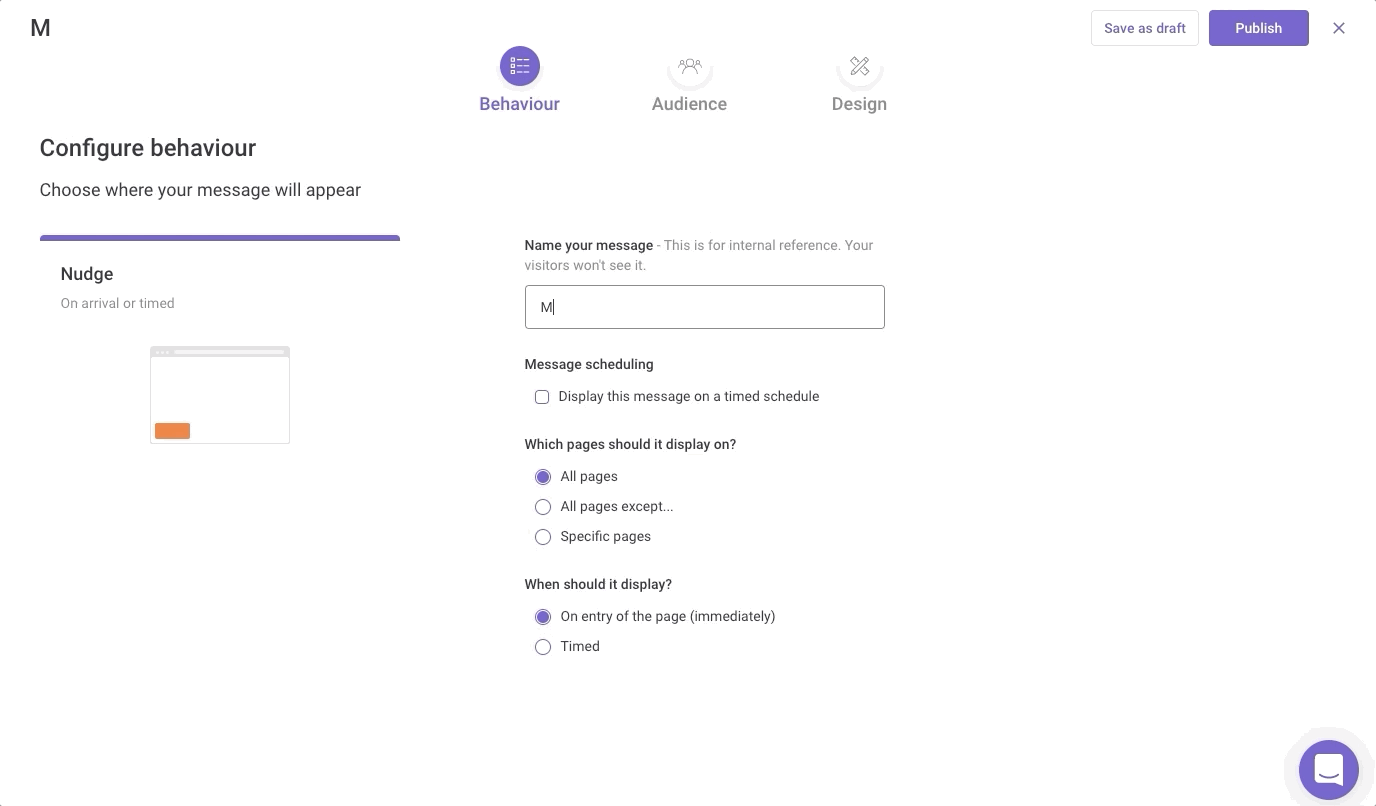 Use Targeted Messages to set up a nudge message for booking engine visitors from meta
Want to know more about metasearch?
Interested in boosting your direct bookings with Triptease Meta? Contact us here to request a demo or find out more!