Auberge Resorts Collection is a portfolio of extraordinary hotels, resorts, residences and private clubs. While each property is unique, all share a crafted approach to luxury and bring the soul of the locale to life through captivating design, exceptional cuisine and spas, and gracious yet unobtrusive service. A long-standing Triptease partner, Auberge Resorts Collection is regularly recognized by publications like Travel and Leisure, Robb Report and USA Today for their exceptional properties and service.
We spoke to Rachel Haber, Senior Manager of Digital Marketing & SEO at Auberge Resorts Collection, about the strategic thinking behind the group's success.

What makes Auberge Resorts Collection a world-class hotel brand?
Auberge is more than a brand, it's a family. The guest experience is truly exceptional and highly personalized, both online and at the hotels. We strive to always deliver world-class service, an authentic sense of place, and one-of-a-kind curated experiences.


How does Triptease help you achieve your direct booking goals?
Auberge Resorts has a long-standing partnership with Triptease. Initially for Price Check and Parity Management, but over time, resorts have added additional products to improve experience and conversion online. I use the Triptease Platform every day to monitor disparities and observe how website users are interacting with our content and Triptease's products. I've been able to measure a strong, positive conversion impact from using the Triptease tools on our site.
Since Q1 2019, roughly half of the hotels have gone live with the full Triptease Platform. In addition, the number of properties on metasearch has doubled this year while growing ROI over 2018 by using Triptease's intelligent metasearch management.
One of the benefits of Triptease is having guest acquisition and conversion products within one Platform. Interconnected guest and parity data allows for optimization of metasearch and the user experience across the website. Success in metasearch depends heavily on keeping rates in parity. Unfortunately, it's not uncommon to find a disconnect between advertised rates in metasearch and actual rates, post-click. This type of disconnect can lead to distrust and negatively impact brand perception – making it all the more critical to have consistent pricing and messaging for all steps of the customer journey.


Why is metasearch an important part of your distribution mix?
A customer cannot perform a localized hotel search without getting local results, which is why metasearch offers a great way to gain visibility in the purchase path, at a profitable ROI.
What does your budget allocation for meta auctions look like?
It's different for every hotel. To drive visibility at a time when a searcher is closer to booking, I would allocate budget towards metasearch before funding some other tactics. For now, the playing field is fairly level in metasearch compared to other tactics.


Why did you choose Triptease for your metasearch management rather than a traditional agency?
Triptease has a unique ability to leverage booking data to better manage meta bidding strategy based on historical booking trends, seasonal booking windows, length of stay, and more. The Guest Value Index takes all of that into account, while the Trip Value Index detects the customer's purchase intent and availability. Together, they influence the amount of money invested in each bid, depending on how valuable it is for the hotel.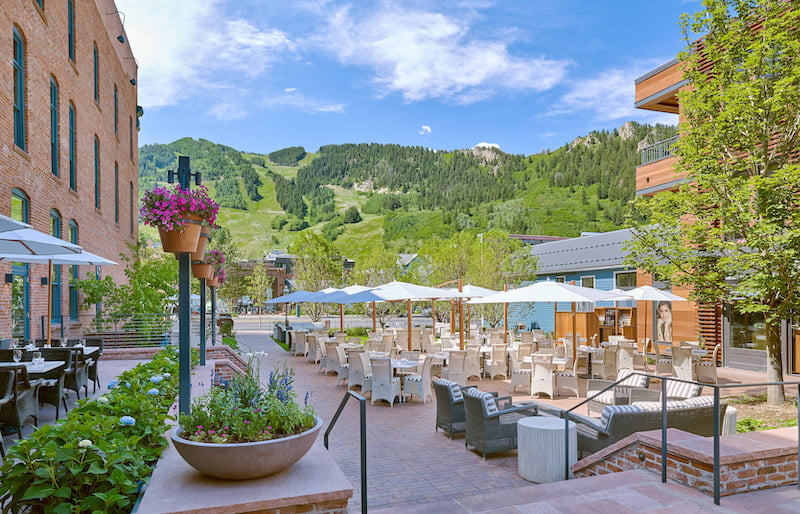 The courtyard at Hotel Jerome, an Aspen icon with a storied past.




Let's talk about your websites. Why was it important to you to use Targeted Messages on your sites?
Hotels can use Triptease to serve relevant messaging to guests throughout the research and booking journey. With more than fifty new, localized experiences across the collection, Nudge Messages can help surface relevant programming to a user based on the content they're interacting with online while Targeted Messages can show personalized offers to entice the guest to book.


Tell us about your Triptease Direct Booking Coach - what is it like to work with them?
My team is very hands-on and asks lots of questions, especially about metasearch performance and optimization. I really appreciate getting prompt and thorough responses from the Triptease team – often on the same day. Hospitality is a 24-7 business and it's really valuable to have responsive, attentive partners that understand that and work with you.
Each Auberge Resorts Collection property is unique and our Direct Booking Coach is familiar with both business objectives and the nuances of each property. This knowledge is reflected in regular reports with hotel-specific commentary and recommendations. Coaching has also helped to identify sources of rate disparities with the potential to significantly impair metasearch performance.


What does the future hold for hotel distribution?
Data will continue to drive digital. Triptease's data from thousands of hotels is an asset. It assists in driving better-informed metasearch bidding strategies and actionable recommendations.
I expect that the Airbnb's and VRBOs of the world will continue to grow, increasing their reach across digital tactics like search and meta. Additionally, I'm interested in Google's growth in travel and what that will mean for hoteliers in the next few years. Having recently consolidated Flights and Hotel booking under Google Travel, their role in distribution is poised for significant growth.
As marketing competition continues to rise, and user behavior changes across devices hoteliers will have to be even more strategic about their digital spend and will need strong and innovative partners in order to succeed. Triptease's continuous product improvement and service make them a very valuable partner.
Additionally, it's great to have the opportunity to test and learn with new features as they roll out. We're excited about what the future holds.




---
Our Triptease Platform identifies your most valuable guests then works across the entire customer journey - from acquisition to conversion - to make sure they book directly at your hotel.
If you'd like to learn how Triptease can help guest data work smarter for your hotel, contact us for more information.