Hotels and OTAs both need each other. However, despite their fundamental interdependence, the relationship between the two has felt distinctly one-sided over the past decade of relentless OTA growth. Things are starting to change, though - sweeping industry disruption, the direct booking movement and bold new stances from major brands are beginning to tilt the scales in favor of the hotels.
In the past few weeks alone we've seen a landmark new deal between Marriott and Expedia, along with a bold statement of intent from IHG on maintaining their relationship with third-party distributors. With two of the world's largest hotel chains publicly evaluating the role of an OTA in their business models, what repercussions could this have for the wider industry? As tempting as it may be to get sucked into these narratives of drama, daring and defiance, it's worth taking a step back and realising that these aren't just standalone cases, but indicative of the start of a wider paradigm shift for hotels.
As hotels become more adept with their digital marketing and new metasearch engines redefine how guests discover rooms, the historically one-sided partnership between OTAs and hotels is starting to be re-evaluated. Major hotel chains, already possessing their own powerful direct distribution channels, have started to take action - with the deal between Marriott and Expedia being the culmination of over six months of heated negotiations. After threatening to turn off the OTA channel entirely, Marriott agreed to keep its portfolio listed on the various websites operating under the Expedia Group. While this announcement contains a number of initiatives such as an 'innovative distribution arrangement beyond transient retail bookings', the rumors suggest that Marriott's commission on Expedia has been heavily reduced as a result of this latest agreement.
Beyond the speculation, what does this all mean in reality for Marriott and Expedia? At the moment, we don't know for sure - beyond the announcement of potential future plans, it appears to be very much business as normal for both parties. However, beneath the surface it's clear that some pretty major changes must have occurred - most of which are not exactly unexpected. The deal comes at a time where The Wall Street Journal reports Marriott's revenue generated through OTAs has declined by 4%, while the money coming in from direct bookings has increased by more than 20%. As Dennis Schall states in his fascinating in-depth analysis of the deal on Skift, "the reality is likely far more complex" than just assuming Marriott won reduced commissions from Expedia, but any attempt at wrangling concessions will likely now cause other major chains to re-evaluate their own contracts.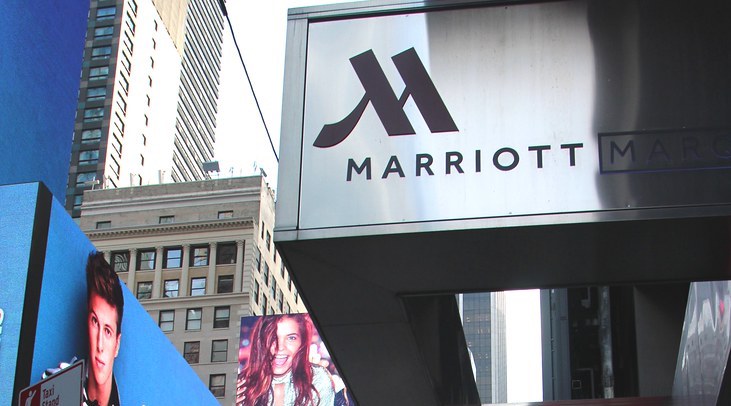 Are Marriott's protracted negotiations with Expedia a sign of what's to come within the industry?
But does every industry powerhouse share these ideals? On the back of IHG's announcement of their newest brand, Philippe Garnier, the chain's Vice President of Third-Party Distribution, had a more conciliatory outlook towards OTAs. Welcoming the "de-escalation in the rhetoric about an alleged booking war", Garnier stated that he was "happy to engage with third parties" due to concerns that "not all guests are brand loyal". While these comments contrast with the heated negotiations of their competitors, they both actually come from the same shift in perspective. Both IHG and Marriott are realising their symbiotic existence with OTAs, and are starting to alter their relationship to reflect this. Robert Cole, a senior research analyst at Phocuswright, suggests that "Expedia has no real interest in losing Marriott, and Marriott has that same feeling toward Expedia" - but it certainly seems like the OTAs have far more to lose in this scenario.
The big brands are changing their behavior towards OTAs, but without the marketing budget, brand recognition or distribution channels of the largest chains, does this actually mean anything for the average hotel? After all, OTAs are continuing to grow, with forecasters predicting them to hold a 41% market share of the US digital booking market by 2020. However, the same forces that are causing major brands to seek balance in their relationships with OTAs are also having an impact on the wider industry. The abundance of digital touchpoints, meta marketplaces such as Google Hotel Ads and disruptive solutions like Triptease are slowly eliminating the marketing monopoly that OTAs once had on prospective guests. Hotels are increasingly in a position to create a more healthy and balanced partnership with their third-party distributors.
Ultimately, whether a multinational chain or a small independent, the fundamental relationship between hotels and OTAs is the same as it always has been. The majority of hotels will still need the massive reach and advertising budgets of OTAs to help attract as many guests as possible, while OTAs need hotels to actually provide varied and attractive options to their website visitors. This may have seemed to be an uneasy union at times, but the likes of Marriott's new deal and even IHG's public support behind Expedia both emphasize the same key point: the relationship between hotels and OTAs should be a mutually beneficial one, but this hasn't always been reflected in reality. However, with market disruption, growing momentum and expanding direct sales, this might be changing soon.