The early bird offer is a tried-and-tested success story in nearly every industry. Identify those keen customers checking out your offering far in advance of when they could actually use it; reward them for their foresight with a tempting offer; then, secure an early sale and enjoy some well-deserved peace of mind.
And of course, every yin has its yang. Let's talk about last-minute deals: with inventory to spare, many businesses make the decision to drop prices and snare in those spontaneous buyers who just can't resist a good deal.
For hoteliers working with clunky website back-ends or with little ability to make quick changes online, serving out time-sensitive offers to guests can be a tricky business. So, you asked for it - and we built it. Hoteliers working with Triptease's Message Porter to provide targeted nudge messages to their online guests have always been able to target specific dates, but now they're able to segment their campaigns by rolling relative check-in dates. That makes advance and last-minute offers as easy as pie. See how it works:
Why rolling date segmentation matters
For many hotels, securing early bird bookings is key to a healthy revenue management strategy. Price-savvy guests on the hunt for a deal are incentivized to book early, and outside of a hotel's typical booking window. By the time you're into your regular booking window, you already have a healthy base of guests and you can adjust your rates sensibly. Clear, well-signposted advance booking offers on your website are absolutely key to scooping up those early browsers.
Last-minute deals, on the other hand, aren't for everyone, but there's no doubt that consumer behavior is shifting in the last-minute direction. Ctrip's most recent white paper revealed that Chinese guests in particular are booking within an ever-shorter reservation window, with only 13% booking a week or more in advance. If you make a quick decision to drop a rate, you need to be able to quickly advertise it on your direct site; guests should know that they can come to you direct for cheap last-minute deals, rather than having to go to an OTA which makes last-minute bookings its USP. However, exercize caution: with the rise of re-booking services like Service on the horizon, widespread last-minute discounts could become a dangerous game. Stay tuned for more on that topic.
The potential guest looking to book over a season in advance needs to be tempted in a very different way to one looking at a room the night before. A flexible campaign manager for your online messaging is crucial to making sure your carefully-honed revenue management strategies aren't set up in vain.
Hear from a hotelier
We spoke to Darrel Allan, Group Revenue Manager at Newmark Hotels, Reserves & Lodges, about how his team uses Message Porter in their day-to-day roles. For Darrel, advance booking segmentation has been a game-changer.
Triptease: How does Message Porter fit into your group's operations?
DA: Every week, we sit down in our Revenue Meeting and discuss the performance of the portfolio for the coming five months. Months, weeks and days of concern are underlined, and action plans are put in place. Since we implemented Triptease's Direct Booking Platform, we can create campaigns to specifically encourage reservations over those months, weeks and days of concern.
Triptease: What impact is Message Porter having on your website performance?
DA: It's like chalk and cheese. We have been able to provide bookers with unmissable reminders about why they should book with us, and the stats clearly indicate that they work. I'm looking forward to launching our new website and making use of more of Message Porter's features - for example, URL-targeted campaigns. That's when the fun starts!
Triptease: What is your favourite Message Porter feature?
DA: I like the fact that we can target bookers checking in on a particular day, so we can really zone in on areas of concern. Naturally, we monitor any events that take place in the city of a particular property in the portfolio, and create social media awareness and Triptease campaigns around these events.
Triptease: Has there been a particular Message Porter update that has made a difference to how you use the product?
DA: Visually, the whole thing looks really modern. The update I was most happy to see was the fact that we can now target visitors booking in advance or last minute!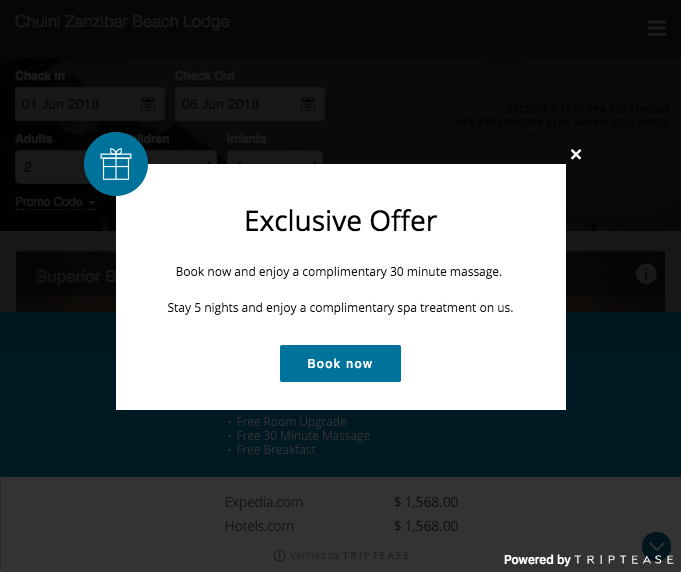 Newmark are making the most of Message Porter's segmentation capabilities
You can read more about Newmark's success with Triptease here. What's your favourite Message Porter feature? Is there an update you'd love to see next ? Let us know! We're constantly tracking engagement with our platform and acting on the feedback we receive from customers. You ask, we build.
---
Want to keep up with Triptease content? Sign up for our newsletter and we'll send your our best direct booking tips fresh to your inbox every week.