It won't be a surprise to any hospitality professional that hotel bookings tend to fall into recurring seasonal trends. There are obvious times of the year when your potential customers will be looking to plan and book their next trip - the two regular peaks are January and July - and times when they won't.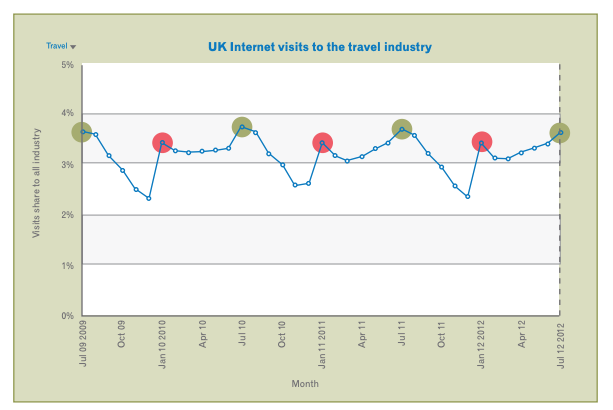 Source: Experian Hitwise monthly data July 2009 - 2012
In December, customers are likely to be traveling and staying in hotels that they've booked for the holiday season. That makes them much less likely to book during this period. Combine that with the fact that their monthly disposable income is probably being spent on gifts and other festive expenses, rather than on future holidays, a dip in bookings at this time of year is to be expected.
At Triptease our data confirms this trend. After the spike in performance we typically see on Black Friday, there is a clear decrease in bookings and conversion rates for all hotels during the festive season.
The good news? It's temporary. In January we're straight back into a peak booking period for hotels. Last year, we saw average conversion rates jump more than 2% from December to January in North America and Europe. In fact, conversions on the first Monday and Tuesday back at work after the 2018 holidays were higher in Europe than they were on Black Friday.
With that in mind, there are still actions you can take if you're noticing a lower than average performance during this annual dip. Read on for some tactics you can employ to mitigate the impact of a seasonal booking slump.




Put direct booking discounts front and center on your website
If you have initiatives in place to drive direct bookings in December, make sure they are immediately visible on your website. Consider reviewing and removing some of your targeting options temporarily so that more of your existing discounts and special offers are visible to more people.
If you're using Triptease Targeted Messages, you can do this by clicking on each message you currently have live, then clicking into the Audience tab of the Message Builder to see what targeting specifications you have in place currently.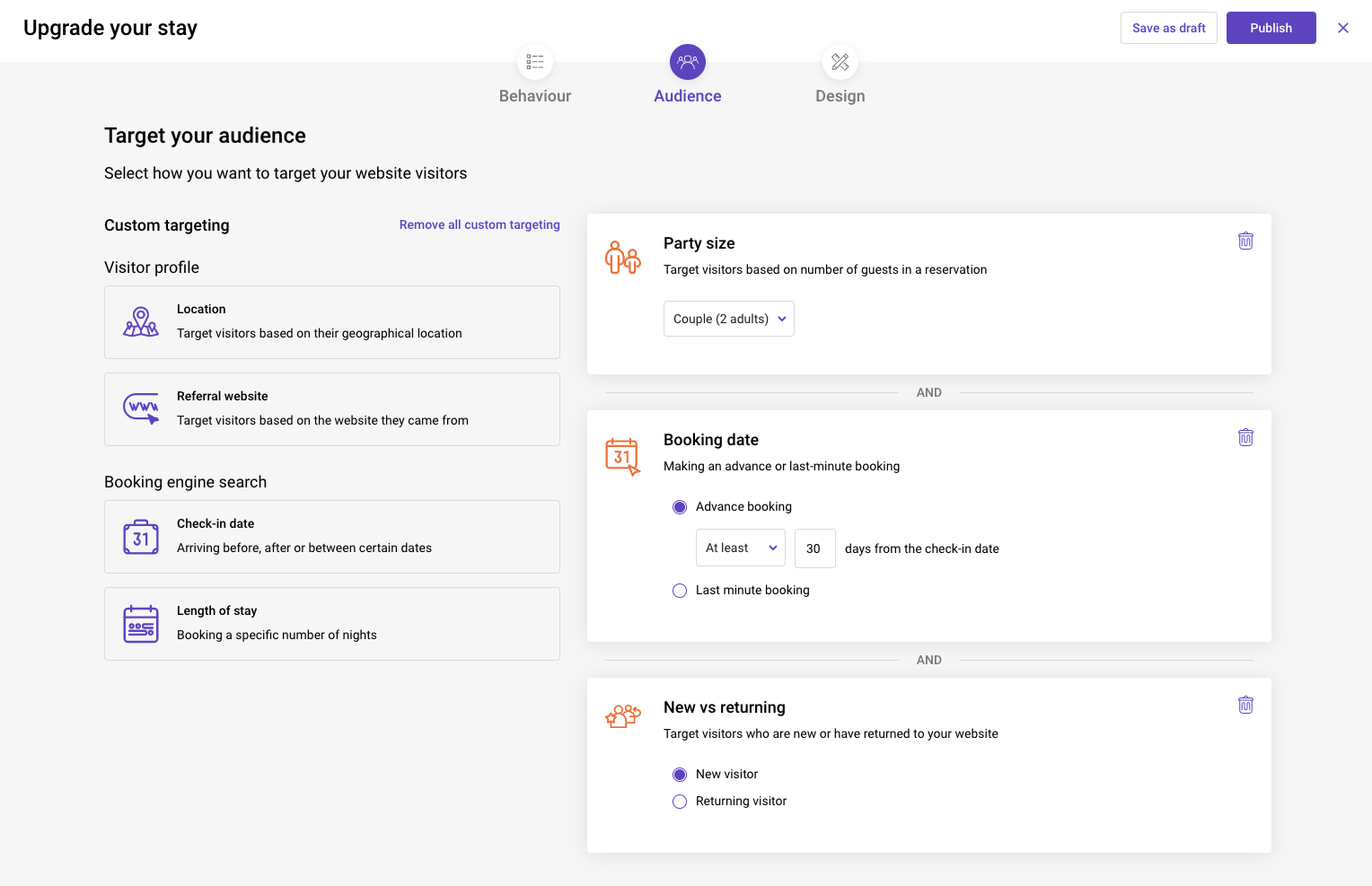 Too many message targeting options at this time of year will limit the number of potential customers seeing your direct booking incentives
If there's lots of targeting specifications already in place, your message probably isn't being viewed by a huge number of people. This isn't always the best messaging strategy at any time of year if you're looking to improve message performance (more on that here), but during low booking seasons it's definitely worth reviewing any limitations you've put on your existing messages to give more customers a reason to book.




Consider a high-value, limited-time seasonal offer
Guests might not be booking in their usual volumes, but they may well still be browsing for next year's trips. That means there's potential to convince them to book right now with a spectacular limited-time offer.
You can set up a limited-time offer in the Message Builder by going to the Behaviour tab. This is where you set the parameters of when and where your message will appear. Click the check box in the Message scheduling section to input your start and end dates for this message. This is great if you or your staff are taking a break over the festive period and want this offer to be taken down automatically on a particular date.




Work with a metasearch provider who can provide efficient seasonal bidding
With Google searches accounting for 67% of customer journeys originating online, it's vital that you're working with a metasearch provider who looks beyond a one-size-fits all, static approach to meta bidding.
As we've previously highlighted, hundreds of factors go into making the perfect bid for the perfect guest - from location to day of the week to the subject of this blog, seasonality.




It's highly likely that hotels will see a lower than average performance in meta during the festive season - for the reasons outlined above. What's important to check is whether or not your metasearch provider is actively bidding during this time. With Cost Per Click (CPC) being high and Return On Ad Spend (ROAS) being markedly low, if your metasearch provider is continuing to bid in their usual manner during this time they will likely be losing your business money.
A big part of winning in metasearch is knowing when not to bid. A metasearch provider who understands the complexities of seasonal bidding will potentially also be delivering lower than average traffic to your website during this time - but crucially they won't be spending your budget in order to do so. That's because they won't be bidding indiscriminately on customers who aren't interested in booking at this time of year.
At Triptease our efficient bidding strategy means that we offer 60% more visibility, 30% higher return and 105% more revenue compared to the Google Hotel Ads benchmark. To find out more about how Triptease Meta can ensure that your hotel has the right traffic acquisition strategy in place, get in touch with our team.




Collect emails to remind website visitors about your hotel after the seasonal dip has ended
Right now your ideal guests probably aren't looking to book, but come January that could all change. Make sure that anyone who has visited your website during December still has you front of mind when they're back in 'actively shopping' mode.
The quickest way to do this is to set up an Email Capture Message. You can set them in the exact same way that you set up any other Triptease message type. Just click Create Message then select Email Capture. The rest of the set up is exactly the same as usual - select your target audience (in this case it's probably best to target everyone), design your message and publish instantly.




Doing this will allow you to send targeted marketing materials to interested customers in the new year. Let them know that you've launched your January sale, send them some inspiration to book their 2020 holiday or deliver a special offer to people subscribed to your mailing list.




Bring potential guests back to book direct with Retargeting
Retargeting can increase your direct revenue at any time, but in December it provides a key additional benefit. While traffic to your website may well be lower than average at this time of year, anyone who does visit but doesn't book should definitely be targeted with relevant ads in the new year.
They're clearly interested in your hotel, and now they may well also have the available budget and more drive to book - so don't miss this opportunity to get them back to your website.
This year Triptease launched a Retargeting tool that allows hoteliers to bring guests back to their website using targeted, price-led ads powered by a hotels' specific website data and algorithms trained on thousands of hotels around the world. That means you can precision-target high-value guests with personalized advertisements based on their specific search.
Check whether your existing retargeting provider can offer an algorithmic approach that combines search, parity and behavioral data to target the right guests for your hotel, at the right time, avoiding costly bidding mistakes. If they don't it might be time to kick off 2020 with a new partnership…