If you're a Triptease customer you'll know that you can see the full list of everything our product team is getting up to by clicking on the Updates tab in the Triptease Platform. But here are a few of the highlights for everyone else...
Front Desk Conversation Insights
Product: Front Desk - Date: Friday 27th April
The point of Front Desk is to help you both build a relationship with your potential customers from the very beginning, and seamlessly move them along their journey towards booking. To give you a clear picture of how well that's working within your hotel we've updated the Front Desk Insights section to include a range of new data points.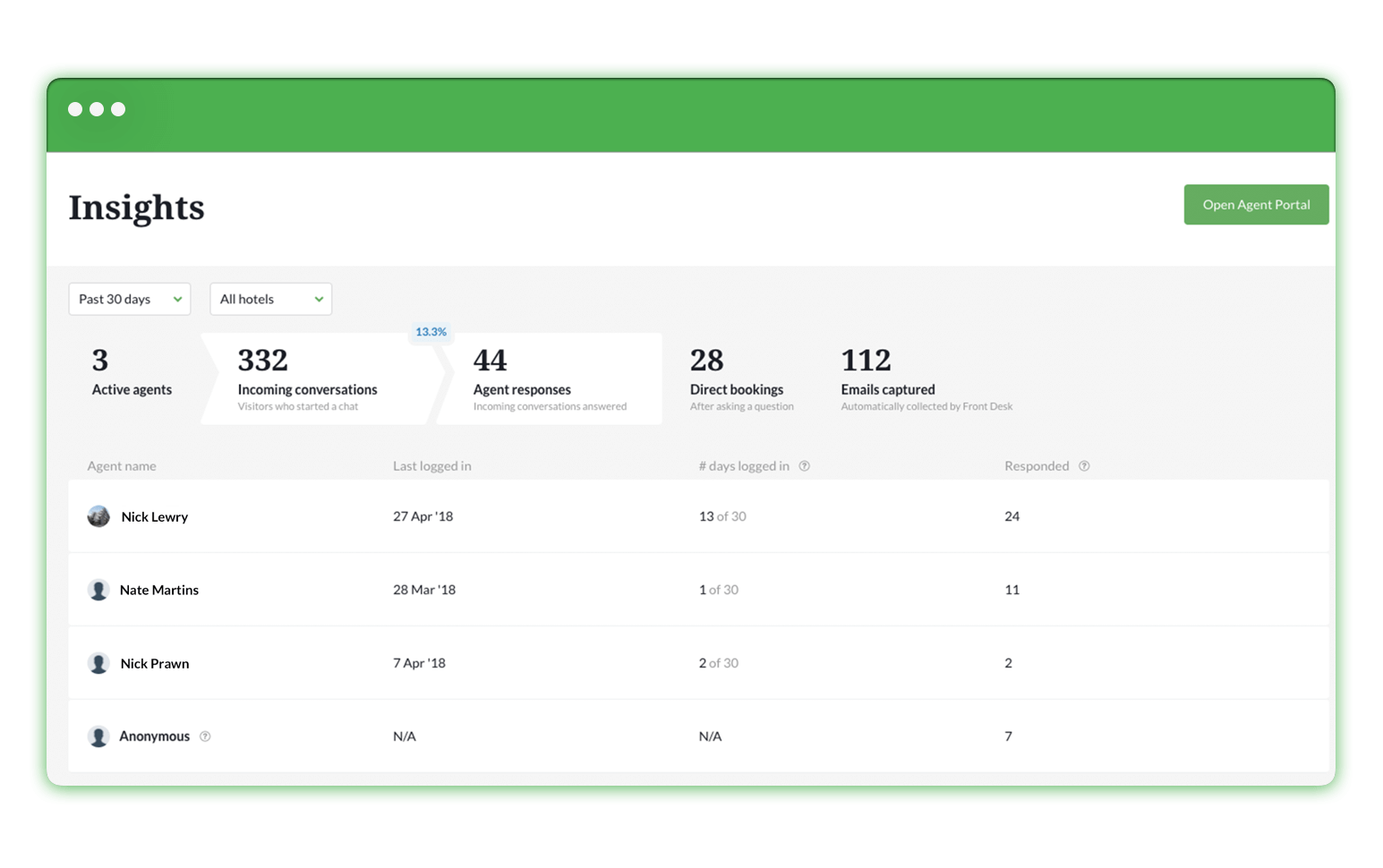 You'll now be able to see numbers for the following:
Active agents
Incoming conversations (Visitors who started a chat)
Agent responses (Incoming conversations answered)
Direct Bookings (Visitors who booked after asking a question)
Emails captured (Automatically collected by Front Desk)
You'll also be able to see a breakdown of data for each staff member using Front Desk. This includes:
Agent name
Last login date
Number of days logged in
Number of responses
This will give you a much clearer picture of who is using Front Desk most frequently and effectively, as well as a view on which agents are best at responding to guest questions. That means you can recognise and reward the members of your team who are really taking the time to engage and help potential customers, and use their skills to improve your online booking experience.
We'd love to hear how Front Desk Insights is working out for you, and what additional data points you'd like to see in future. Get in touch and let us know your thoughts!
---
Reassign a conversation
Product: Front Desk - Date: Thursday 12th April
One feature that lots of the hotels we work with have been keen to see is the ability to reassign a conversation to another member of staff within the Front Desk Agent Portal. Reservation managers need to stay 100% focussed on conversations related to bookings. That means they need to be able to connect guests with other staff members who can answer questions about different aspects of the hotel - such as restaurant reservations, spa bookings or events - that don't relate directly to booking a room.
Additionally, hotel groups want assurance that if a guest asks a question on a shared hotel group homepage, that guest can then be connected to a specific hotel reservation agent to make their booking at the property they would like to stay in.
This week we're pleased to say that this feature has now been added to Front Desk, and Agents can now reassign a conversation to a more relevant member of staff within the Agent Portal.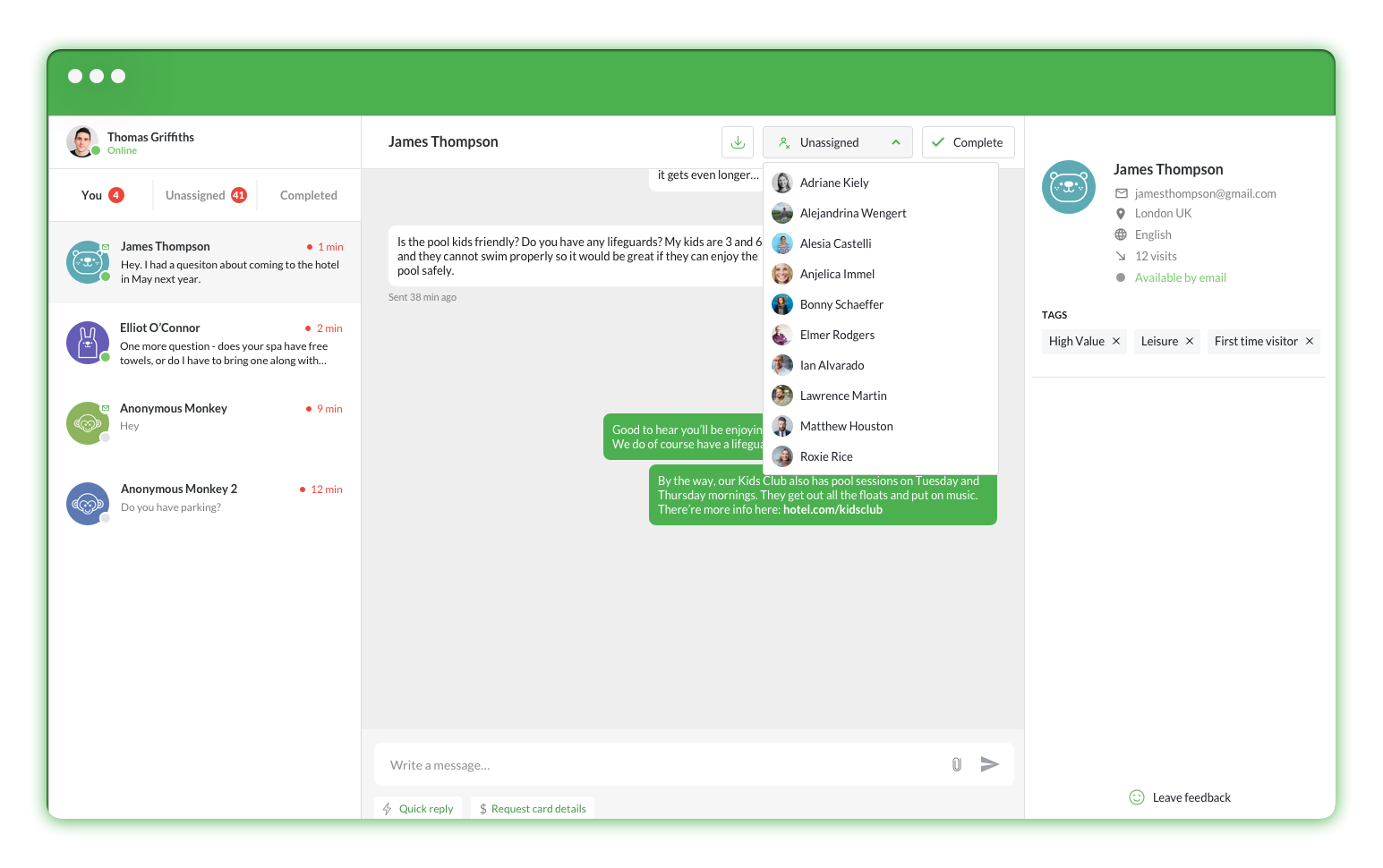 This is also great news for guests, who will be able to speak directly to the member of staff who is most able to help them. So guests get the right answer faster, and your staff can focus on the specialised jobs they were hired to do.
Your feedback on our latest features is always invaluable, so please get in touch and let us know what you think of conversation assignment. Thanks!
---
Your Insights dashboard
Product: Insights - Date: Wednesday 11th April
Our mission at Triptease is to drive direct bookings on your website. We also want to make it as quick and simple as possible for you to see exactly what impact the Triptease Platform is having on your conversion rate, so you can set targets and measure yourself against competitors.
We're adding new data to the Insights dashboard all the time. It's designed to show you all the information you need to know - instantly.
The dashboard includes:
Our hero number - the daily, weekly or monthly Direct Bookers on your website
A clear conversion funnel (from Visitors to Searchers to Direct Bookers) filterable by hotel and time
A bar chart overview of your Direct Bookers so you can observe trends over time
Additional tips on how to use the full range of features within the Triptease platform
This is just the start of the additional quick-view data the dashboard will offer. We'll be adding more features and performance metrics soon.
---
Disparity Dungeon search, dropdown and CSV updates
Product: Parity - Date: Friday 6th April
We've got a couple of little updates to tell you about in the Disparity Dungeon this week. Firstly you can now select multiple hotels in the Hotel dropdown (plus we've made it searchable too!) This should speed up your ability to find and check disparities for all your hotels. Here's how it looks: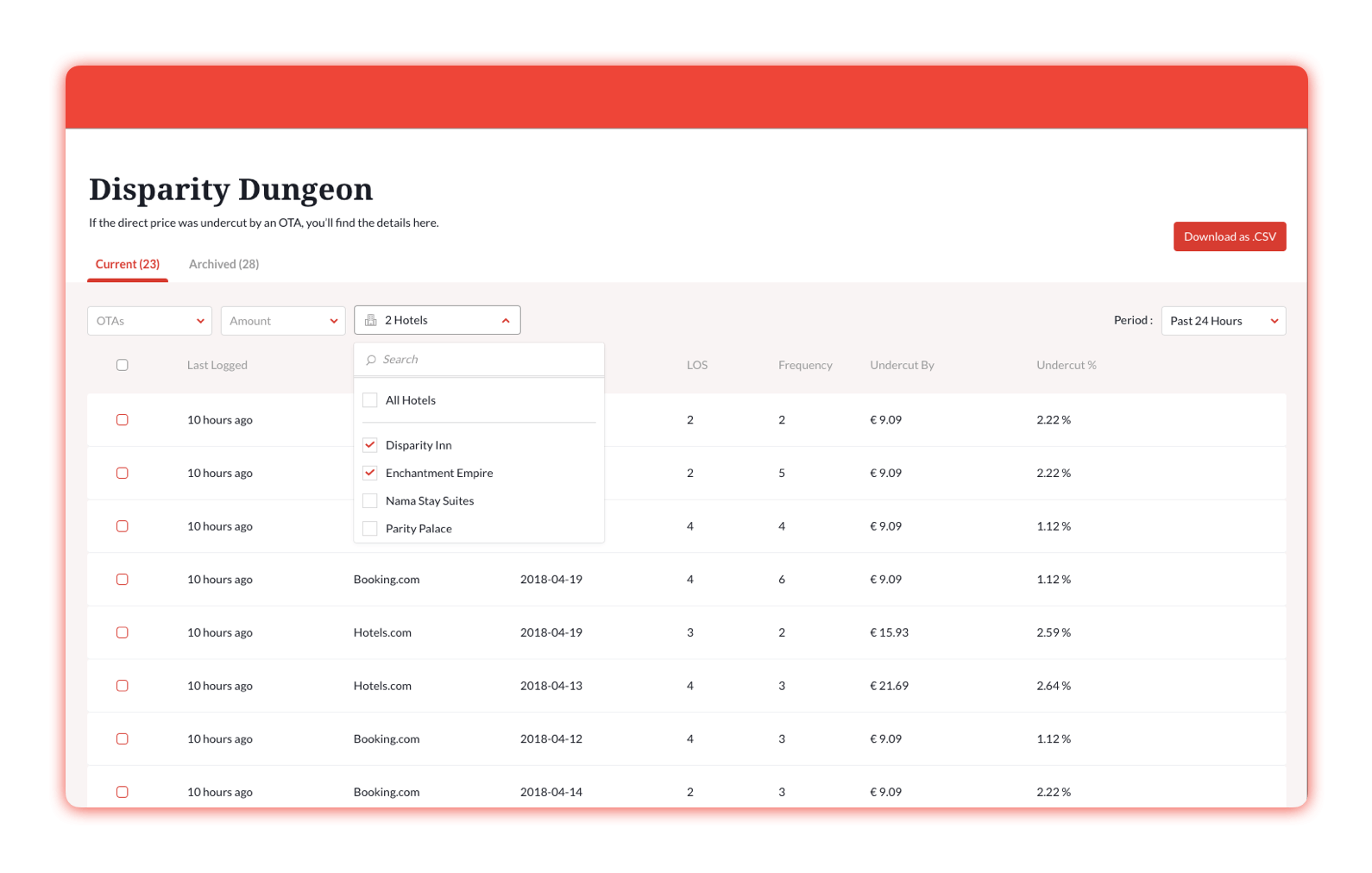 We've also now added a frequency column to your downloadable CSV file, so you can easily see how many times particular disparities have appeared.
As ever, we'd love to hear how the Disparity Dungeon is working for you. If you have any feedback or suggestions then please get in touch!
---
Control customer replies and change Front Desk icon colours per hotel
Product: Front Desk - Date: Friday 6th April
A quick improvement on last week's update - you can now switch customer replies on or off and select your Front Desk icon colour per hotel. This means even more tailored branding and better control over the conversations happening on your hotel websites.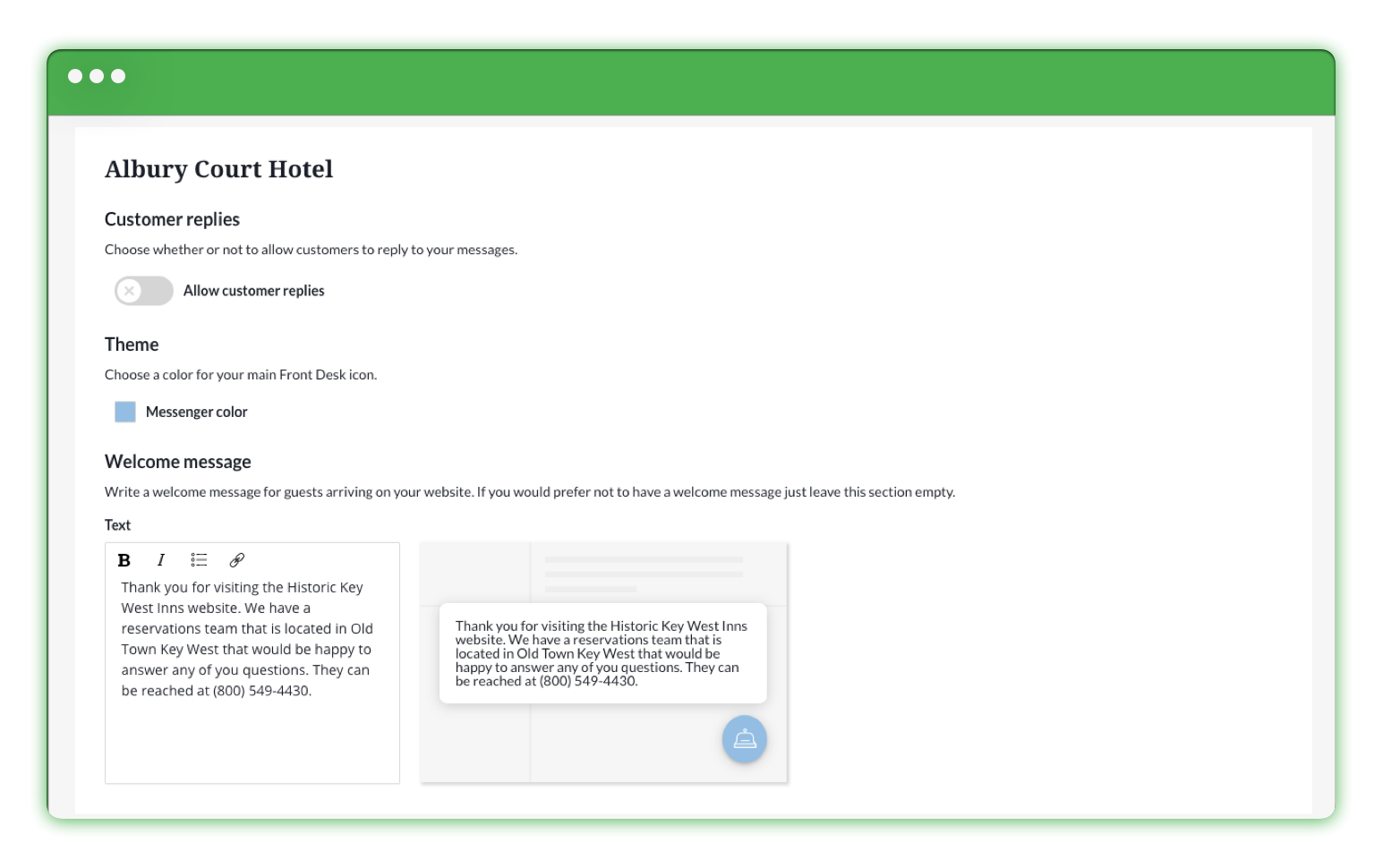 As ever - let us know what updates you'd like to see in future, or if there's anything we can be doing to make our current features even more useful.
---