Happy new year! We're kicking off 2018 as we mean to go on with some very cool updates, designed to make things quicker, simpler and just, well, nicer for hoteliers to use.
If you're a Triptease customer you'll know that you can see the full list everything our product team is getting up to by clicking on the Updates tab in the Triptease Platform. But here are a few of the highlights for everyone else...

Go directly to:
Advanced booking and last-minute campaigns
Exclude certain URLs from Message Porter campaigns
Message Porter Insights in the Campaign Manager
New year, new Disparity Dungeon
Welcome to the new Campaign Builder!


---
Advanced booking and last-minute campaigns
Product: Message Porter - Date: Thursday 25th January
You asked for it, so we built it - you can now create advanced booking and last-minute Message Porter campaigns! So, if you want to serve up a special offer for guests booking one day, three weeks or even two seasons in advance, now you can.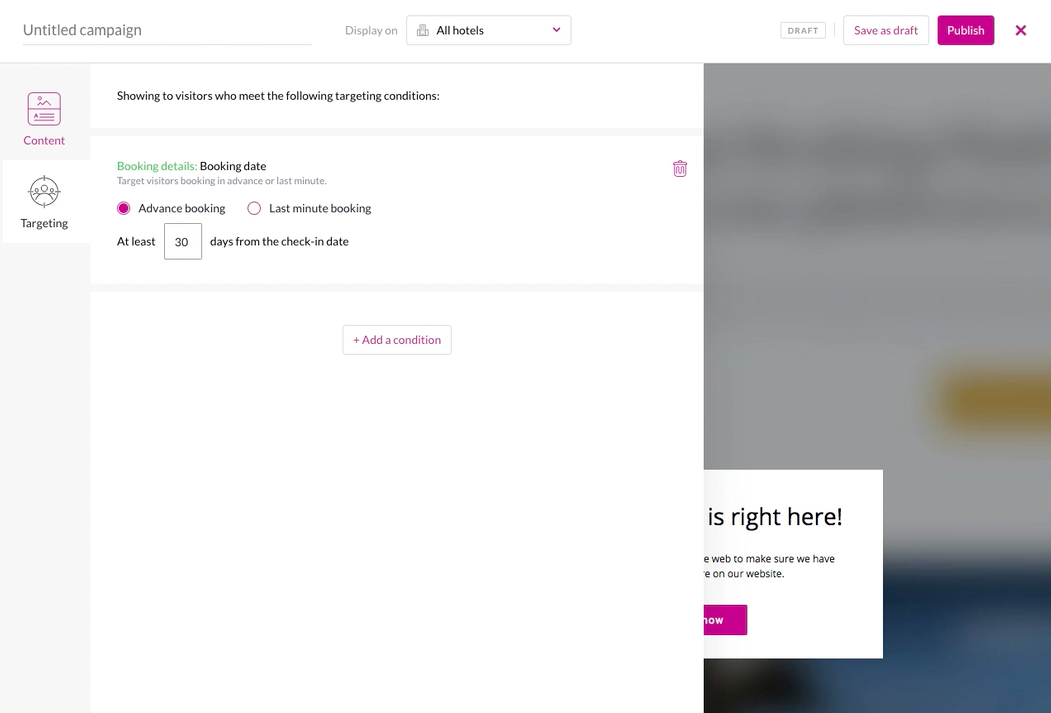 Use the new Targeting tab in the Campaign Builder to set a new condition around booking date. A super simple process, but one that gives you so many more options when it comes to campaigns.

We're excited to see what you'll be building with it. As always - drop us a line if you have questions or feedback.
---
Exclude certain URLs from Message Porter campaigns
Product: Message Porter - Date: Friday 19th January
The great thing about Message Porter is that you can select specific pages of your website for particular campaigns to appear on. But what if rather than choosing a specific URL for a campaign to trigger on, you actually want to suppress a campaign from appearing on a certain page instead?

For example if you have a group homepage for multiple hotels, you might not want a Message Porter campaign to appear there because it's not directly connected to a hotel that a guest can make a booking at. You can now enter the URL of that page in the Campaign Builder to stop your message appearing there.
---
Message Porter Insights in the Campaign Manager
Product: Message Porter - Date: Thursday 11th January
Our aim is to make Triptease helpful, simple and quick to use. That's why we decided it would make hoteliers' lives easier if we moved the information in the Insights tab to one clear grid at the top of the Campaign Manager. That means when you log into Message Porter to create, edit or pause a campaign, you'll be able to see all your useful stats straight away.
You can now easily see exactly how many campaigns you're running, along with the total impressions, clicks, conversions and revenue for all your current activity. If you'd like to see those same stats broken down for each individual campaign you're running, that information is where it always was - in the Campaign Manager below.

Additionally, we've added the date that a campaign was either paused or set live in the campaign status column, so you can quickly see how long a campaign has been running for, or when it was paused on your website.
---
New year, new Disparity Dungeon
Product: Parity - Date: Friday 5th January
As if a relaunched Campaign Builder from the Message Porter team wasn't exciting enough, we're very pleased to introduce a brand new Disparity Dungeon too! We've also got ourselves a clean, fresh new look for 2018, along with some additional handy new features.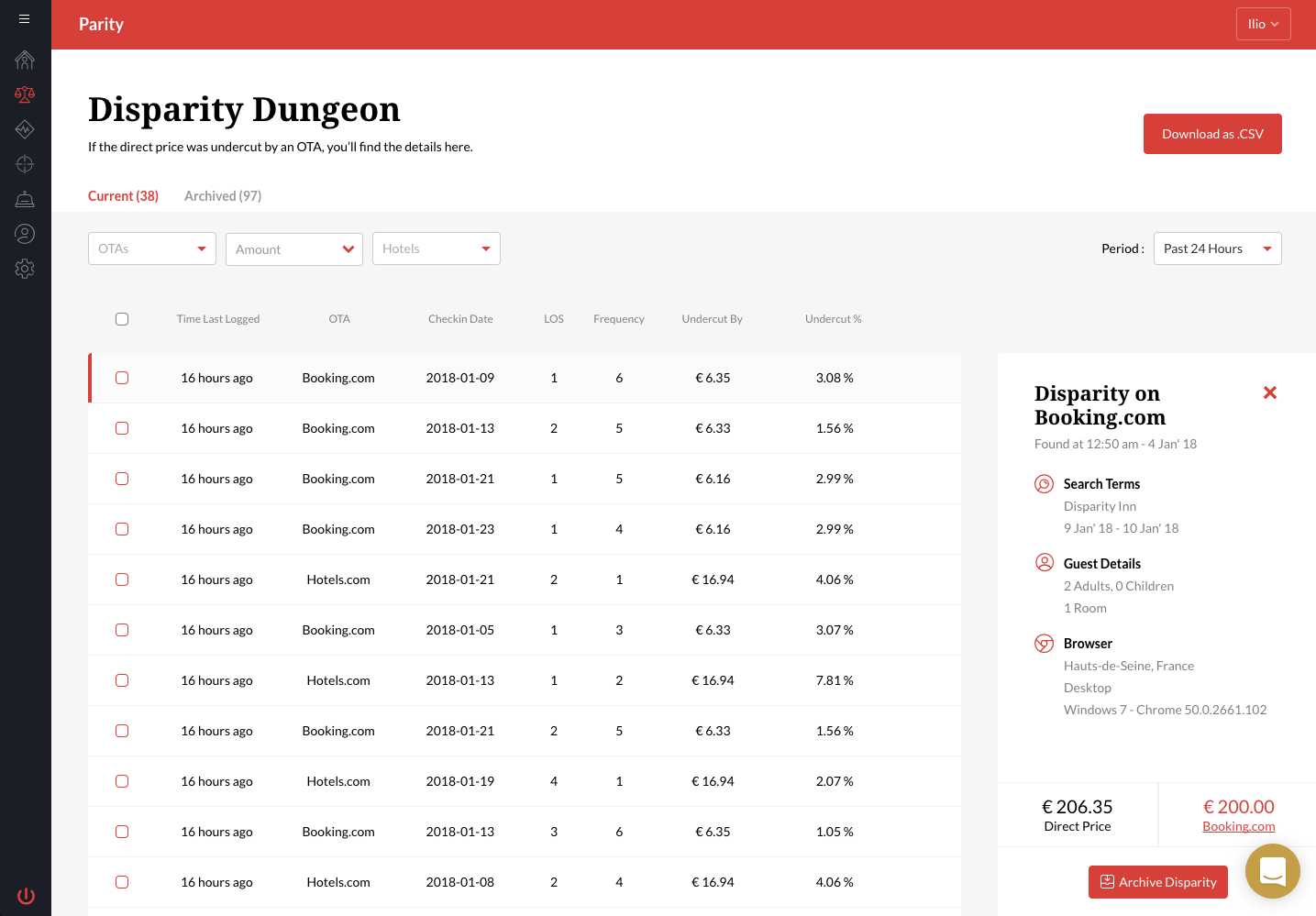 You are now able to select multiple disparities and close them all out in one go, which will save you time. We've also added some additional data points that will help you to replicate, diagnose and solve a disparity.

We hope you like your new Disparity Dungeon as much as we do! And as per usual if you have any questions, comments or feedback then please get in touch.
---
Welcome to the new Campaign Builder!
Product: Message Porter - Date: Thursday 4th January
If you've logged into Message Porter recently you'll have noticed that we've made some pretty interesting updates and given it a whole new look. But that's not all - our redesign means we can now start delivering some big plans for 2018. More on that very soon...
So what exactly has changed? Well first of all we've completely refreshed the look and feel of the Campaign Builder. It's lighter, brighter and cleaner to look at, which makes it easier to view and use.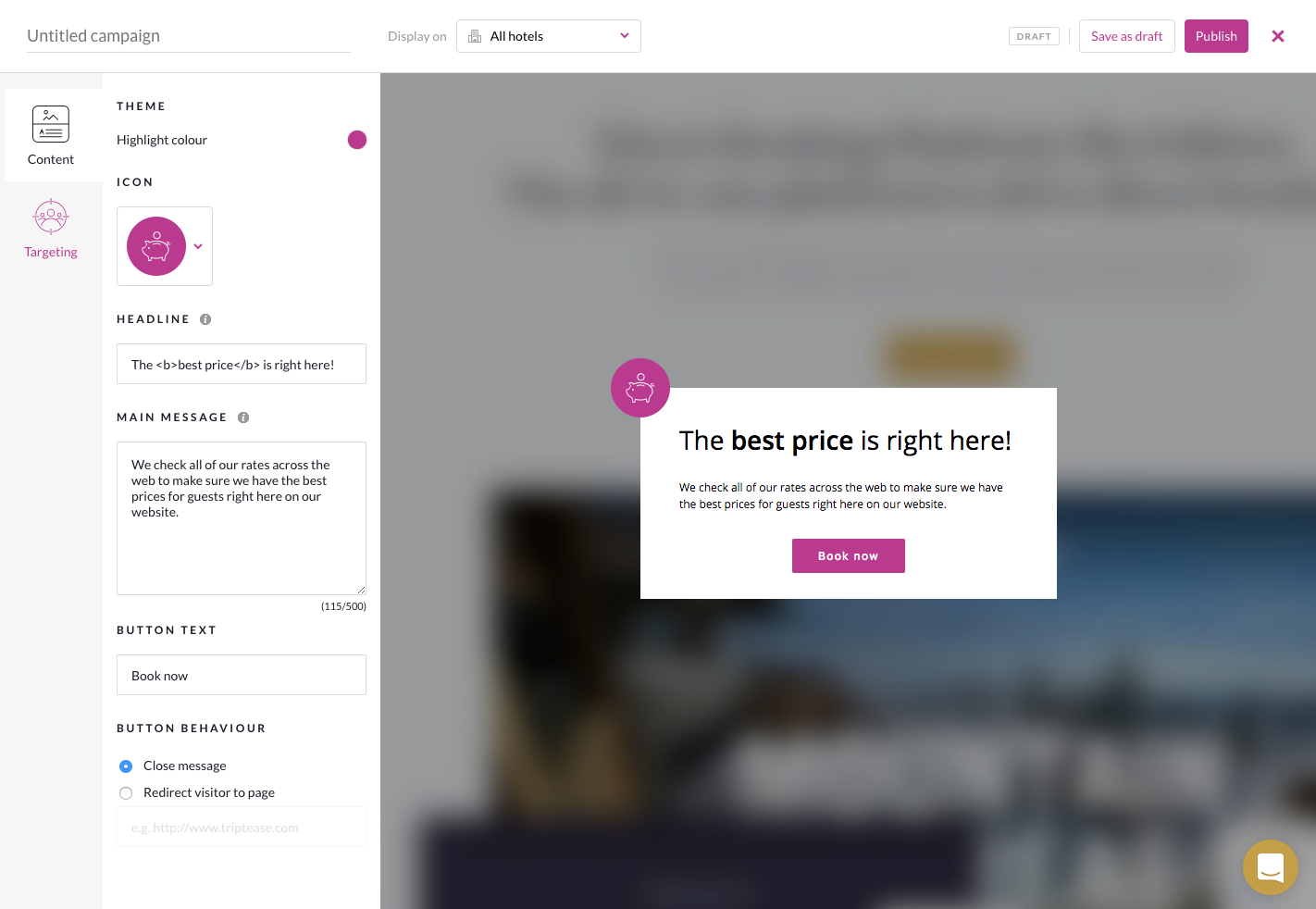 We've also introduced a separate Targeting tab, which is where our new design should be really helpful. You'll now have a crystal clear view of which targeting conditions are in place, and you can edit, delete or add additional conditions easily.
Have a look and let us know what you think, or if you're interested in learning more about the new Message Porter Campaign Builder then get in touch!
---