If you're a Triptease customer you'll know that you can see the full list of everything our product team is getting up to by clicking on the Updates tab in the Triptease Platform. But we always like to share the highlights on the blog too because we're nice like that...

Go directly to:
Download conversion data & request booking references
Smart targeting: Likelihood to book


---
Download conversion data & request booking references
Product: Analysis & Improvement - Date: Monday 13th May
As part of our ongoing experiments into how best to help Triptease clients easily access and analyze their Triptease data, we'll be adding new functionality into the platform regularly over the coming months.
The first of these updates allows you to download your conversion data to a .csv file so you can easily perform your own analysis. Just click the Download conversion data button in the Your insights section of the Triptease Dashboard.
Secondly, you are also now able to request booking references so that you can independently verify the bookings we track against your own systems. At the top of the Triptease Dashboard (just under your main Direct Bookers number) you'll see a sentence asking if you're looking for your booking references. Clicking on this text will open a pre-populated chat with one of our Customer Success Team who will be happy to help.
---
Smart targeting: Likelihood to book
Product: Convert - Date: Thursday 2nd May
Targeted Messages allow you to show exactly the right message to every guest, depending on who they are, where they are and what they're trying to do. You can now also target potential customers based on their likelihood to book, using our newest smart targeting feature.
Selecting smart targeting means that Triptease will take the reins, employing machine learning to decide whether a guest has a high or low likelihood to book and showing them a relevant message accordingly.
This means hotels will be able to display completely different messages to customers with either high or low chances of booking. In practice this means you could be offering a larger discount to the customer less likely to book in order to help entice them, whereas people with a high chance of booking might just need a free breakfast or welcome drink to seal the deal.
Here's how it looks: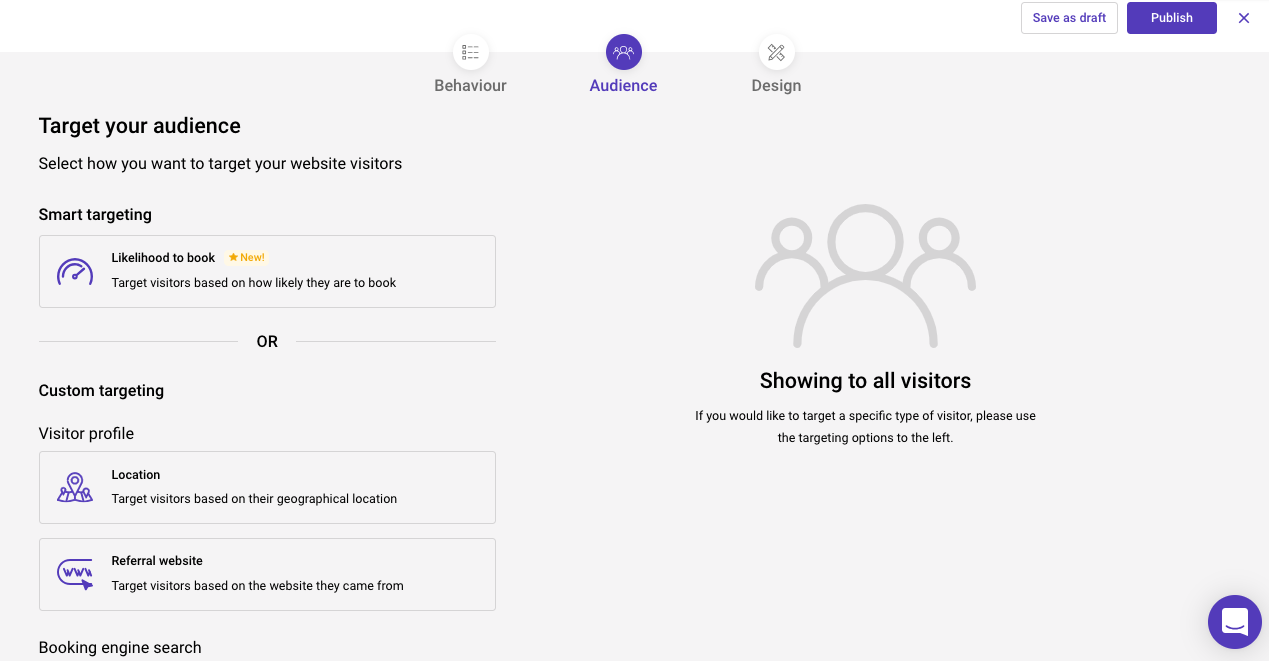 As ever, we'd love to hear your feedback on this latest update to our Targeted Messages. Are there other instances when you'd like Triptease to take over and handle the targeting for you? If so, what would those be?
---