The latest iteration of Tripadvisor's Plus program has stirred up some strong feelings within the hospitality industry. The original subscription program has been scaled down from offering discounts on hotels to providing cash-back to guests after check-in. This was the result of hotel chains being unwilling to participate in a scheme that allowed Tripadvisor to display room rates lower than the hotel's publicly available ones in order to encourage customers to sign up to Tripadvisor Plus.
The newly-relaunched Tripadvisor Plus Funds - currently available only in the US - is proving no less controversial. Instead of a discount on the hotel rate, members can now get that money back in the form of 'Trip Plus Funds' which they can use at the hotel during their stay and for future stays too. For a $99 yearly fee, members get a 15% (or more, according to what hotels are willing to offer) reward for booking via Tripadvisor.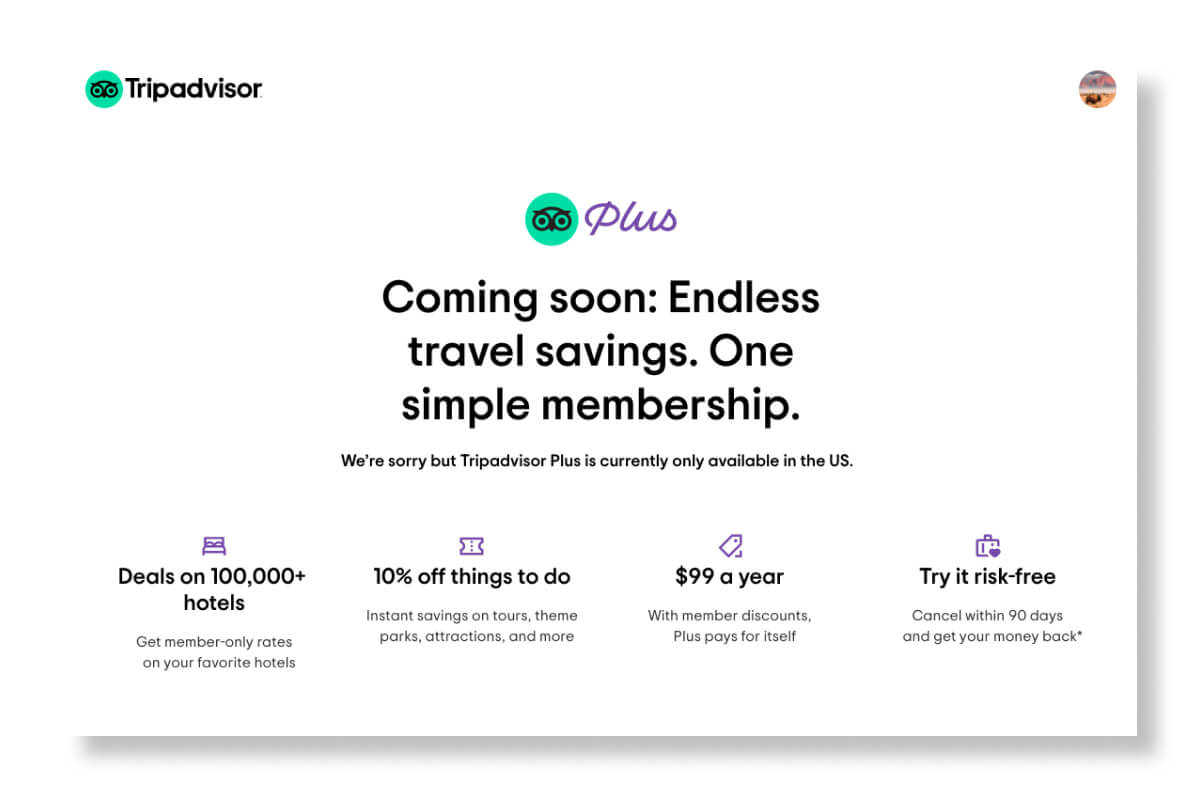 Tripadvisor Plus Funds is currently only available in the US
We caught up with tech journalist, podcaster and founder of Travel Singularity, Simone Puorto, whose LinkedIn post on the subject of the newly updated scheme generated an insightful debate on the benefits of participating in the program. We asked Simone to walk us through what he knows about the current situation with Tripadvisor Plus Funds, and whether there are more impactful ways that hoteliers could be investing their marketing budget.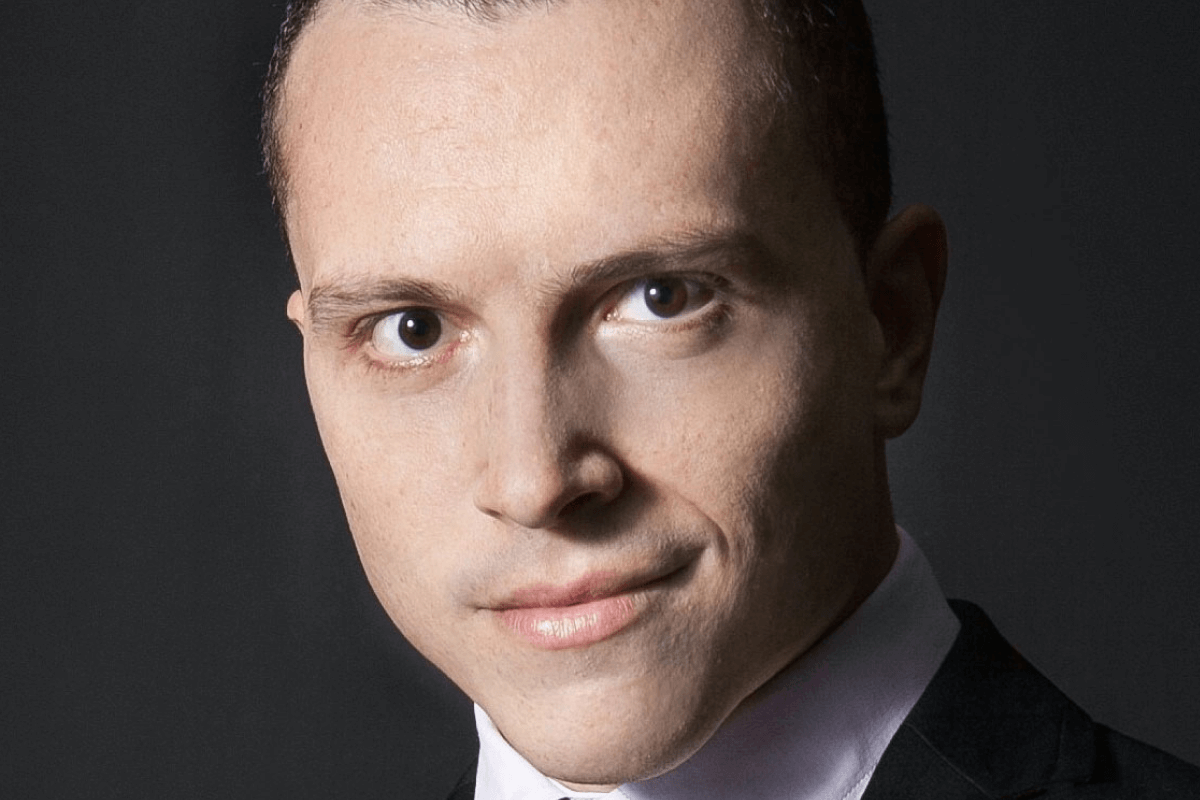 Simone Puorto is Founder, CEO & Futurist at Travel Singularity. Get in touch with him via travelsingularity.com
What return can a hotelier expect from participating in TripAdvisor Plus Funds?
Having been running Tripadvisor Plus for 20% of his clients over the last five to six months, Simone explained that he can only provide insights on the results he's seen from what he calls the 'version 1.0' of the Plus program - but what he's observed so far has not been particularly impactful.
He explained that "before Tripadvisor changed its approach, hotels had to provide discounted rates (a minimum of 10% but normally 15%) via the Global Distribution System (GDS). This was already a limitation, as most of my clients don't even distribute on the GDS."
"I can't comment on the 'version 2.0' yet, as I don't have any clients running on the new format. That being said, my 'best performer' in Tripadvisor Plus received only three bookings in six months and a 0.5% increase in website traffic. The others didn't receive any bookings, and - on average - less than 1% of increased brand.com traffic. In order to be interesting, I think the program should bring at least an extra 5% of traffic/direct revenue."
Is TripAdvisor moving towards an OTA-style partnership model with hotels?
As Simone pointed out in his original LinkedIn post, the Tripadvisor Plus Funds rate is not going to be sent via the GDS as it used to, but directly via the connectivity partner. He claimed that, to him, 'this is the definition of an OTA'.
Simone explained that "this new TripPlus is, by all means, OTA-oriented. Hotels pay a commission to be distributed: in my book, that's the definition of an OTA. Problem is that TripAdvisor does not have the integrations with all the channel managers/property management systems in the market yet."
Simone has clients that would like to join the program, but can't because they are unable to send their availability, rates and inventory (ARI) to TripAdvisor. "There's not even a solid extranet where hoteliers can upload rates and inventory, so Plus currently looks like an odd hybrid between an OTA (without e-commerce) and a facilitated-booking metasearch approach."


Should hotels try Tripadvisor Plus Funds, or is there a better alternative?
Simone's advice is that "without the risk of rate leakage that you had with version 1.0, I don't see why hotels shouldn't try". That said, he's not anticipating great results. He suggests that hoteliers invest in Google Hotel Ads instead, as they'll be likely to see much better returns. His recommendation is to "start with the PPS model to reduce the risks, and then try different bidding approaches. The average ROAS for my clients is extremely high."
If experimenting with different bidding approaches is not something you have experience with (or time for!) it can make sense to work with a metasearch provider to ensure that your budget is being used in the most impactful way possible.
A technology partner like Triptease takes the pressure off the hotelier completely. Triptease Metasearch uses automatically-calculated bids (based on your parity status and the customer's likelihood to book) to ensure that the right guests see your prices when you have the best rate online. In fact, Triptease's unique combination of bidding multipliers and sophisticated conversion tracking delivers 105% more revenue than the industry standard at a 30% higher return.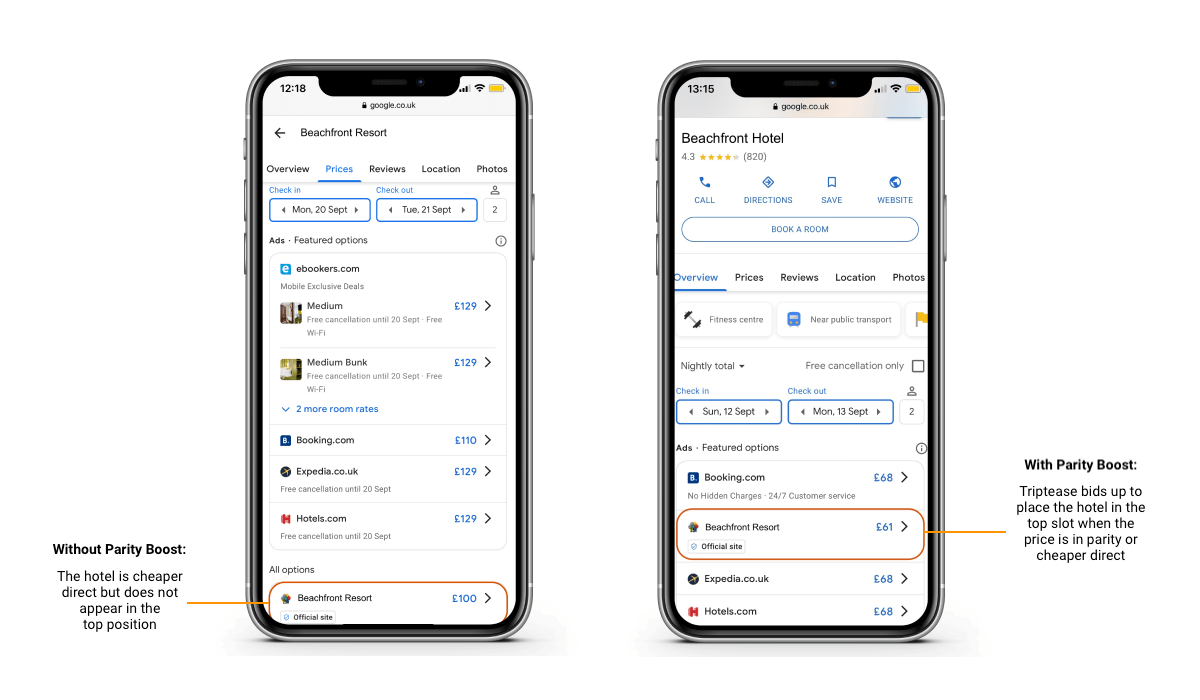 Triptease Meta will increase your bid if you have the best price or hide your hotel from the auction if you don't
Do loyalty programs ever deliver great returns for hotels?
Having written extensively on this topic a few years ago, we were keen to hear if Simone's opinion on loyalty programs for hotels had changed. He states that "loyalty programs for independent hotels tend to fail", explaining that "most properties, especially in art cities, don't have many returning guests. Chains have an advantage, as they can provide accommodation in multiple locations, but think about a small boutique hotel in Paris or Rome. Most of their guests will visit the city maybe once or twice in their entire life, so even thinking about improving the lifetime value of the guest does not make much sense."


Your direct channel can beat any third party loyalty program
So if not loyalty, what should hoteliers focus on? At Triptease we've always believed that investing in optimizing your direct channel is where the greatest ROI can be found. While hotels no longer need to offer a discounted rate to Tripadvisor, they are instead - according to Simone's post - paying a 15% commission which is passed on to the guest as 'Plus Funds'.
But hoteliers already have the power to offer the kinds of experiences and extras that are available via the Plus Funds program to their customers directly. And with direct access to Paid Search and Metasearch becoming ever more accessible to the hotel industry, relying on Tripadvisor to drive high volumes of traffic your direct website may no longer be as vital for hotels as it has been in the past.
Instead, focus on optimizing every stage of the customer journey - and highlighting that the benefits of booking direct can match any of those offered by a third party loyalty scheme. A technology partner like Triptease can take the pressure off hotels who are keen to invest in their direct channel, saving time by automating complex tasks and making things like rate parity monitoring and website personalization quick, simple and effective.
Triptease products touch every step of the customer booking journey - all the way from that first Google search (where Triptease will increase your bid if you have the best price or hide you from the auction if you don't), through to reinforcing your direct rates and offering bespoke direct booking benefits on your website, and finally bringing guest back to book direct via personalized retargeting ads.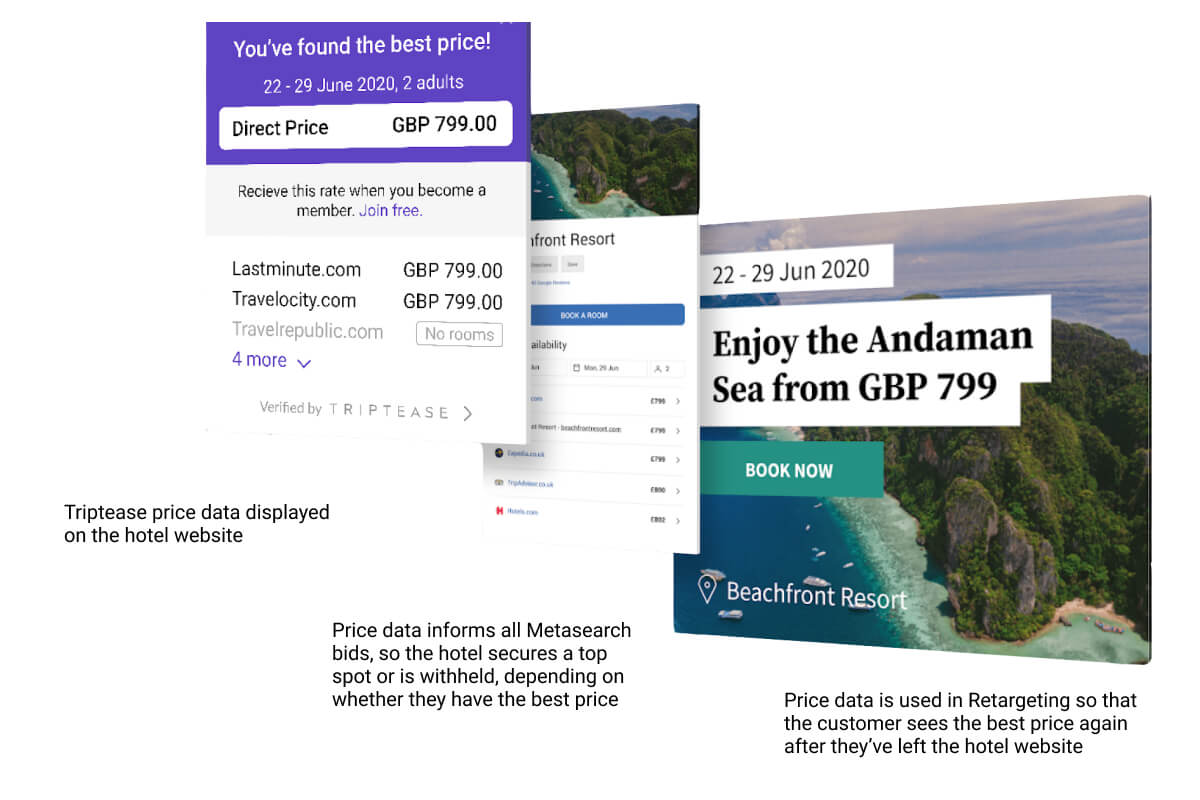 Triptease products and pricing data touch every stage of the customer journey, providing a seamless experience and increasing direct bookings


As Simone says, "volume is still not back to what it used to be pre-COVID. When volume is low, my suggestion is to focus on profit: converge your actions towards distribution channels with the lowest cost-per-acquisition, try to up/cross-sell to your in-house guests, adopt technology that can decrease your dependency on (expensive) human staff."
There's no distribution channel with a lower cost-per-acquisition than your own, self-run direct booking channel. If you'd like to learn more about how Triptease can help your hotel boost direct booking with less dependence on OTAs and third party loyalty schemes, get in touch with our team via that form below to design your bespoke direct booking strategy.