Acquisition vs Conversion. Since the dawn of the internet, these two crucial elements of the eCommerce journey have been competing for the budgets of digital marketers across industries. At Triptease, we witness the same situation time and time again - acquisition and conversion are still being treated as two entirely separate strategies. However, is this approach causing hotels to lose sight of the bigger picture, and costing them direct bookings?
As online businesses have become more skilled in their use of data, the online purchasing journey has evolved from a three-stage funnel into a complex, interconnected web. Every data point from the off-site acquisition path influences the on-site conversion experience, and vice versa. Major OTAs and eCommerce giants rely on this approach to succeed, and hotels need to learn how to make acquisition and conversion work smarter together if they want to remain competitive in an evolving market.


Do eCommerce giants hold the secret behind direct booking success?
Whether it's Amazon, Etsy or eBay, the immense success of these eCommerce giants can be directly attributed to their ability to capture, analyze and implement customer data across every part of the user journey. They use acquisition data from search history to match each user's wants and needs on the website. Then, through conversion data that's collected across thousands of customer personas on-site, they can make accurate business decisions during the payment process and beyond.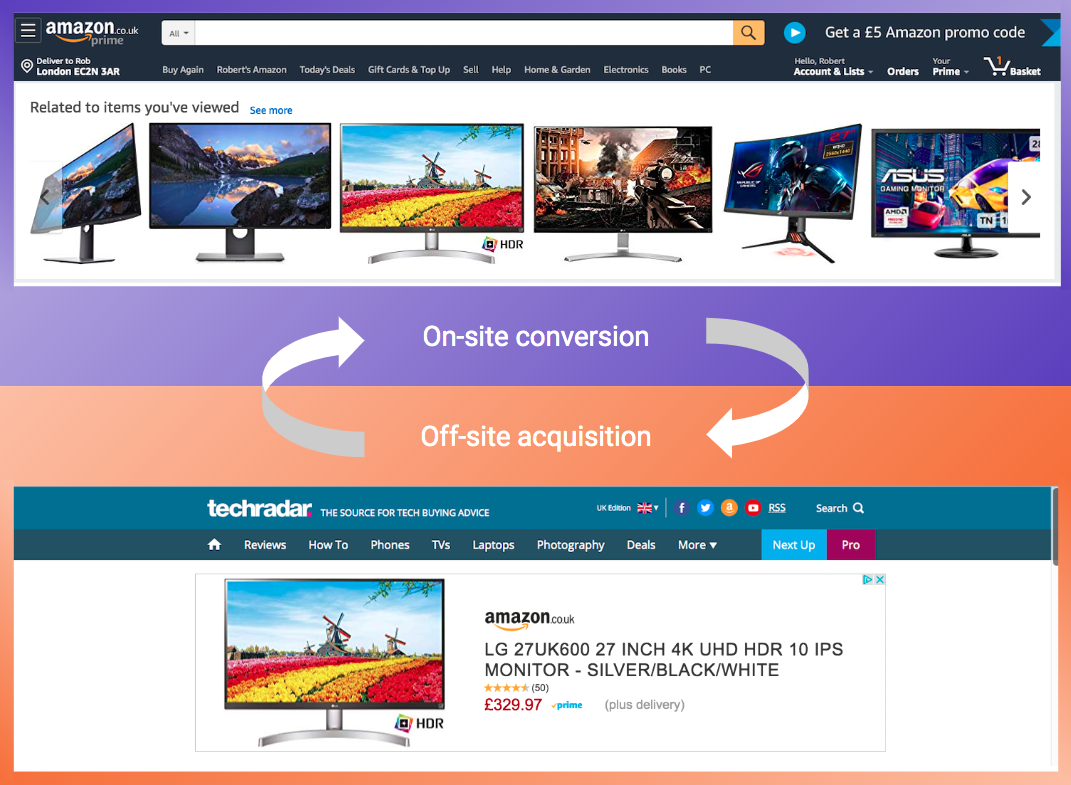 Each search, interaction and click from every customer is used by Amazon to tailor their website experience and increase the chance of conversion. This includes using customer data to recommend specific items, and then reinforcing them through dynamic retargeting.
The interconnectivity between the acquisition and conversion data is the backbone behind the immense growth of these online giants. Without logging every unique data point from every single package sent, web page visited and advertisement clicked, these organizations wouldn't be able to evolve and continuously deliver a seamless experience both on- and off-site. Even after the conversion has been made, these companies will continue to interact with the customer, and use the data from the entire purchasing journey to impact future decisions for similar searchers. Acquisition and conversion are no longer a linear journey, but an endless cycle of self-improvement.


Beating OTAs at their own game
Within the hospitality industry, hotels could learn a lot from OTAs in terms of connecting data to grow their direct revenue. Sophisticated technologies allow them to track the performance of every single customer and change their investment for each guest based on their value and likelihood to book. By utilizing their website data, they can then change their distribution spend accordingly to win over the highest-value guests on search and metasearch auctions. They don't treat the guest journey as a sum of separate processes but look at it as one unified booking channel where guest data continuously optimizes the entire purchase funnel.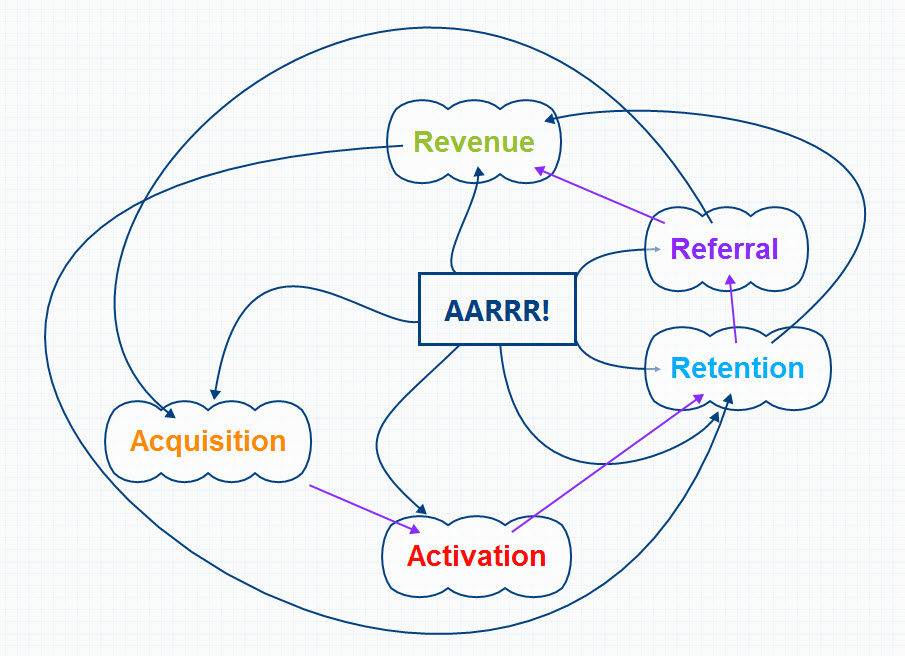 The path to purchase is no longer a linear journey - OTAs realise that each stage intelligently impacts the entire model, and use this to attract and convert searchers. (diagram source: Randall Nguyen)
To succeed in such a competitive industry, hotels need to follow in the OTAs' example and master the joined-up system of attracting the right kind of guest and converting them through highly personalized website experiences. With the right tools, connecting your hotel's data can put in motion a loop of continuous analysis and optimization that can help you attract guests that are right for your hotel, and better convert them on your website. Most importantly, this can attract high-value customers cheaper than ever before, helping hotels get one step closer towards a profitable direct booking channel than can drive OTA level volumes of valuable traffic.


Use simple data to power complex marketing decisions
To emulate this joined-up approach at your hotel, identify your ideal guest profile through both off- and on-site data, and define a set of booking characteristics that bring the highest revenue at the lowest acquisition cost. This is the kind of guest you'd want to attract to your website. Use the knowledge about your ideal guest to inform your acquisition strategy on search and metasearch. Combine this with your PMS data to help predict your occupancy and change your approach to acquisition accordingly, so that you can invest more in customers searching for particular dates. Most importantly, this is not a 'set-and-forget' process - the information you collect must be used to continuously refine the ideal guest profile you're looking to attract to your hotel.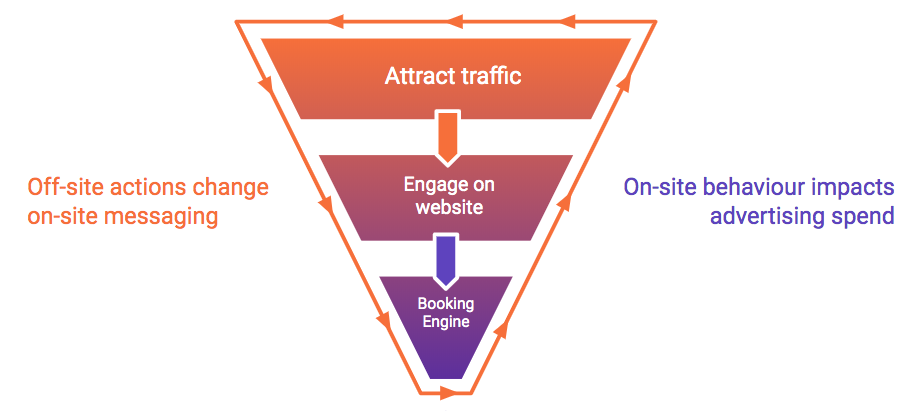 By connecting acquisition and conversion strategies together with real-time data, hotels can generate greater volumes of high-value traffic and increase the number of bookings.
In addition to this, it's important to analyze the types of users coming from metasearch and create a highly personalized website experience for them. For example, show them targeted messages with offers applicable to their planned trip - especially if your hotel didn't have the cheapest rate on the metasearch listing. A data-driven retargeting strategy can also be used to ensure that your hotel remains at the forefront of a guest's mind even if they continue clicking around. Fundamentally, parity data needs to be leveraged across the complete purchasing funnel to underline that booking direct is always the best option, whether through the most competitive rate or the most compelling offers and benefits.
The guest journey is not a linear process, but a complex and interconnected path that changes constantly. Other industries have adapted their eCommerce models to help them drive more direct business no matter what route the customer takes to purchase. It's time for hotels do the same, by joining up their acquisition and conversion data to bring in OTA booking volumes for less.


---
Our Triptease Platform identifies your most valuable guests then works across the entire customer journey - from acquisition to conversion - to make sure they book directly at your hotel.
If you'd like to learn how Triptease can help guest data work smarter for your hotel, contact us for more information.