Innovation, innovation, innovation
Who would have guessed that the staid old world of corporate travel would be the jumping-off point for some of the industry's most exciting new technologies? From Lola Travel to The Guestbook, companies that first envisioned themselves as consumer-facing have proved a surprise hit amongst business travellers young and old. It's no coincidence that the co-founders of two of consumer-facing travel's big hitters - Kayak's Paul English and Priceline's Jay Walker - are venturing into the corporate arena. It's a lucrative market (global spend hit $1.3 trillion in 2016) and one that is willing to break from tradition if the return is high enough.
Pocket-sized travel planning
The adoption of AI-supported travel planners continues to accelerate among so-called 'road warriors'. Lola Travel, the brainchild of Kayak co-founder Paul English, recently pivoted to a sole focus on business travel after seeing just how popular his 'travel concierge' was proving with corporate customers.
"I thought I was building a consumer company like Kayak and discovered it was business travellers that wanted chat," English told Skift.
Lola's emotive new tagline - 'make business travel buttery smooth' - deliberately posits the brand against the idea of clunky corporate travel planning. Lola's mix of human and machine aims to 'make every facet of travel easier for the road warrior.' The more you travel, the more the app learns about your preferences, meaning your travel options grow more and more personalised over time. What's more, the personal is never very far from the personalisation. Lola's chats are manned by full-time (human!) travel agents - 15 at the last count.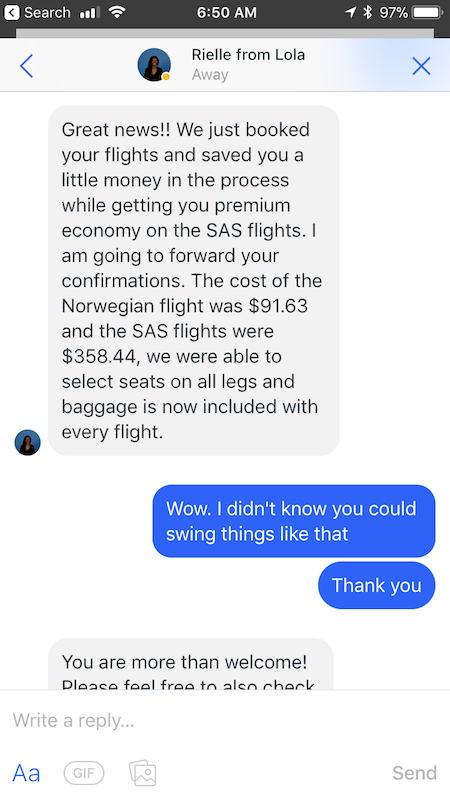 Lola's emphasis on the human means perks like unexpected upgrades are still very much on the table
It'll be interesting to watch as the business scales - Skift reports that Lola is still 'sitting on' most of the $44.7 million it has raised in investment since its inception. Can English's team build a bulletproof bot that provides seamless booking without the gimmicks? They're certainly facing stiff competition; Skyscanner's Messenger bot is a nifty little tool (with the heft of Ctrip behind it), while Pana and SnapTravel are also building up their blended human/AI platforms.
Businesslike benefits
Lola is also deliberately riding the direct booking zeitgeist. An integration with Sabre allows business travellers to make bookings through Lola that count as 'direct' - and, as we know, direct bookers are rewarded with benefits. Indeed, the business traveller's love of perks is not something that's gone unnoticed by Lola's fellow online travel upstarts.
We spoke to The Guestbook's James Gancos after his opening panel at the Direct Booking Summit in New York earlier this month. The loyalty platform's most popular perk is by far their cashback option - and that's due in part to the growing segment of savvy business travellers.
"If a business traveller gets a discount, it's going to their company. If they get a cash reward, that's going to themselves. This is what the foundation of all chain hotel loyalty programmes is based on. I get something as a traveller for my hard time on the road."
Rocketrip's offering combines good old self-interest with an attractive proposal to employers as well. Travellers are given a 'Budget to Beat' based on trip parameters, company travel policy and real-time market availability. When they 'beat' their budget, employees keep half of what they save the company. Founded in 2013, Rocketrip's incentivised saving is proving a hit so far. The NYC-based company recently announced a partnership with ALTOUR, one of the largest travel management companies in the US.
And then there's Upside. Priceline's Jay Walker says he returned to travel (he's Upside's CEO and chairman) because business travel was 'the great, unfinished piece of the innovation puzzle.' Speaking to Fortune back in April, Walker had this to say:
"The travel industry generally views the business traveller as a very rich asset and it resists any innovation in that space. I always thought that was odd - innovation almost always helps both the seller and the buyer."
Upside works by allowing business travellers to curate their own 'low-cost packages' from wholesale inventory. Travellers are then compensated for saving their company money with a retailer gift card every time they book through Upside. However, not everyone is convinced. Remember Lola's Paul English? Here's what he had to say…
"It's crazy what they're spending to get people, to bribe people, to use that service. The idea that you can suddenly get people to use packages is stupid. Travellers are really busy and need every minute of their time, they need a service to work for them… I don't think they have a good app, but they have very impressive marketing."
So, it's not all happy families in unmanaged business travel. One thing's for sure, though. Things have moved on from the anti-innovation mindset Jay Walker describes. New and exciting innovators are springing up all the time, looking for a piece of this lucrative and opportunity-rich market. More choice for consumers should help to foster the development of business travel systems as dynamic as the companies they serve.
Photo by Jennifer Pallian on Unsplash