Not long now until the Direct Booking Summit: Europe! If you haven't secured your tickets yet, you'd better hurry - head over to the website to check out the agenda and register.
We've been profiling some of our best-in-class speakers in the run up to the event on June 27-28. So far we've heard from Airbnb's Robin Clifford, The Curtain's Sam Riches, and GuestScores's Rob Fleischer about how they're feeling ahead of the summit - today, we're talking to Gopakumar Menon, VP of Revenue & Distribution at Highgate Hotels. Gopakumar will be moderating a panel on Metasearch in 2018 alongside SiteMinder's James Bishop, Phil Ford of Firmdale Hotels, PACE Dimensions's Tim Davis, and Adrian Hands of TripAdvisor.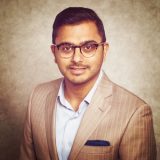 Gopakumar Menon, Vice-President of Revenue & Distribution

Highgate Hotels
TRIPTEASE: How are you feeling about speaking at the Direct Booking Summit 2018?
Gopakumar: Great! I believe this forum will help to amplify the voices of independent hoteliers struggling against the new distribution landscape defined by OTAs and metasearch.
TRIPTEASE: What can delegates expect to learn from your panel?
Gopakumar: Hopefully attendees will get a first-hand perspective on how to manage their online spend, get the maximum value out of it and increase their ROI.
TRIPTEASE: What are your thoughts on the Direct Booking Movement?
Gopakumar: The Direct Booking Movement is a great platform for qualified independent hotel professionals & allied business partners to gather, share best practices and take on the challenges we are confronted with collectively.
TRIPTEASE: What are Highgate's main goals and challenges in 2018?
Gopakumar: Our goal is to generate more revenue through our direct website, keeping cost of acquisition low. That's our main challenge - the growing cost of customer acquisition, both online and offline.
TRIPTEASE: Which other speakers are you most looking forward to hearing from at the Direct Booking Summit: Europe?
Gopakumar: I'm really interested to hear from the representatives from Google Travel.
Want to hear more from Gopakumar and our other incredible speakers, including representatives from Google, Marriott and Best Western UK? Buy tickets below or get in touch with hq@directbookingsummit.com for more information!
Buy tickets for the Direct Booking Summit: Europe