If you're a Triptease customer you'll know that you can see the full list of everything our product team is getting up to by clicking on the Updates tab in the Triptease Platform. But we always like to share the highlights on the blog too because we're nice like that...

Go directly to:
See your Front Desk revenue insights
Click through rate benchmarking


---
See your Front Desk revenue insights
Product: Convert - Date: Monday 15th April
Front Desk live chat is designed to help hoteliers answer the questions guests have on their path to booking. Providing answers means more guests stay on your website and book direct, so we thought it would be helpful to show you the revenue generated from those conversations.
You'll now be able to track the overall revenue and bookings generated from Front Desk chats, as well as being able to see the same information for each of your staff members using Front Desk.
Here's how your revamped Front Desk Insights Dashboard looks: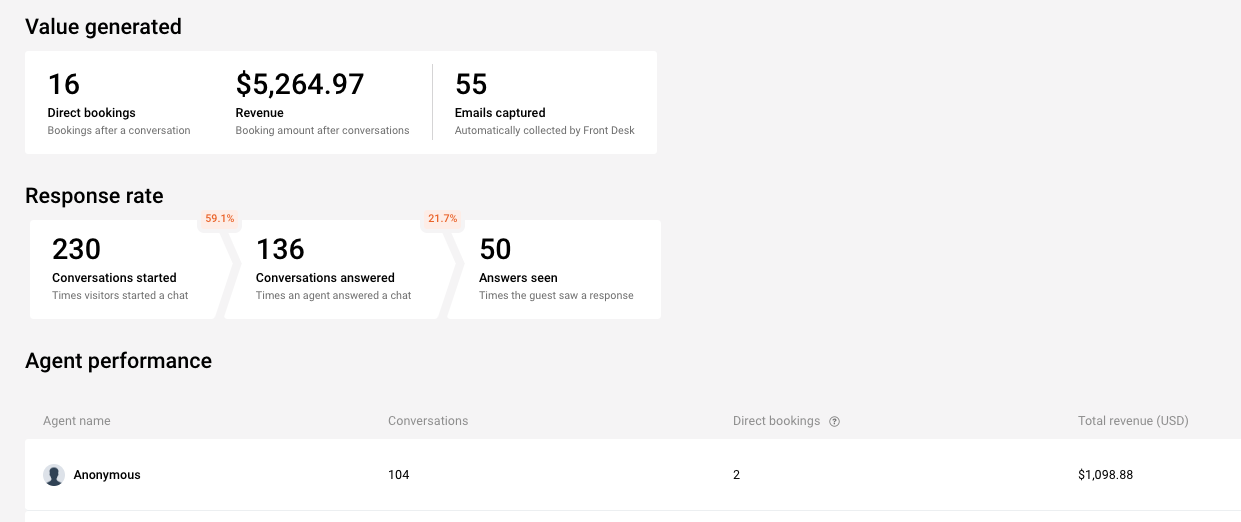 As ever, we'd love to hear your feedback on this update so please do let us know how it's working out for you and how we might make it more useful.


---
Click through rate benchmarking
Product: Convert - Date: Wednesday 10th April
You should always monitor and review the performance of your personalized website messages, and this latest update will help you do that faster than ever before. You can now see how your message click through rates are performing in comparison to our global hotel average. That should make it instantly clear if there's a message that needs some improvement.
What you'll see in the Message Manager is that each of your messages are now ranked as Excellent, Good, OK or Poor.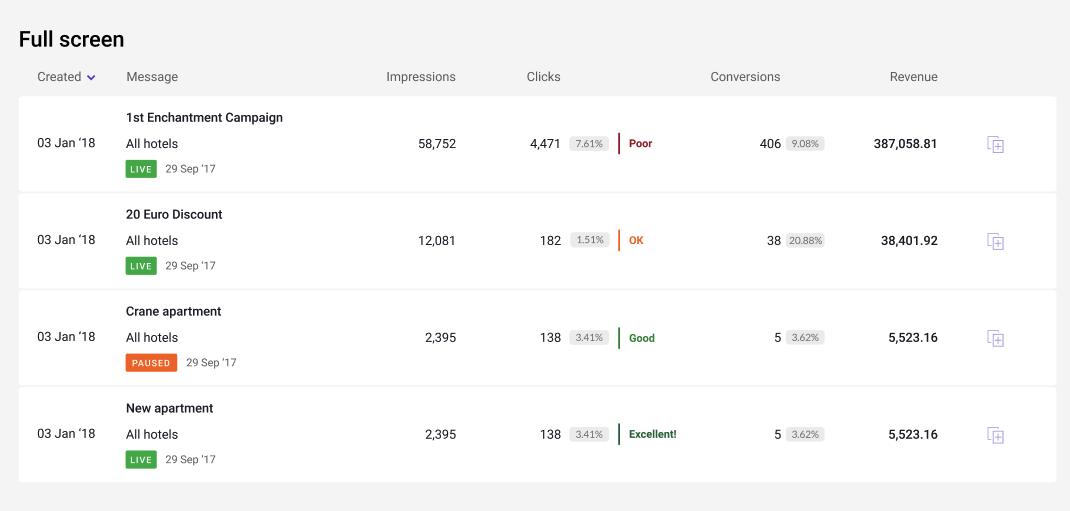 Each message type will be benchmarked separately because comparing the performance of a Nudge and a Full Screen Exit is not a fair comparison as they serve very different purposes.
So what should you do if you find you have messages that are not performing as well as you would like them to? Well, the Customer Success Team is always here to provide suggestions and best practices so get in touch if you'd like to discuss your strategy!