Black Friday was once synonymous with retail and eCommerce, but in recent years, the hotel industry has seen a tremendous increase in budding travelers looking for the year's best deal, and 2022 is no exception.
The desire to travel combined with economic uncertainty means customers will pay close attention to where they can find the best deal on your website. So how can you get ready for Black Friday madness?
Thousands of hoteliers use Triptease Targeted Messages to personalize their website and show bespoke content and offers to their customers. As a result we have access to a huge database of hotel messaging, which the Triptease team regularly analyzes to understand what high performing messages look like.
In this guide we've looked at the top converting messages that were set live for Black Friday 2021 and uncovered the tips and tricks from real hoteliers who's Black Friday campaigns had great conversion rates.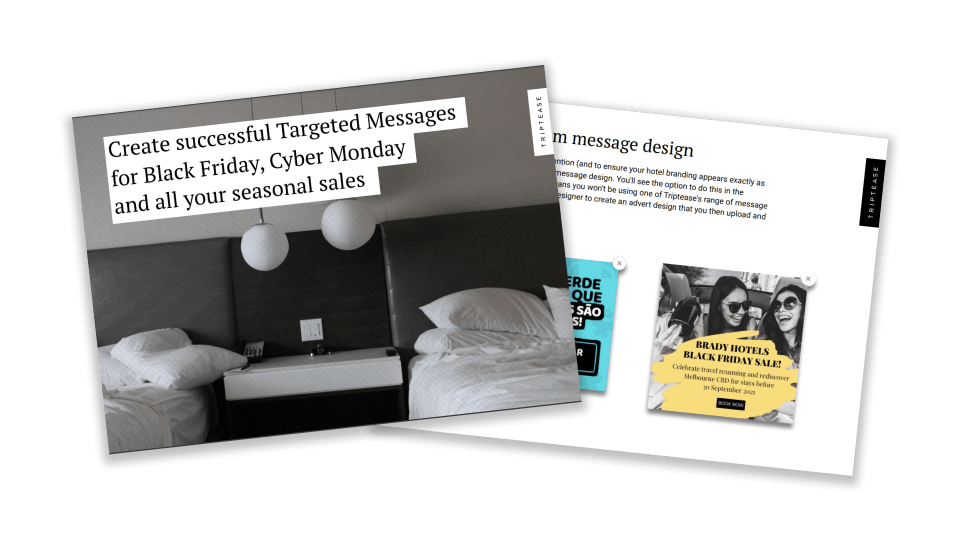 What can you expect in your Black Friday guide?
The must-have messages this sales season
How to create messages that convert
Which call-to-actions drive better conversions
How to create urgency campaigns that drive bookings
How to reduce cart abandonment rates
How to boost conversions with multiple message types
What if I don't use Triptease?
Not a problem! Regardless of which website personliazation tools you are using, there are key tips and tricks that you can action immediately. If you are not currently working with Triptease but would like to learn more about how Targeted Messages can help hoteliers strengthen their direct channel and drive more bookings on their own websites, please contact us here.
Download the guide below and get ahead of your competition by learning the tips and tricks of best performing Black Friday messages.